Sitting geographically central of Italy, Rome is also the country's historical and cultural centre – (Facts about Rome). In addition to its more than three thousand years of historic conservation to explore, the city's immediate and beyond surroundings are also worth a visit if you want a change of scenery from the fountains, museums, ancient Roman roads, and prehistoric landmarks. 
Once you feel like you have crossed everything that Rome has to offer (Food, Fountains, Obelisks), off your bucket list, it is time to venture a little further afield.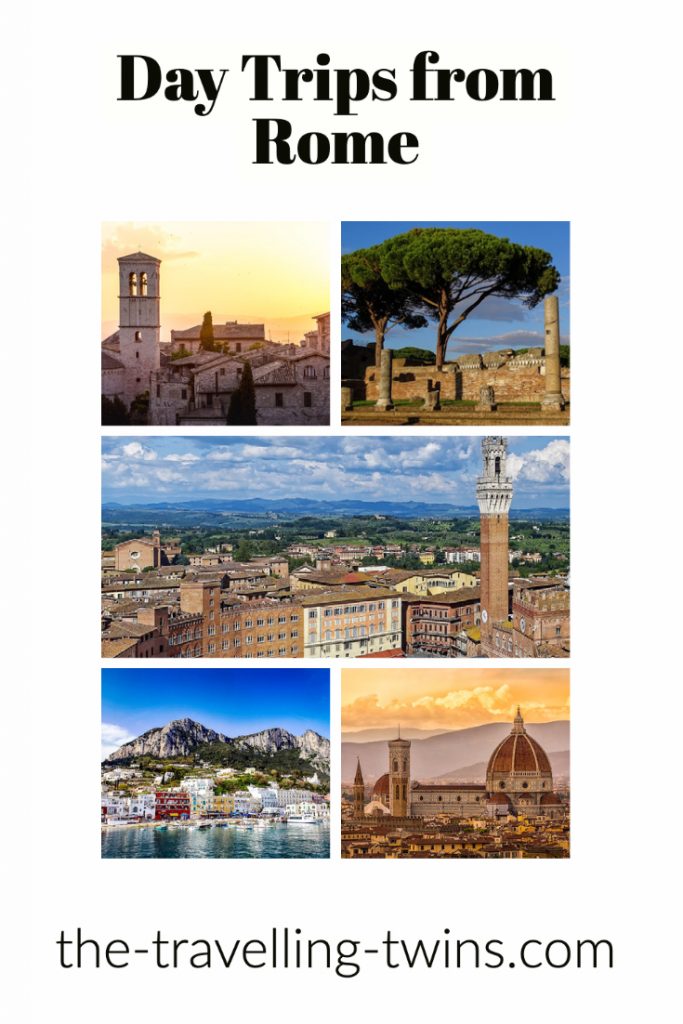 From feudal hamlets to fascinating cityscapes, from rugged coastline to rolling vineyards, here are some of the most thrilling days trips from Rome. 
What are good day trips from Rome? 
Vatican City 
Situated within the city, the Vatican City is one of the most accessible day trip from Rome. The full-time residence of the Pope is usually among the highlight of many travellers in Rome. 
Vatican City is known for its wealth of religious importance as well as some of the most beautiful architecture you can find anywhere else in the world. The Vatican Museums, which is the fifth-biggest museum in the world are some of the main attractions of the city while the Sistine Chapel should never be missed.
This also the smallest sovereign state in the world, and despite its small size, it has things that can pack your whole day. 

How to get to the Vatican City 
Take a high-speed train at Line A of the Metro, which runs every few minutes to the Vatican City. Or you can just walk from the Metro to the Vatican, which is around 5 minutes.
Ostia 
Located just 30 kilometers from Rome, Ostia Antica is the most common day trip from the Eternal City. This antique village used to have more than 100,000 inhabitants during its heydays and was the main harbor of Rome and an important commercial city. 
Despite being a well-known destination, it usually plays second fiddle to the famous Pompeii, an ancient city that was engulfed by the eruption of the volcanic Mount Vesuvius. 
However, with its ancient beauty and natural landscapes, Ostia Antica doesn't really have to envy Pompeii or any other Italian exciting cityscapes.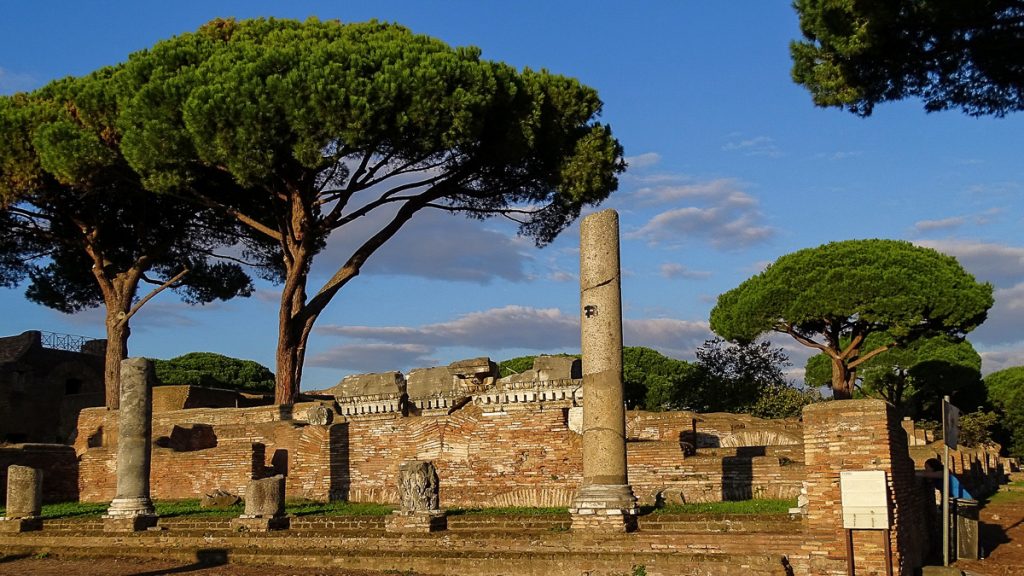 The highlight of this communal neighbourhood is the ruins of the Ostia Antica, which are located along the main street of Decumanus Maximus. Walking along this street, you will see several ruins with great importance to the city, including temples such as the Capitolium, which is the largest temple around. 
Other attractions include the baths of Termi Nettuno, which feature interesting mosaics and taverns. You can also visit the Agrippa's Theater, which used to accommodate more than 4,000 people during theatrical performances. 
Ostia was abandoned after Pope Gregory IV commissioned the construction of Gregoriopolis (Ostia Antica). Since then, the town was used as a source of building materials, especially in the Middle Ages as well as sculptors' marble during the Renaissance period. 
How to get to Ostia Antica ?
One of the reasons Ostia Antica is a favourite destination from Rome is that it is easily accessible by public transport. 
Take the Roma-Lido train from Roma Porta San Paolo station, and in 40 minutes, you will be in Ostia Antica. the trip will only cost you 1,70 euro, kids until 10 are free of charge.
Where should I go outside of Rome?
Castel Gandolfo 
Sitting in the midst of the Alban Hills and overlooking Lake Albano, Castel Gandolfo is one of the most picturesque day trip from Rome. It is a destination known for its history, culture, and art. 
A trip tip to the Pontifical Villas of Castel Gandolfo or Palazzo Pontificio should not be missed. Other things to do there is a booking a session at the Fugacemente Escape Room, exploring the Lake Albano with the help pf Paddle Lab, or enjoying a game of Cross Road Bowling Club. 
How to get to Castel Gandolfo 
You have three options: 
By Train: Depart from Rome Termini to Castel Gandolfo 
By Bus: Public buses (rural Cotral bus) departs from Anagnina to Castel Gandolfo 
By Car: Or you can just hire a car and drive from Rome to Castel Gandolfo, by taking the GRA exit 23 via Appia, Albano.
Is Amalfi Coast a day trip from Rome? 
Amalfi Coast 
The Amalfi Coast is one of the trendiest holiday spots in Italy. After having so much fun in crazy Rome, many people prefer to take a day trip to the Amalfi Coast for a tranquil second holiday. 
This region has some of the best rustics and scenic landscapes you will ever see. The shoreline meanders along with the natural twist and turns of the land and every turn of the corner. You find a charming rural village with amazing views of the bluish ocean.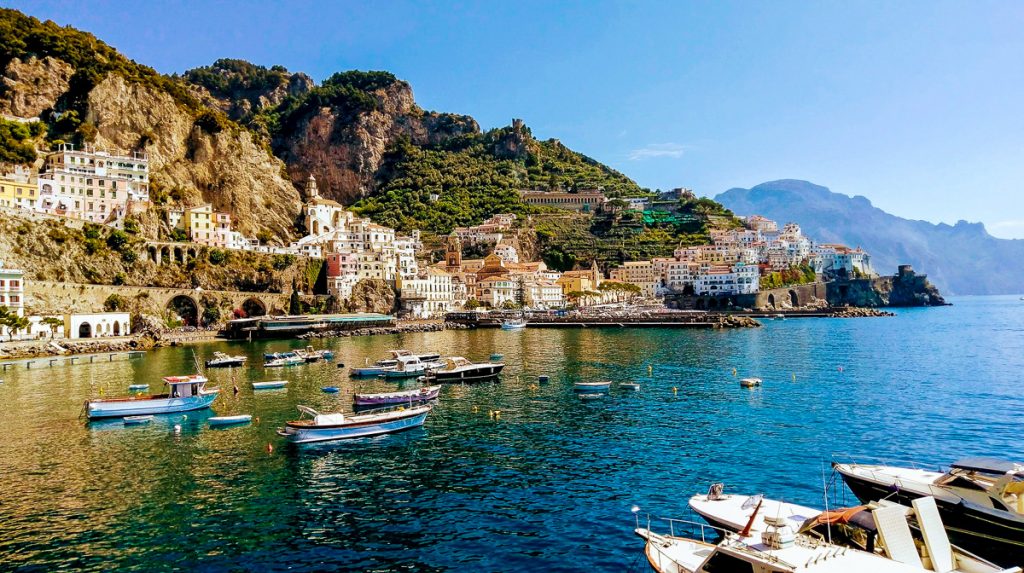 How to get to Amalfi Coast 
To reach Amalfi Coast quickly, you will need to catch the Italo train or Trenitalia train from Roma Termini to Stazione Salerno in Salerno. 
Pompeii 
A day trip from Rome to the Pompeii ruins is standard for many visitors in Rome. In AD 79, Mount Vesuvius erupted and covered the Roman city of Pompeii, therefore preserving what the last few seconds of life in the city were. 
Most of the original parts of the city were taken to a museum in Rome, with only replicas available for visitors to explore. The ancient pathways, homes, and bathhouses can be found in ruins. Even more eerily are the grisly snapshot of the inhabitants of the city, who were caught off-guard by the eruption. 
The bodies are not real, though, but the poses are. They were recreated by pouring plaster into the hollows that the real bodies left behind. 
Visitors can explore the city as well as ascent the volcanic mountain that still has steaming carter in the summer.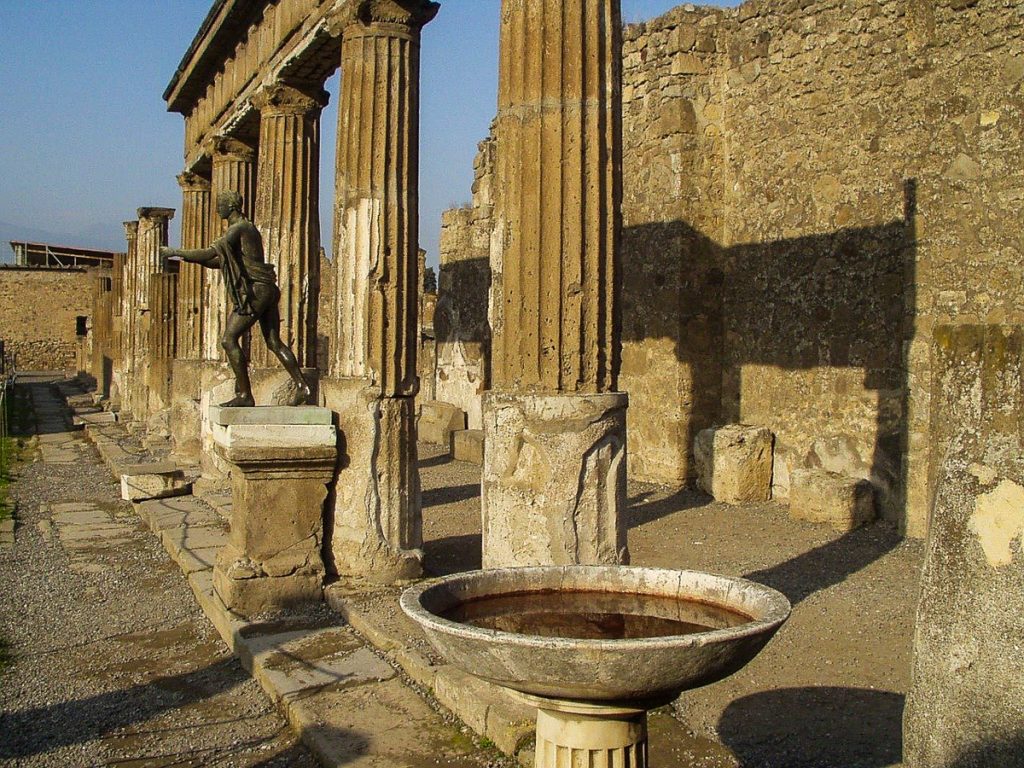 How to get to Pompeii 
The fastest way to get to Pompeii from Rome is by taking a high-speed trail to the city of Naples, then taking a metro to Pompeii. It's possible to do Naples and Pompeii in one day, but it would be long and tiering day so better would be better to arrive in Pompeii in the morning and spent the night and next morning in Naples.
If you dont want to bother with organizing your own trip to Pompei you can take a guided tour, drive.
Naples 
A day trip to Naples is usually paired with a trip to Pompeii, so if you are on a guided tour, it would be wise to combine the two. Nevertheless, Naples is usually a favorite day trip from Rome for many travellers due to the city's many impressive monuments are landmarks. But the main reason people, us included, visits Naples is pizza. The city is known to be the birthplace of pizzas, specifically the Margherita pizza which has been a signature cuisine since 1830. The first-ever pizzeria is also found in the city and is still operational – it is called the Antica Pizzeria Port'Alba.
If you are a fan of Julia Roberts, she shot a scene for Eat Pray Love at L'Antica Pizzeria da Michele. But even if you don't know who that is, the pizza and beer here are just amazing and a must-try.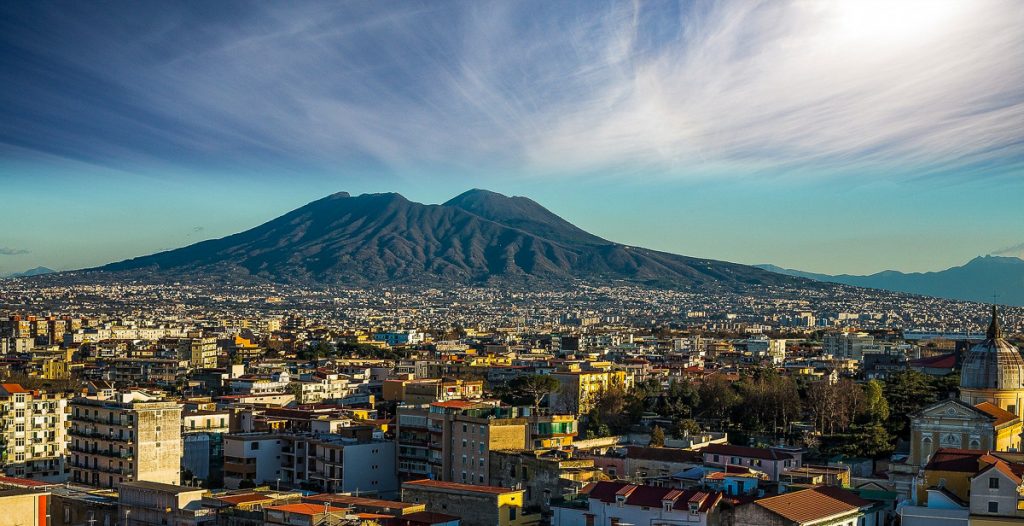 How to get to Naples 
It is quite easy to travel to Naples from Rome. Just take the high-speed Frecciarossa train which departs Roma Termini and arrives in Naples in just an hour.  tickets are cheap and you can even reserve on for less than 27 euro
Where can I go from Rome by train? 
Florence 
Florence is one of the most beautiful cities in Italy and Europe. It is a fitting day trip from Rome for those who love architecture, culture, and fine art. 
The city is home to some of Italy's impressive museums and galleries, such as the Uffizi Gallery, which houses works by notable Italian artists such as Botticelli, Raphael, and Caravaggio. 
For the lover of fashions, the Gucci Museum can be a great place to spend an afternoon while learning about the evolution of modern fashion.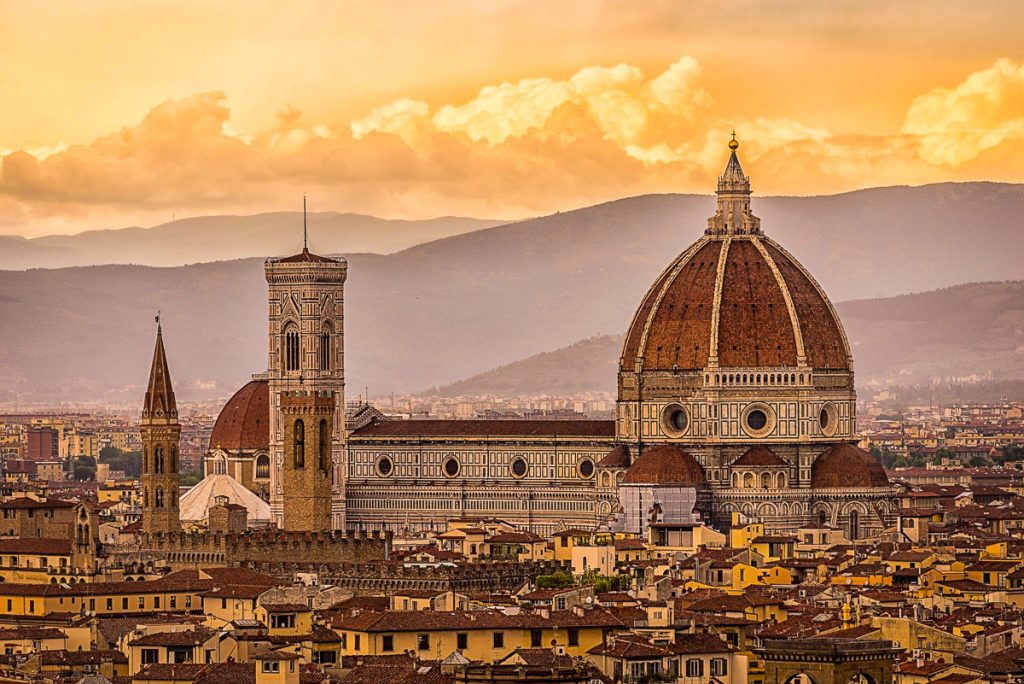 If you are also a fan of the legendary Michelangelo, you will find one of his works, titled "David" at the Galleria dell'Accademia. 
Explore Piazza del Duomo, where you find the trio of the popular Florence attractions – the Duomo featuring red-tiled dome, the Battistero di San Giovanni, and the Giotto-designed campanile. 
Florence's celebrated town hall is also worth a visit. 
How to get to Florence 
The city of Florence is located just an hour and a half from Rome by train. Catch one at Rome Termini to connect to Stazione de Santa Maria in Florence.
Alban Hills 
Colli Albani or Monti Albani is a volcanic area in the central Italian region of Lazio, southeast of Rome. The hills are made up of an exterior circle of 6 to 8 miles in diameter rising some 3,113 feet high at Mount Cavo and in an interior circle about 1.5 miles and rising 3,136 feet high at Mount Faete.  Lakes Nemi and Albano occupy two of the craters. 
In pre-Romans time, the region around the Alban Hills used to sacred to the people of Latium, but because of the hills' coolness in even during summer and the absence of parasitic disease like Malaria, the Romans turned them into their summer resort. 
The celebrated Alban vineyards are known for producing wines such as Castelli Romani, which was named after the region's major town. 
How to get to Alban Hills 
A high-speed train connects Rome with some of the hill's retreats including Grottaferrata, Frascati, Velletri, Albano, Genzano, and the papal summer residence Castel Gandolfo.
Tivoli 
Located just 30 kilometers east of the Eternal City, Tivoli is home to two World Heritage Sites namely Hadrian's Villas and Villas D'Este. Depending on your means of transportation to Tivoli, you might find Villa d'Este to be the easiest attraction to start with. It is located up the hilltop centre and boasts a Renaissance architecture. 
Also, you will be surprised to learn that some of the most majestic Rome's fountains are located outside the city centre. 
The fountain at Villa d'Este features some of the most dramatic waterworks, designed specifically to create preferred effects. The landscape within the villa is also breathtaking, with changing elevation to generate a sense of mystery – you never know what prowls around the corner, but prepare to be surprised!
After exploring every inch of the villa, head down to find the Villa Adriana (Hadrian's Villa), just five kilometers away. This residence used to belong to Emperor Hadrian and features towering ruins in a sweeping estate with canopy pines.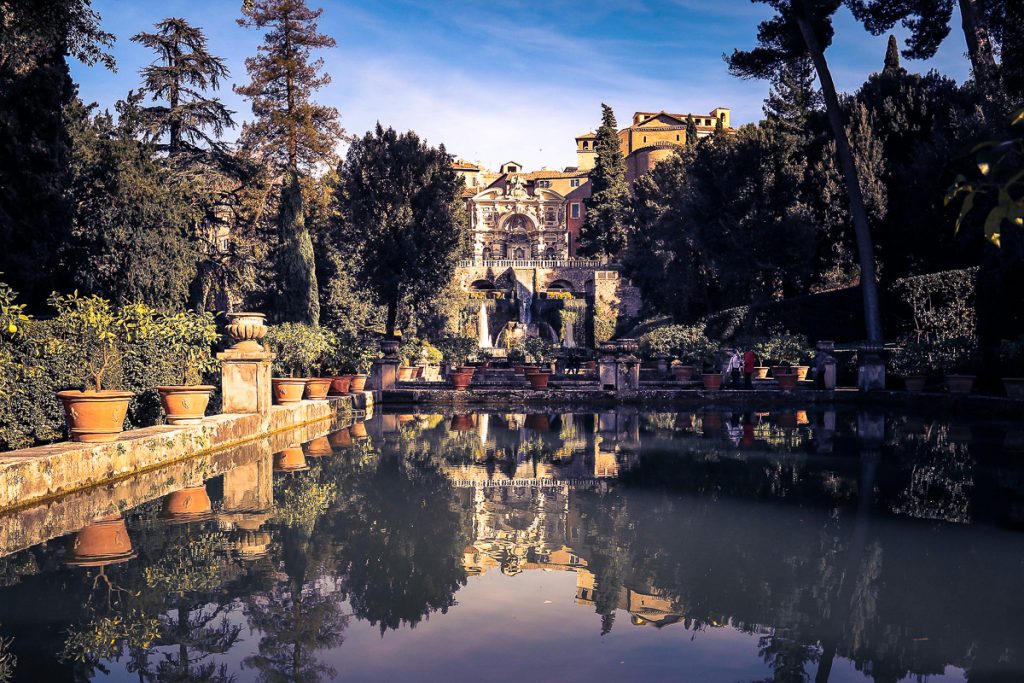 How to get to Tivoli 
You can travel to Tivoli using the regular Cotral bus from Ponte Mammolo metro station. The journey takes about an hour or less.  Alternatively, you can catch a train from Stazione Termini, which leaves the station every 15 minutes. 
Cinque Terre 
Arguably the most beautiful coastline in the whole of Europe, Cinque Terre lies along the famous Italian Riviera, which is an extension of the French Riviera. 
This destination is punctuated with a collection of charming traditional settlements and market towns, which you can explore on foot. Each village features some colourful houses, family-owned restaurants, and the views of the Italian Riviera.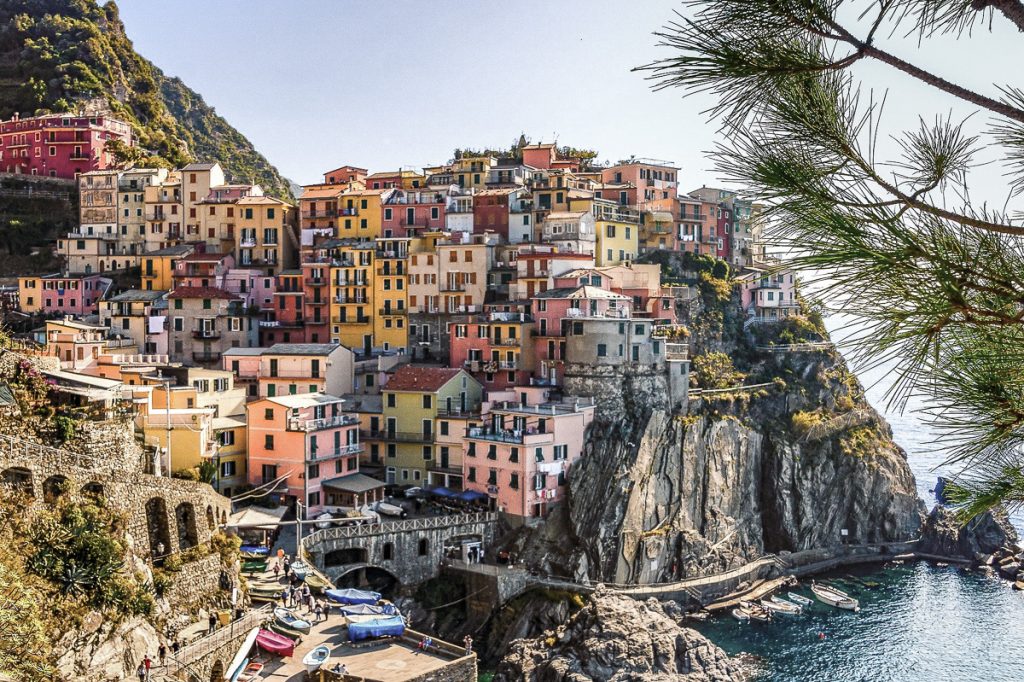 How to get to Cinque Terre 
Take a Frecciabianca train from Rome to La Spezia Centrale and get into the Cinque Terre Express to all five villages in Cinque Terre.
Assisi & Orvieto
A day trip from Rome to Assis & Orvieto is also a common expedition for those who want a respite from the hustle and bustle of Rome. 
The town of Orvieto is worth exploring on foot including a stop at the Cathedral of Orvieto. Venturing outside the town, you will come across numerous wineries that are open for tastings at any time of the day. 
Last but not least, a visit to Assisi, the birthplace of St. Francis, should be paired with the trip to Orvieto. 
Assisi is to Umbria what Pisa is to Tuscan. It is a great alternative for those who don't want to swap one chaotic and busy town for another.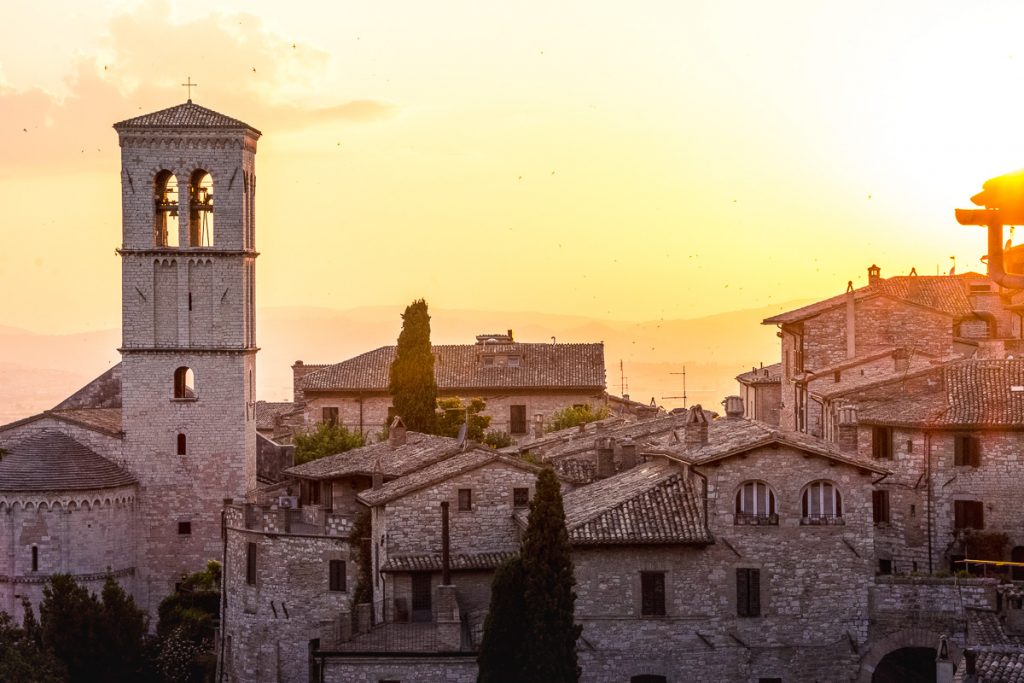 How to get to Orvieto 
Orvieto is located about an hour and forty-four minutes from Rome by train. Thanks to the almost 20 trains a day that travel between these two destinations, it is very easy and hassle-free to travel from Rome to Orvieto. 
Ninfa Garden 
It is considered one of the most beautiful gardens in the world for nothing. Ninfa Gardens is home to more than 1,300 species of plants and have inspired authors like Virginia Woolf.  This day trip from Rome is ideal for nature lovers or ardent macro-photographers. Near the gardens is the town of Sermoneta, which is worth a visit too.
How to get to Ninfa Garden 
Unlike most destinations on this list, there is no direct connection to Ninfa from Rome. However, you can take the train to Latina, walk to Latina FS, get into the bus to Norma, and then walk to the Ninfa Gardens or take a tax there.
Capri 
Lying on the Bay of Naples, the island of Capri is a luxurious travel destination that is home to upmarket boutiques and lavish hotels. 
The highlight of the island is the Blue Grotto, a coastal cave where their seawater glows in shimmering, electric blue hues. Don't miss a chance to check out the Faraglioni cliff and cavern or the Villa San Michele.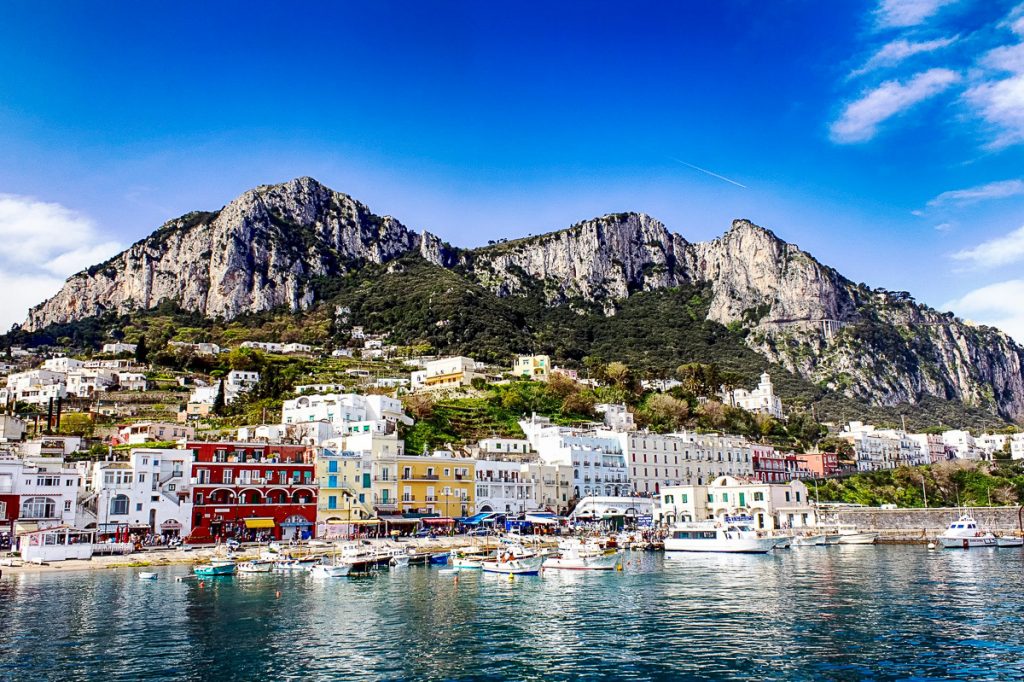 How to get to Capri 
The most common and popular method of reaching Capri from Rome is by train to the city of Naples and then take a ferry to the island. If you ride Eurostar Frecciarossa (TAV), you will reach Naples within just an hour. 
Siena 
If you want additional culture and historic vibe similar to Rome but with less crowd and low prices, take a day trip to the city of Siena. The city is charming and easy to explore on foot. 
Start with the city centre where you will find Piazza del Campo and Palazzo Pubblico. Torre del Mangia is also noticeable from any corner of the town and should not be missed. Find the Siena Cathedral, which features Romanesque-Gothic architecture.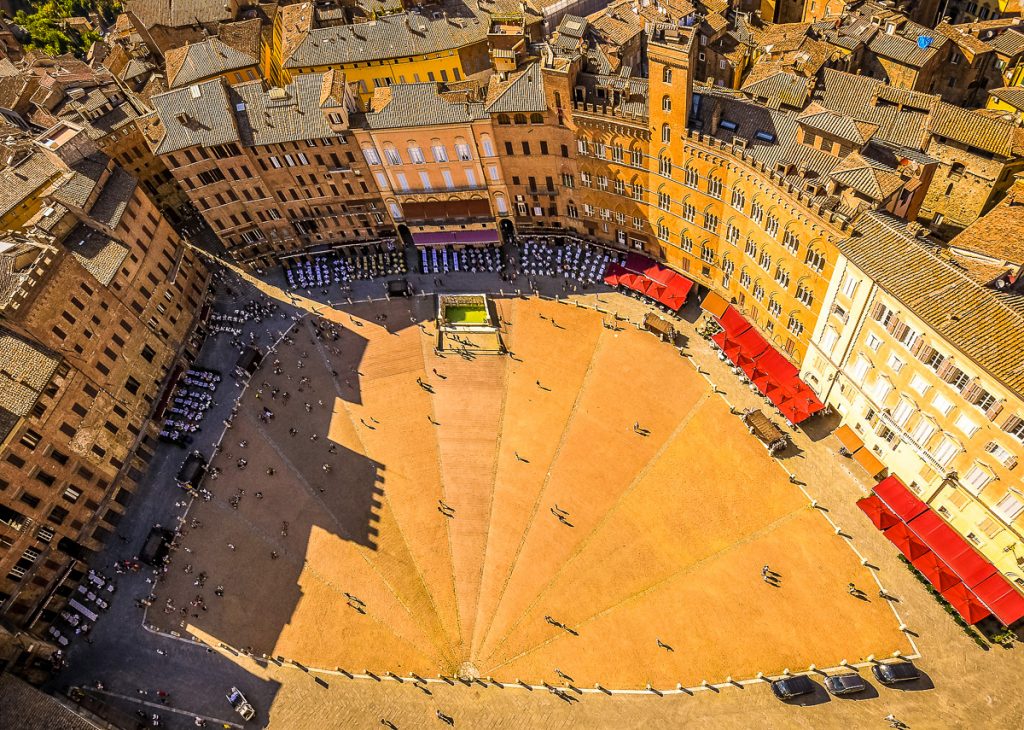 How to get to Siena 
The quickest way to Siena from Rome is by a high-speed AV train, the Eurostar Frecciarossa, which takes two hours and forty minutes with one train change at Chiusi. 
Montecassino Abbey 
In 529, Saint Benedict built a monastery home for himself and the monks of Subiaco, the Montecassino Abbey. 
Having played an important role in the Second World War, you will find various marked battlefields in the area, which you can tour.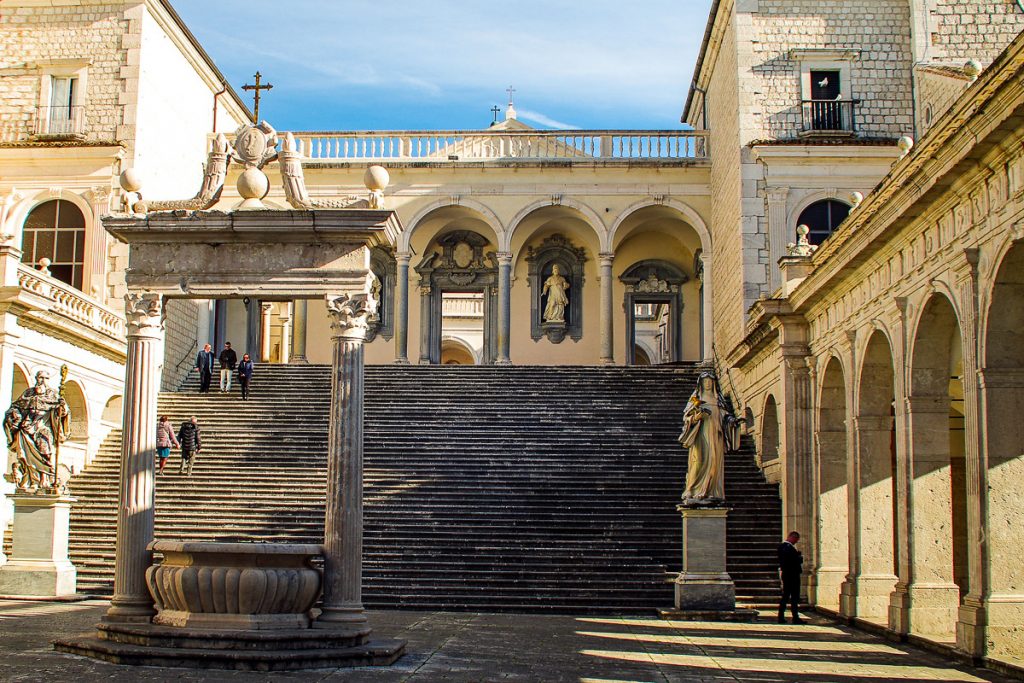 How to get to Montecassino Abbey 
A comfortable train ride will take you from Rome to Montecassino, though you can also take a bus (long journey) or drive (shortest journey). 
Sorrento 
This resort town is located along the Amalfi Coast overlooking the Bay of Naples. It is one of the most luxurious day trip from Rome, known for its high-end boutiques and vibrant coffee shops. 
Its location is what contributes to its charming and relaxing touch. This is also one of the many resort towns that don't have a beach. 
If you feel hungry, wander around Piazza Tasso. You will find some of the best cafes and dining options in town. 
How to get to Sorrento
Trains directly connect Rome with Sorrento. You can take a train from either Tiburtina train station of Roma Termini. 
Val d'Orcia 
Known for its wineries, Val d'Orcia in Tuscany is also great for cycling or countryside driving. Whether you are a wine lover or not, a day trip from Rome to Val d'Orcia is a must. 
The landscapes are picturesque, particularly during late evening or early morning hours. 
You can also explore towns such as Montalcino and Pienza. 
How to get to Val d'Orcia 
The easiest way to get to Val d'Orcia from Rome is by train, which takes just over five hours, though you can also take public bus or drive. 
Day trips from Rome – Pin it
Privacy Policy Disclaimer

This website uses affiliate links for income and support.

If you like our website, please consider using these links. You will be directed to the vendor, and we will get a small commission on your purchase price at no increased cost to you.

We have researched facts stated here as far as practicable but please check anything critical before committing your time and money. We do not claim any special knowledge or expertise, and we are not consultants for our readers.