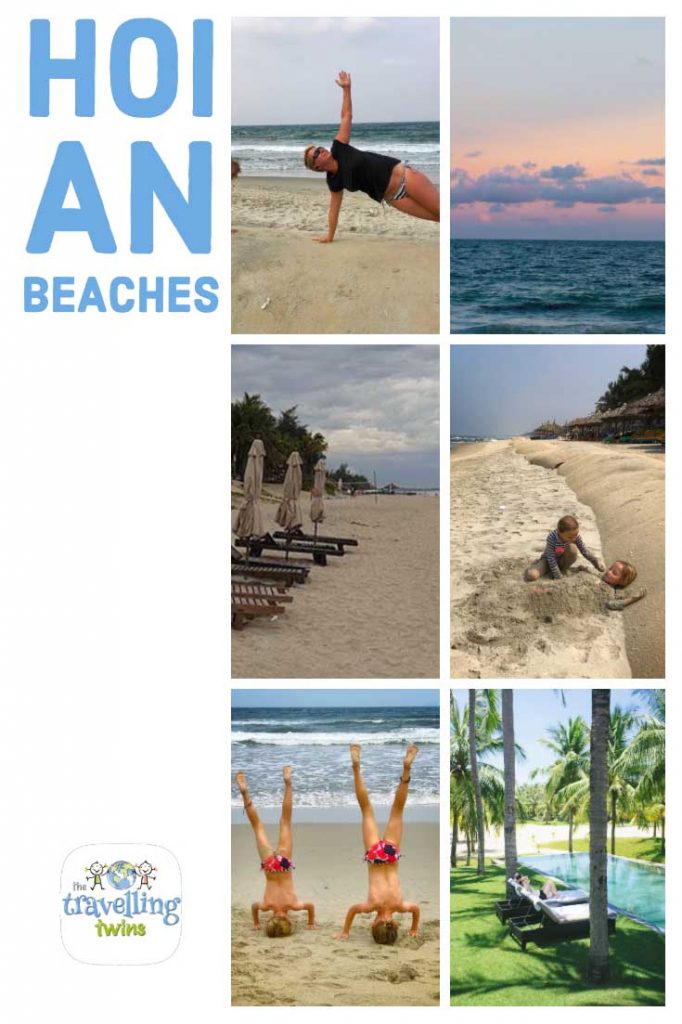 Hoi An and Hoi An Beaches
Hoi An is an ancient town, oozing cultural heritage, with plenty to do. We plan to spend there one week but after we discovered that Hoi An has as well beautiful beaches we decided to stay longer.
The beaches in Hoi An are located just four kilometres from the Old Town and are lined up with small restaurants, bars and tall palm trees. 
Do you know what constitutes an awesome vacation? Hot silver beaches stretching into the infinite, lying in shaded beach beds and a clear blue sky – that was our experience in Hoi An. This is a city that has something for everyone. There is never a dull moment in Hoi An.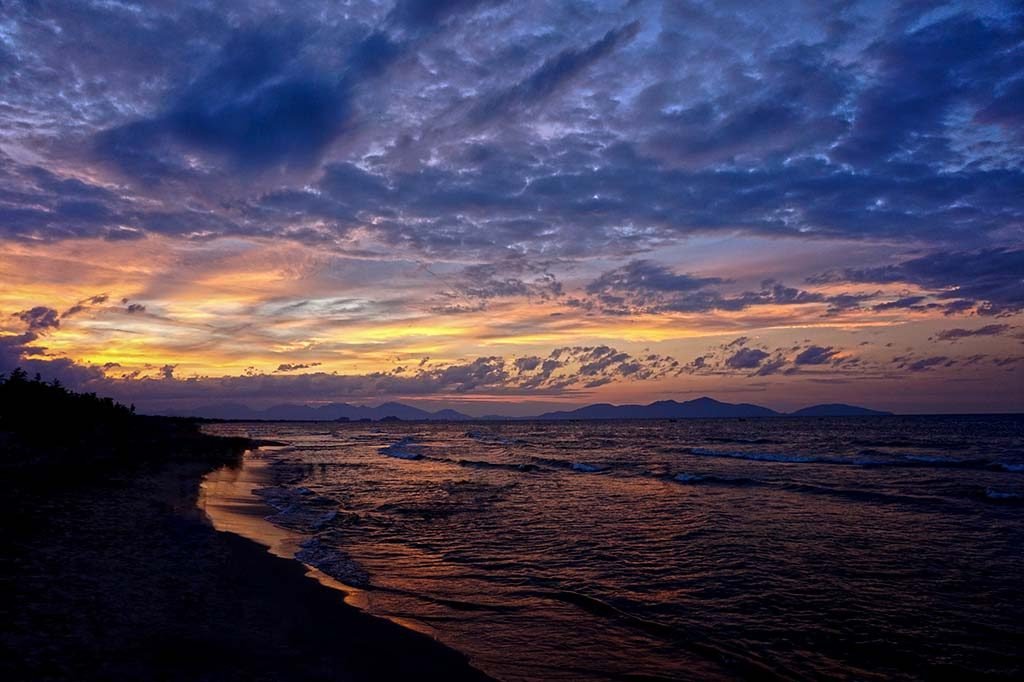 Cua Dai Beach 
The first beach we started with exploring was Cua Dai Beach. It has everything you need for a beach vacation, and it truly is an embodiment of Vietnam family trip. The beach has numerous inshore resorts with state-of-the-art equipment designed in an environment-friendly manner. Physically, Cua Dai beach lies on the tropical zone and experience rainy season between February and August. This climate creates a perfect storm for countless recreational activities that can be enjoyed by visitors of all ages. 
Another thing we loved about Cua Dai Beach is the dishes served in the restaurants by the shore. One of the best restaurants we eat from was Phu Loc; their meals are freshly caught fish from the sea.
Cua Dai is very close to Hoi An. Hence it is one of the most visited and crowded beaches in the city. It is hot during the day, but there are also plenty of shaded beds and palm trees where you can take refuge. 
Walking along this beach, you will come across many fishing boats scattered on the shoreline. The fishing boats are woven from a bamboo tree and looked like a basket. 
We discovered that the brunch is held weekly at Cua Dia Beach's Victoria Hoi An Beach Resort from 11.30 to 3 pm. The brunch is open to non-residents, and we enjoyed a wide range of culinary delights. 
An Bang Beach 
Located just 3 kilometres from Hoi An city centre, An Bang Beach offers an entirely different experience from Cua Dai Beach. It stretches 4 kilometres, with beautiful landscapes and serene natural scenery. The sand on An Bang Beach is white and very soft. It was perfect for our twins to play around on and build sandcastles. 
An Bang Beach is a pure definition of relaxation, even without some fancy treats. While Cua Dai beach has countless water activities, at An Bang Beach, you just need your board shorts or bikini, and you will find yourself smiling at how peaceful the surroundings are.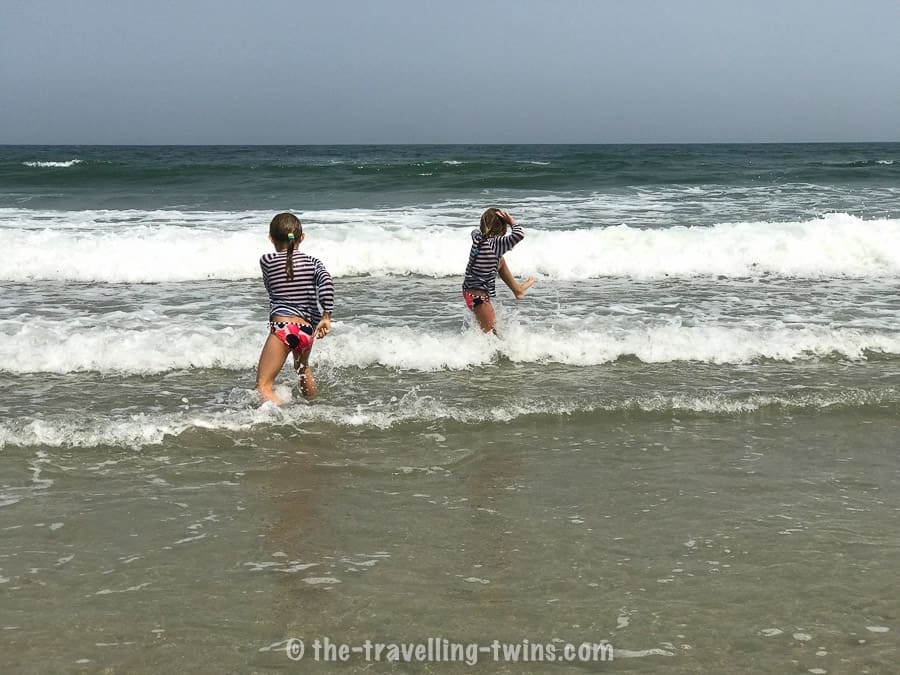 The water at An Bang Beach is crystal clear. We were even able to see the marine lives underneath. 
Lastly, the great thing about An Bang beach that makes it a must-visit is the sunset and sunrise. It is magnificent and majestic. This is also about the time fishermen launch their boats into the sea, making the atmosphere incredibly breathtaking. 
This beach also has water sports, though not as hyped as Cua Dai. When facing towards Cham Islands, you will see parasails gliding through the air as well as several jet skis splashing through the sea waves. If you want to join in the fun, you can book at Sea Rainbow Hoi An, or just walk by a stand at the beach and book a slot. Another activity you can partake at An Banh Beach is paddleboarding but is always overbooked. You can also surf at this beach, but if you are an experienced surfer, you will find the waves not as challenging for you as you would want. Some restaurants along the shore have surfboards for rent, but the best place to see all the information about surfing is at MagicSeaweed. Here you will find all the best surfing destinations not only at An Bang Beach but in the entire Hoi An. 
Bars and restaurants at An Bang Beach are also an experience to behold. The restaurants hold some of the craziest nightlife experiences in Hoi An but are also great places to grab a Vietnamese dish and wash it down with a cold drink. 
Ha My Beach  
Ha My Beach is also one of the great spots to chill and relax as you listen to the sea waves. The beach is located at a convenient location between Hoi An Old Town and Da Nang city. It is a typical Vietnam beach, with turquoise waters and sun-kissed soft, silver sands. We were tempted to lie around on the beach all day because of the peaceful nature of the beach, which is created by the countless sweet palm trees lining up the beach. It is also a great place to watch the sunset and sunrise in Hoi An. 
In the clear evening, the beach suddenly turns into a strange land of neon lights as thousands of shimmering boats are set out to the sea. 
Ha My Beach is a secluded place, making it an ideal location of a relaxed evening as it rarely crowds. But it has some of the best modern resorts in Hoi An like Four Seasons where we stayed for a few nights and loved it. Stepping into one of these resorts, you will be taken back in time during the era of the Old Town. 
The people who find Ha My beach are those who are willing to explore Hoi An as it is not the closet beach to the city.
Hidden Beach 
There is a beach in Hoi An called Hidden Beach. Just as the name suggests, it is one of the most kept secrets in Hoi An. Though we don't know how long it will continue to be called Hidden now that many people are going to know about it. It is located between the crowded ad quieter Cua Dai beach and busy tourist hotspot An Bang Beach. It is just fascinating how this destination has escaped the attention of many people despite it lying in between the two most popular beaches in Hoi An. If you want a relaxed time out, then we highly recommend coming to Hidden Beach, especially in the morning, when you will almost have the beach by yourself. 
The most outstanding restaurant here is the Hidden Beach Restaurant. It features relaxing massage and spa as well as a clothing shop. 
While it is a nice, secluded place, Hidden Beach doesn't have plenty of food options due to limited restaurants. 
The beach, despite its "Hidden" name, it is actually easy to find. Drive down Lac Long Quan until you reach a Tararind Cay Me restaurant. Here, you will find a narrow road running down the right of the restaurant. Drive the road for about three minutes, and you will arrive at the Hidden Beach. 
Binh Minh Beach 
Binh Minh Beach deserves a spot in the list of the best beaches in Hoi An. While it is a little unknown, it is a must-visit in order to complete the 360-experience of Hoi An beaches. It is located about 10 kilometres east of Than Binh Commune. The beach is filled with marine lives that you can explore with your family. It is also one of the most romantic beaches in Hoi An. 
We just strolled around the beach, as fishermen tell their stories about the history of the beach and the city. It is also a great place to interact with locals. 
Beach across the river 
This is a little secret we discovered in Hoi An. All of the beaches in this list are located on the north side of River Thu Bon. And since they are located close to Hoi An, they have plenty of tourist facilities and therefore are always crowded, including the "Hidden Beach." However, we found out that you can enjoy the entire beach by yourself on the other side of the river. 
Our curiosity led us to cross the river and found a nice place with a little ramshackle shade. The beach has literally no one and the sand seem to sprawl endlessly into the abyss. The beach is a little littered, perhaps due to its seclusion. If you want to soak in your own solitude, this is the place you need to be. 
Since the beach is isolated, there are no bars or restaurants to get snacks from; therefore, you will need to pack your own picnic if you intend to spend the day here. The nearby village restaurants serve delicious meals, but you will have to brush on your Vietnamese language skills for you to be able to order as there are no English menus. 
Coconut Beach 
This little known beach is located north of Cua Dai beach and between Boutique Hoi An Resort and Tropical Beach Resort. Coconut Beach is also one of the few beaches in Hoi An with fewer activities, so if you want a quiet time with family, it should be on your list of beaches to explore.
Cham Islands
This is perhaps the best destination in Hoi An as far as beach and relaxation are concerned. Looking for in the waters in Cua Dai, you will see tiny islands about 15 kilometres from the shores. It is one of the World Biosphere Reserves having been nominated by UNESCO in 2009. The island is famous for its traces of Cham civilization, and it draws visitors because of the pristine beauty. 
Cham Islands is characterized by golden sunshine, blue sky, crystal clear seawater, and silver sand beaches. 
We enjoyed this place very much. The water is perfect for swimming and diving. You can get up close to the daily lives of local fishers. 
Cham Islands comprises of eight small archipelagos in Tan Hiep commune. If you want scuba diving and snorkelling, we recommend going to Cu Lao Cham Marine Park. If you wish to enjoy fresh fish that you have caught yourself, then Hon Lao is the place to be. It is also an excellent place to interact with village people and sunbathe or take part in popular water sports. 
After a long day full of fun activities, we headed to the Bai Chong Beach for affordable accommodation. 
If you want to enjoy the Cham Islands, the best time to visit is between March and September. During this time the weather is clear and sunny and the waters are also calm. 
The islands are closed between October and February because of strong winds and storms that make it hard to travel on water. 
The only way to get to the islands is by speed boats. It takes about 15 minutes at a minimum depending on where you take the boat from. There are also a number of tour companies in Hoi An that organize a day trip to the islands especially Cu Lao Lam Marne Park. The tours usually include hotel pickup, lunch, snorkelling and diving gears, and English speaking tour guide. Boats depart Cua Dai Harbor daily at 8.30 in the morning, and so if you want to catch it, you should be there earlier. 
Visitors are not allowed to rent motorbikes at the islands, meaning if you want to get around Cham Islands; you need to hire a driver. The island is only served by a single road, going around the island of Hon Lao offering incredible views of the ocean and the islets. The beaches have plenty of eateries and souvenir shops all clustered in one perimeter, so navigating the area is not cumbersome. 
The beaches in Cham islands are the best. Besides strolling around the stretches of sand, you can also swim, sunbathe, or enjoy some water sports. 
The most popular beaches in Cham Islands are located in Hon Lao. They include Bai Xep, Bai Bac Beach, Bai Ong Beach, and Bai Cong Beach. And of the four beaches, Bai Cong is the one fitted with necessary facilities to make your stay perfect; beachfront bedecked with parasols and sunbeds; as well as numerous shops offering rental equipment for jest skiing, kayaking, diving, and snorkelling. 
Hoi An Beaches – Pin it for later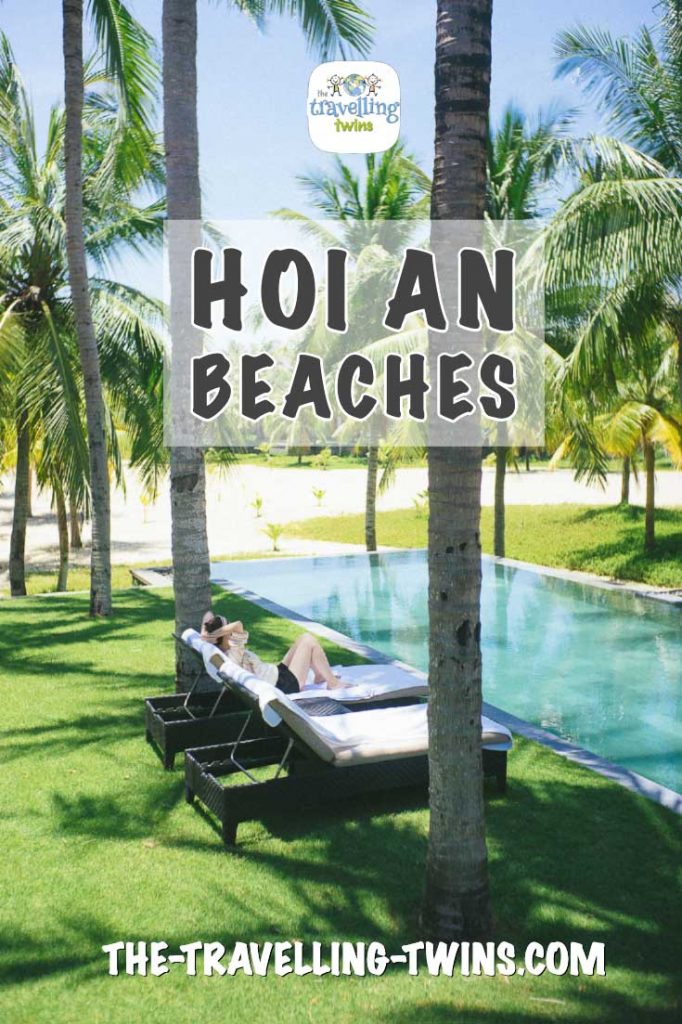 Disclaimer
This website uses affiliate links for income and support. If you like our website please consider using these links. You will be directed to the vendor, and we will get a small commission on your purchase price at no increased cost to you. We have researched facts stated here as far as practicable but please check anything critical before committing your time and money. We do not claim any special knowledge or expertise, and we are not consultants for our readers.