Most travel destinations around the world experience minor insecurity issues such as theft. While you may be safe yourself to some extent, you also need your assets to be safe. The cases of theft when traveling do not only occur when you leave your bag unattended, you can be mugged even when your bag is with you. the best Anti theft backpacks.
For that reason, you want a bag or storage system that its security cannot be breached easily. Luckily, we already have these types of anti-theft bag in form of backpacks. It is quite extraordinary how this feature provides security to your belongings especially when you consider that it is a backpack – the bag is behind you, where you are likely not to hear or see when someone touches it. Read about the best Anti-theft backpacks.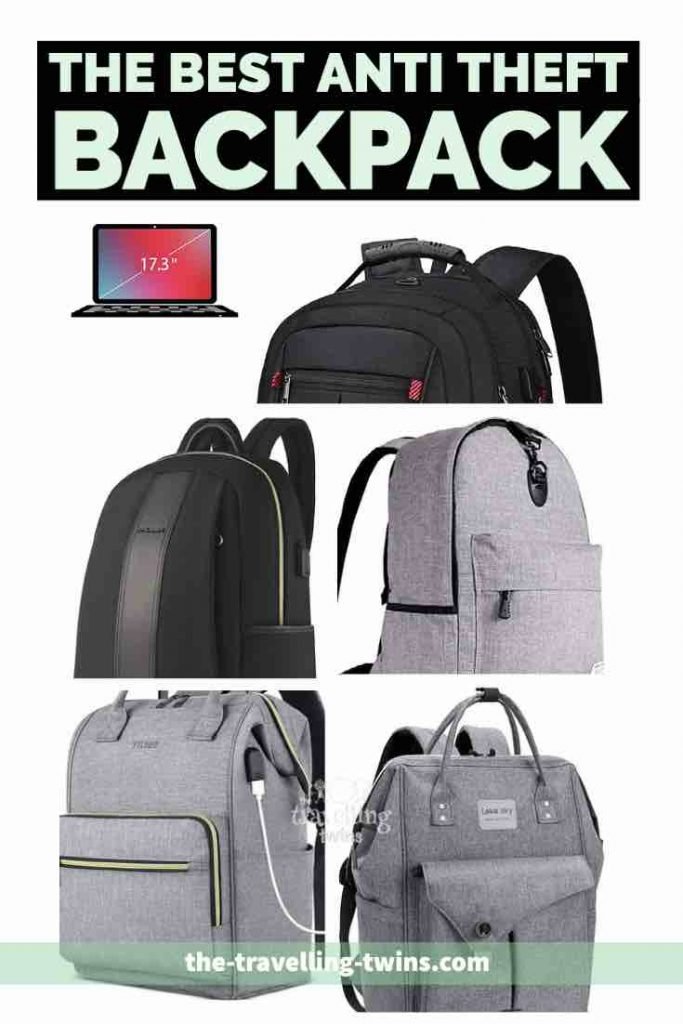 What is an anti-theft travel backpack? 
The Best anti-theft travel backpacks are designed to be theft-proof and provide security to your belongings when you are on the road. Whether you are sitting at a coffee shop in London, walking down the street in Rome, waiting for your train to arrive in Paris, you can be confident your valuables are safe and protected inside your anti-theft backpack.
These bags have top-notch security features like hidden pockets, slash-proof fabric, and tough, lockable zippers, which combine to reduce the risk of thieves accessing and stealing your belongings. 
It is not just for traveling. If you commute on a daily basis, whether to school or work, you can also find anti-theft backpacks useful in terms of protecting your valuables. 
If you are looking for hiking backpack do check our post about hiking backpacks for small females
Features to look for in anti-theft backpacks for travel
Lockable zippers 
In backpacks, lockable zippers are among the best deterrents to predatory eyes. The best anti-theft backpack should have a lockable zipper on multiple sections, and not just on the central compartment.
However, note that the design of the locks differs between brands. Some models will require an additional padlock or TSA-certified luggage locks. 
Nevertheless, a mere lockable zipper will not deter a resolute thief, especially with time on their hands. They are usually effective when you are walking down the street or sightseeing. Some models will have just a ring to peg the zipper to, rather than a physical lock. While this may not seem secure enough, if hooked to a D ring, the zipper may be enough to prevent anyone from trying to access your valuables.
Hidden zippers 
Unlike lockable zippers, hidden zippers mean thieves cannot see them, and thus cannot access your bag. In this design, the zippers are usually hidden at the back of your bag when it is on your back. 
It is the new feature that is taking over the anti-theft luggage industry and it is simple, cheap, and reliable for travel and reliable.
Hidden pockets 
A good theft-proof bag should also have hidden pockets and compartments in addition to lockable zippers and slash-proof materials. Most designs will have hidden pockets tucked away at the back of the bag, making them more difficult to access when the backpack is at your back. You can put there your credit cards, wallet, passports, and even phone without having to worry about their safety.
Another common feature you will find in most anti-theft bags is zippered pockets that are hidden inside the bag. 
Slash-proof materials 
Slash-proof material is the most common anti-theft feature of travel bags. When embedded within the material of the bag, slash resistant material prevents the fabric from being cut open to access the contents of your bag.
The most common material is usually a steel wire mesh, which in addition to protecting your valuables from prying eyes, also prevents unauthorized access to your bag when you leave it in your hotel. 
Some backpacks also feature slash resistant straps to prevent someone from cutting the straps and stilling your bag when you lock it to a chair or table.
Built-in locking cable 
The locking cable is for tying your bag to a chair, table, or post to prevent it from being stolen. The design can have an integrated locking cable while others separate, but for maximum security, consider the one with a locking feature embedded within the straps of the bag. 
Locking cable is an ideal security feature that can come in handy when you are waiting for your train to arrive or waiting at the airport.
How do you choose the best theft-proof travel backpack? 
A theft-proof backpack will ensure you walk confidently even in high-risk areas knowing that your things are safe. Buying an anti-theft backpack is not a straightforward task, unfortunately, and there are a number of factors you need to take into consideration. Now that you are aware of the must-have features of an anti-theft backpack, how do you make sure you choose the best from the wide pool of theft-proof backpacks? 
Here is what to look for in an anti-theft backpack:
Anti-theft features 
The first thing you should look for in your anti-theft backpack is the features that make it theft-proof. Some of the anti-theft features you should look for we have already discussed above, and all you need to do is figure out which one is most important and will come in handy to you. 
Style 
Above all, you still want to travel in style. Anti-theft backpacks come in a myriad of styles and colors. They also come with different open mechanisms, some with zippers that open 90 degrees or 180 degrees while others are accessed from the top. 
Size 
The size of the backpack will come down to the number of items you carry when you commute or travel. Luckily, there is an array of sizes as far as anti-theft backpacks are concerned. Whether you are looking for an anti-theft daypack, luggage, or just a backpack for your daily commuting, there is an option for you. 
Think about what you need to store in the bag, which will dictate how many compartments you will need. For instance, if you want a backpack for your daily commute to work, you don't need a larger back, just something to store your wallet, mobile phone, credit cards, and maybe a bottle of water. But if you are a college student, you may need a larger pack to accommodate your books, laptops, notepad, and so on. 
In addition to the size of the backpack, make sure you also keep in mind your own height. If you are a tall fella, you may want an anti-theft backpack that is longer and vice versa. 
Pocket layout 
The layout of the pockets of the backpack you need will depend on the items you want to carry. You may need many pockets or fewer pockets in your backpack so try to consider the things you will be putting in the pockets. The last thing you need is fumbling with your backpack at the airport check-in counter because you can't find your passport. 
Comfort 
Last but not least, you need to feel comfortable when carrying a backpack. But this can partly depend on your body size and height as well as the number of items inside the bag and how long you carry it on your back. 
Most theft-proof backpacks will have quality foam where the bag comes in contact with your back. Additionally, the straps will also be padded to improve comfort when you carry the bag for long. 
Comparable table of the Best Anti-theft Backpacks 
Lekesky backpack is not only an anti-theft pack, but it is also functional, fashionable, and comfortable to carry either in your hands or on your back. It comes in three primary colors – black, grey, and grey 1, which are all unisex. 
The bag is water repellent, durable, lightweight, and easier to maintain. The larger compartment can fit a standard laptop while the second compartment can carry all your necessary items for commute, travel, going to work, lectures, or shopping.
In addition to the larger compartment, this backpack also has hidden pockets for holding mobile phones, credit cards, wallets, and other important items. The hidden pockets will keep your valuables away from the thief and more securely. Each side also features durable pockets for carrying water bottles and small umbrellas. 
PROS
Large compartment 
Stylish design 
Durable 
CONS
Poor quality construction 
If you are looking for style and function, Ytonet Travel Laptop is for you. Right off the bat, you will find the USB port for charging is a lifesaver feature on this backpack. The port is extended on the side of the bag and has a built-in charging cable, offering convenient access to phone charging when you are still carrying the backpack. 
The rear zipper pocket as well as the RFID pocket protects your valuables from prying eyes. This backpack is an ideal option for a daily commute, travel, work, and outdoor adventures. 
Its wide-open design ensures you can carry large items and still they will not be visible or easily accessible by unauthorized persons. The pocket layout is also extremely convenient and you access any item – whether at the top, on the sides, or at the bottom of the backpack- easily and quickly. The adjustable padded straps release pressure on your shoulder and back while the same straps can be fitted to the suitcase of a handle of a trolley, making it super-convenient when traveling. 
PROS
USB port for charging 
Wide opening design 
Water-resistant 
Unisex 
CONS
Side pockets not as big as you would wish
KROSER company is known for designing and manufacturing high-quality backpacks as well as laptop bags, suitcases, and computer bags. 
Their anti-theft backpack is stylish and made from durable, high-quality, water-repellent material. As with most modern theft-proof backpacks, KROSER also comes with a USB port for easy phone charging through a power bank. 
In terms of functionality, the backpack has a multi-functional compartment and pockets that provide enough sections for your PC, power bank, mobile phone, A4 files, credit cards, pens, wallets, and even clothes. 
The side pockets are made of elasticized mess material and are roomy enough to hold water bottles and umbrellas. RFID pockets feature an identity protection function that protects data encoded in IDs, passports, and credit cards. 
A well-knitted strap allows you to attach the backpack to the trolley of your luggage when traveling, while the front of the strips enhances your safety during your evening walk, run, or biking. 
PROS
Reflective stripes for safety 
Sturdy handle 
The main compartment is double-zipped 
CONS
It is too large for small frame persons 
Hap Tim anti-theft backpack is ideal for college students and solo travelers. It has lots of pockets for holding all your valuables, and lightweight enough to carry for long on your hands or back. It fits underneath airplane sit without issues. 
Its exterior pockets are easy to access and features a large top opening for checking inside easily and it also has a cable/ headphone pass-through that offers an easy way to charge your mobile phone or listen to music on the road. 
When it comes to the comfort of carrying this backpack, it has shock-absorbing straps and a padded back to reduce the pressure when the bag is full. A wide design gives the pack a Spartan vibe.
PROS
High-quality construction 
Comfortable carry 
Can be a great gift 
This anti-theft backpack offers a great deal of convenience both in terms of protecting your belongings and accessing them. It also offers the convenience of charging your phone thanks to its USB charging port and a set-in charging cable. 
Its lay-flat design makes it easy to organize your stuff inside and allows for 180 degrees open so that you can get your items out easily. 
Another great feature you will find useful is the smart luggage sleeve, which lets you free your back and hands when traveling. You can hold the backpack through the handle tube handle for easy travel. To enhance the protection of your items, the pocket on the back features an anti-theft zipper while the card zipper pocket provides easy access to your valuables such as keys, coins, and cards. 
PROS
Water-resistant material 
Durable backpack 
Large space 
CONS
If you have 17.3″ laptop better check if it fits
Known for its clean and modern design, the XDesign backpack was designed with comfort and style in mind. It features a large capacity with a separate compartment for your laptop along with numerous pockets for additional organization.  
For entertainment, the backpack has an audio port that allows you to take calls or listen to your favorite music. All you need to do is thread your headphones through the port and you are good to go. 
The fabric used to make the bag is anti-scratch, which plays an important role in offering added security to your belongings.  
When you are on the road, just strap the backpack onto your rolling luggage for easy travel. Below the audio port is an external charging port that offers an easier way to charge your mobile phone. 
PROS
Large capacity 
Audio port 
Anti-scratch fabric 
The second KROSNER product on this list, this 17 inches backpack comes with a headphone hole so you can listen to music while on the road. It has RFID pockets to keep your credit cards safe to prevent identity theft. Still, on the subject of safety, the anti-theft zippered pocket is located on the back of the backpack to keep your important things safe. 
A luggage strap allows you to strap the backpack to fit on your suitcase or luggage for easy carrying.
In terms of comfortability, the backpack is large and durable. It is well-padded at the back and has adjustable padding shoulder straps as well as a sturdy handle for comfort when carrying for long periods of time. 
PROS
Roomy 
Charging and audio ports 
Highly functional 
CONS
Some users complain about poor quality of stiching
With 20 different pockets, this backpack is one of the largest in the market and an idea for organizing small items. Three main multi-compartments with numerous hidden anti-theft pockets let you store lots of your important items such as travel accessories, stationery, clothes, cord organizer, notebook, and so on. 
Unfolds 90 to 180 degrees for easy access to the interior of the back and the external USB port with set-in cable lets you charge your cellphone easily. An audio hole for headphones provides easy access to earphone usage, thus the backpack can be suitable for students. 
It is comfortable with spatial ventilation design, wide breathable mesh shoulder with padding to help reduce stress on your back and shoulder when the backpack is full. Both sides of the strap have a lanyard design to hang your sunglass or any other small accessories. 
PROS
Multi-purpose design 
Audio and charging ports 
Comfortable 
CONS
Too large for small-framed persons 
This KROSER backpack features a classic but simple design and is ideal for both women and men. Its design makes it easy to match with your daily clothing. The backpack is suitable for travel, business, college, holiday vacation, and your daily commute. 
A built-in USB port provides an easy and convenient way to charge your mobile phone by just connecting the cable to your power bank without having to open the backpack. 
A multi-purpose compartment provides different spaces for your PC, power bank, phone, wallets, and other items. 
Just like other KROSER backpacks, that fits 15.6 laptop inches is well-knitted with long-lasting material that feels comfortable even when the bag is full.
PROS
Durable and comfortable 
Built-in USB port for charging 
Spacious interior 
Unlike other KROSER backpacks, this model is made from an environment-friendly poly material that is water-repellent and durable. It is larger and provides separate space for electronics, cards, and clothes.
It is specially designed for computer carriage; with its well-padded foam absorb shock to protect the contents of your bag. Adjustable and ergonomic padding shoulder straps and robust, comfortable handle make it easy to carry even for a long period.
PROS
Convenient and comfortable 
Stylish design 
Ideal gift 
Best Anti Theft Backpacks – Pin it