There are different ways in which you can learn the French language and its culture. You can relocate there, enroll in French classes (physical or virtual), or read books about France. Another way is by watching French movies. This last option is one of the best ways to discover the realities of France beyond just stereotypical such as old villages and cheese. It also provides you with an opportunity to learn French the fun way through comedies and dramas. 
When it comes to discovering French movies on the Netflix streaming platform, there is plenty of options for you, from the legendary classics directed by the likes of Charlie Chaplin and David Lynch to new shows like The World is Yours.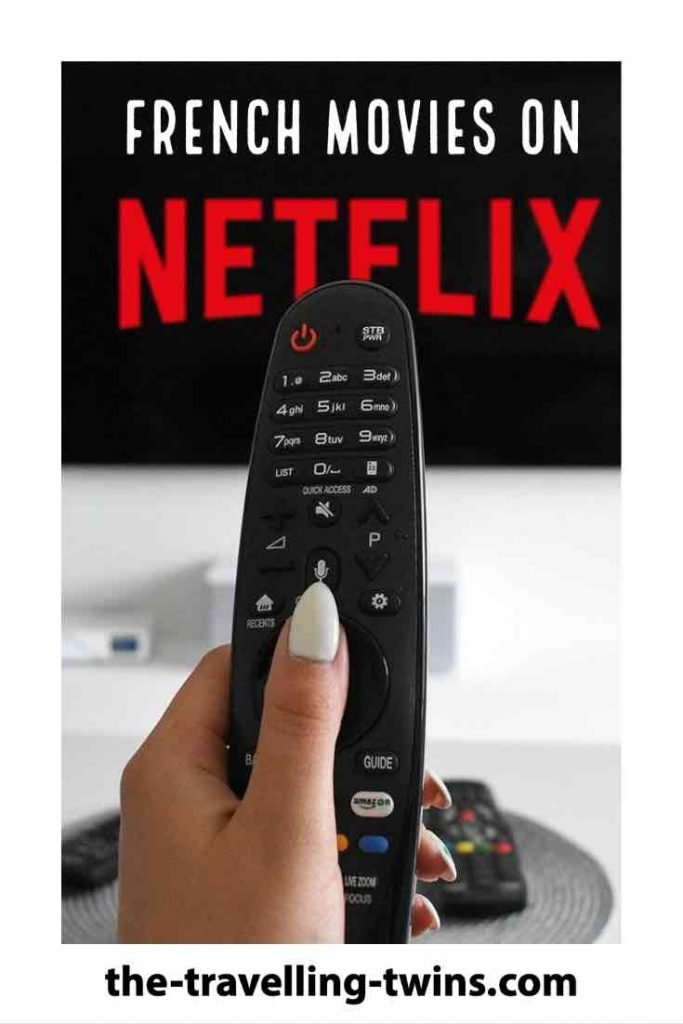 To help you out, we have compiled a list of the best French movies you can watch on Netflix today. Note that some movies may come from French-speaking countries such as Canada and Belgium, and not necessarily France. 
Here are the best French films on Netflix 
Girl (2018) 
This riveting drama film was directed by renowned Belgium film director Lukas Dhont and starring Victor Polster. Marking his debut in acting, Polster is a trans girl who is keen to learn and have a career as a ballerina.
The 15 years old girl, Lara Verhaeghen played by Polster, applies to join a respected school in the Belgium city of Antwerp. She gets an 8-week trial before she is accepted. The story of Lara was inspired by a real story of trans dancer Lukas Dhont had read about when he was 8 years old. The true story was about a 15-year-old girl named Nora Monsecour. 
After Lara is accepted to the ballet school in Antwerp, she relocates so she could be closer to the school, and she was accompanied by her younger brother and supportive francophone dad. 

During this time, Lara was trying to figure out who she is, and she was in regular contact with doctors about her gender dysphoria, as well as taking puberty blockers and seeing a psychiatrist, who was also super supportive of her. Despite being in contact with professionals and having support around her, the difficulties of starting at a new school and the problems of going through puberty make Lara self-doubting and reserved. 
Lara excels at school both socially and academically, and despite everyone being aware of her gender situation, her classmates accept her, including girls who also share a locker with her.
However, despite the success of Girl, including winning several awards at Cannes as well as striking a deal with Netflix for distribution, the movie was quite divisive, especially among the trans community. 
The Hookup Plan (2018)
Plan Coeur or the Hook Up Plan is a comedy series and the second French sitcom to be distributed by Netflix since Marseille. 
It premiered on December 7, 2018, and today it is in its second season. 
In this television series, the somewhat nerdy Elsa (played by Zita Hanrot) has two ingenuously determined, girl pals who come to her rescue after watching Elsa struggle to get over her breakup two years down the line. The girls decide to find Elsa a boyfriend in the name of Jules (played by Marc Ruchmann), a male escort. 
The main intention here was to help distract Elsa and thus snap her out of the rut, but things took an unsurprising turn, as Elsa and Jules start to fall in love for real, keeping in mind that Elsa does not know Jules is a male escort. 
However, the series is made better by the vicious closeness and loyalty among the group. 
The other members are Milou and Charlotte, who is played by Sabrina Ouazani and Jesephone Drai. 
The three friends have a truthful and fierce camaraderie similar to that seen in iconic sitcoms such as How I Met Your Mother or Friends.
Blockbuster (2018) 
This 2018 comedy film is about a man in a quest to win his superhero-crazy girlfriend after she dumped him for creating a video to please his ailing father. 
It is the first French movie produced by Netflix after the producers had initiated a kickstarter campaign online. It features playful graphics similar to Juno as well as cheerful close range and personal filming style, which raises the feeling of budding love and exude the sense of togetherness. 
Jeremy is the main star of the movie; he is a romantic and wicked protagonist who chooses to make a comedic albeit charming documentation of his life in a bid to connect with his ill dad who is hospital-bound. His aim was to allow his tremendously ill father to have an insight into his daily life. 
During the filming of one of his episodes, Jeremy meets a comic store worker and superhero-loving called Lola. They become close and everything goes well until she finds footage that reveals that Jeremey only went out on a date with her because she was the first of tens of girls that day to accept him. As you would expect, she dumps him instantly. 
But Jeremy just can't let it go, instead, he tries to come up with some ingenious ways to win her back, of course with the nudge of his dad. 
The African Doctor (2016) Bienvenue à Marly-Gomont
A masterpiece and a real favourite. Rarely comedy can be a true story at the same time. In 1975, Seyolo Zantoko, a newly graduated doctor from Kinshasa, seized the opportunity of a job as a doctor in a small French village.
When he arrived in Marly-Gomont, Seyolo and his family are disappointed. The local people are afraid because they have never seen black people in their life. It's not the story of racism but rather about two cultures that ignore each other who seek (and manage) to tame incredibly. Well done!
A masterful acting game; characters who are all very endearing. The director does judge either of the sides. Because yes, there is no racism on either side:
The World Is Yours (2018) 
This 2018 movie was directed by Romain Gavras, who is known for producing masterful and provoking music videos for famous artists including Jay-Z and M.I.A. Featuring notable actors Karim Leklou and Vincent Cassel, this movie represents what many believe is Netflix stepping up their French film collection game. 
François is a minor drug dealer. The boy wants to quit his current, risky occupation to start a small and, importantly, legal business in Algeria. But he needs money, especially since his mother has lost all his savings at the casino. François is forced to return to the criminal path. With the help of an ex-girlfriend whose love he wants to win again, a gangster friend with a philosophical approach to life (Vincent Cassel) and a crook mom (Isabelle Adjani), he takes on a final job that is to change his life. Gangsters, strong women, lots of action and even more humor!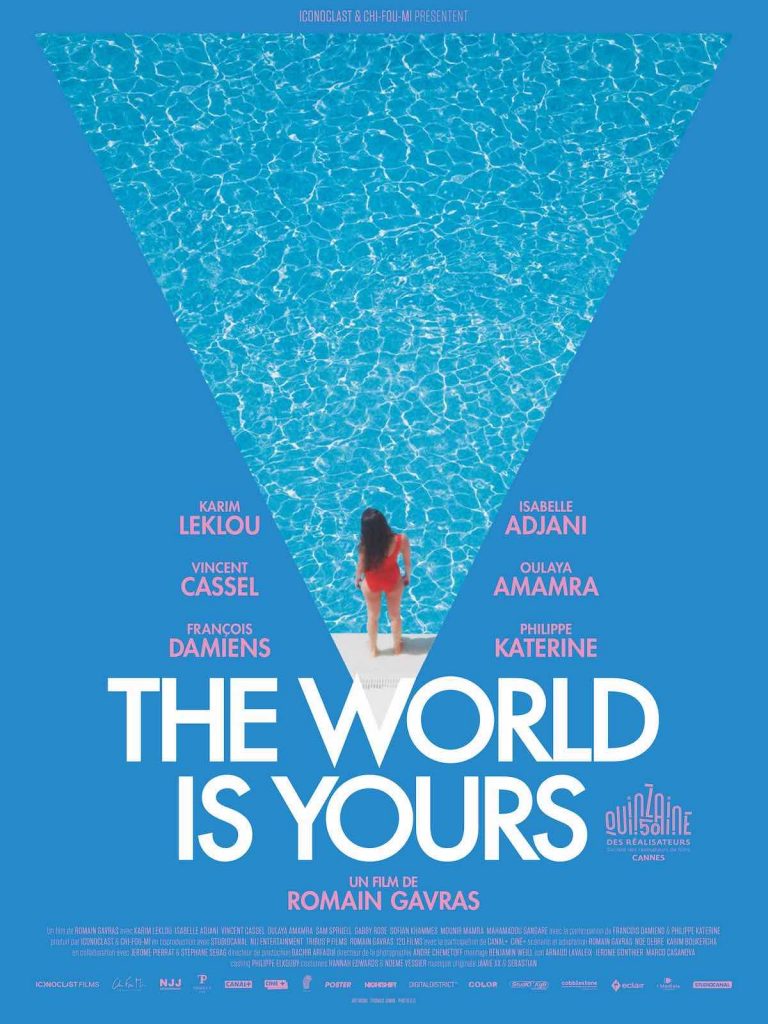 Fares (played by Leklou) is a small-time dealer with huge aspirations for leaving behind his life of corruption and crime, meet a nice, beautiful girl, and starting his own ice cream business. However, his mother Danny (played by Isabelle Adjani) is very much on the way and interfering with Fares' plans. Danny is a rational high roller who is extremely addicted to gambling and has gambled all her savings. She swears by the motto of cheating others before they have an opportunity to cheat you. 
However, her son just wants to finish his last drug-trafficking job and start his life over. 
All That Glitters (2010)
 Also known in French as Tout ce qui brille, All That Glitters is a classic television drama-comedy that has garnered overwhelming acclaim since it was released in 2019. Co-wrote and co-directed by film debutants Herve Minran and Geraldine, this film tells the story of two working-class friends Lila and Ely who live on the outskirts of Paris and yearn for a more glitzy lifestyle. 
One day Lila encounters with a group of other Parisians but from the posh 16th arrondissement, and to fit in, she lies about where she lives, giving them a wrong address in Neuilly, the upscale and most expensive neighborhood in Paris. 
The lying gets to the point that Lila abandons her old boyfriend for a new, rich one known as Max. On the other hand, Ely grows sick and tired of Lila's lies and they both stop talking. 
This film does a great job in depicting Paris and its surroundings as more than just a chestnut 'city of love' as well as giving viewers a rollercoaster storyline with a happy ending. 
Kirikou and the Sorceress (1998) – Kirikou et la Sorcière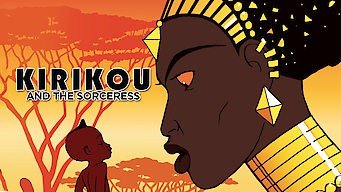 This classic animation film was written and directed by the legendary director Michel Ocelot. It is one of the best French movies to watch with your kids. Using some elements of West African folk tales, Kirikou and the Sorceress portrays how a newborn boy called Kirikou, saves his entire village from the evil sorcerer Karaba. 
Set in a small village in West Africa, Kirikou, the main character of the film, is born in an unusual circumstance, as he can speak and walk immediately after being born. His mother tells him of the evil witch Karaba, who has used her powers to dry up the spring and gobbled all the male members of the village except one, Kirikou's uncle. 
In the company of his uncle and the only male adult left in the village, Kirikou visits the sorceress and trick her and save his uncle by hiding inside his uncle's hat and pretending that it is magic. 
Moreover, Kirikou saves the other children from being abducted by the evil witch's boat and tree and ruptures the giant that was drinking all the water in the village, thus gaining trust and importance in the eyes of the villagers who were not sold by Kirikou's capabilities. 
In the next quest, Kirikou set out to the forbidden mountain to talk to his wise grandfather about the evil witch. His old grandfather tells him that the sorceress is wicked because a poisonous thorn pierced her at the back, which causes her extreme pain that gives her extraordinary powers. 
Knowing this secret, Kirikou uses the sorceress's gold to lure her outdoors where he can try and remove the poisoned thorn. 
After that, the sorceress is cured, and Kirikou becomes an adult after she kisses him. 
They both return to the village but the people are still skeptical until a parade of drummers arrived along with Kirikou's wise granddad. The drummers are actually sorceress's guards and henchmen transformed back to human, and it turns out the missing village men hadn't been devoured after all. 
The Emperor's Walk (2004) – La Marche de l'empereur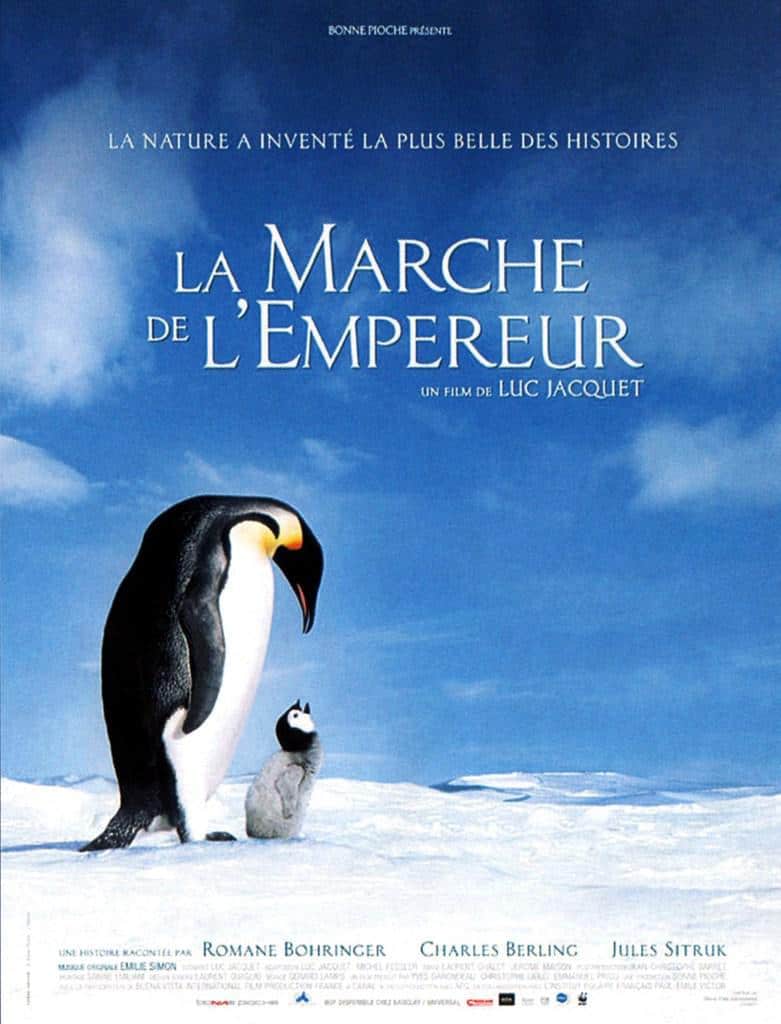 This film was produced by Luc Jacquet in 2004 and released in 2005. It enjoyed great success across the world and won the Oscar for the best documentary film a year after it was released. The documentary was shot in Antarctica and it narrates the story of emperor penguins and their method of reproduction. 
Using the first-person storytelling technique, the film tries to imagine the internal perspective of two penguins – male and female – and their calf, narrating the hurdles they encounter in their lives in the most extreme and most remote edge of the world. 
The voices are performed by Charles Berlin, Romane Bohringer, and Jules Sitruk. 
Normally, the emperor penguins live in groups in the Antarctic. During their congeners, each pair has to fight against the harshest conditions in order to propagate the species and guard their calves against many hurdles and inevitable dangers. Every year is a new cycle where only one small penguin is born per pair, and many of these newborns don't live to see adulthood or have a chance to be born. 
In addition to the extreme cold and strong storms and winds, the penguins also face predators like giant petrel and leopard seals. 
The two parents use a division of labor- one protects the egg until it hatches while the other goes out to look for food, mostly fish along the coast. And because the penguin can't fly or even walk without difficulties, the kilometers of trailing is another hurdle. 
French nature biopics are easier to understand since not many people speak, so the sound quality is often of high quality. 
While the vocabulary can be challenging for those who don't understand French, the images used in this film are beautiful. 
Rosalie Blum (2015)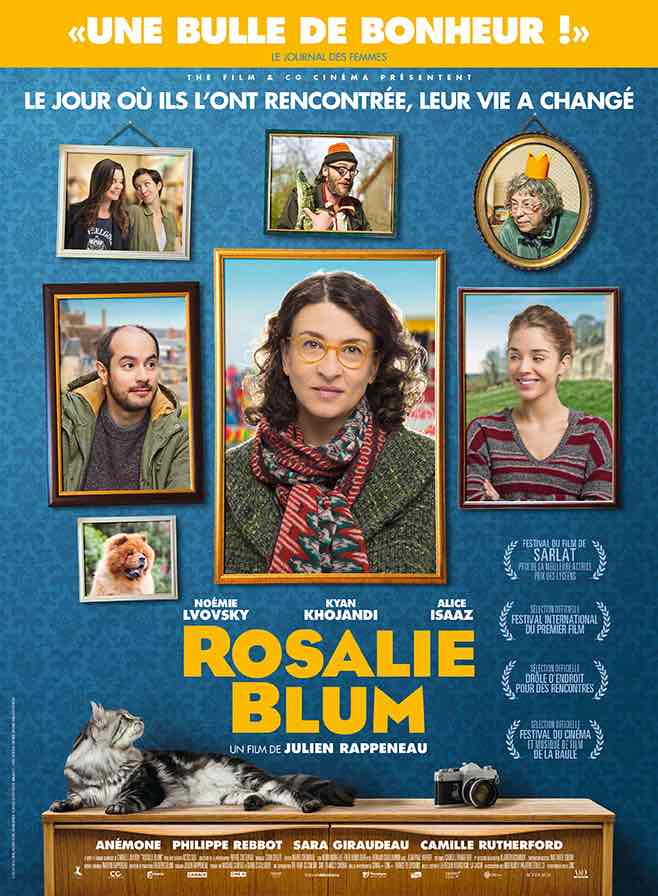 Written and directed by Julien Rappeneau, Rosalie Blum is a French comedy-drama released in 2015 and is based on the book of the same name authored by Camille Jourdy.
In this film, the main character, Vincent Machot was having a normal life divided between his cousin, his intrusive mother, his cat, and his beauty parlor. He is a reserved person with a very limited romantic life until he met Rosalie Blum by accident. 
Rosalie is the manager of a medium enterprise. She is a mysterious character though Vincent thinks they have met before. So as he tries to remember where he had met this woman, he decides to stalk her until he saw her enter a prison. 
Rosalie on her side notices that Vincent is following her and so she asks her niece, Aude to help her observe Vincent. Aude, a sluggish, lazy student, invites her two quirky best friends to join her in trying to dig information about Vincent. Aude and her two friends gather some clues, suspecting Vincent of malicious intent and the construction of criminal theories, acting as if to be protagonists of a police show. 
But after a number of careful examinations, each character is not what one would have expected!
Rosalie Blum is a well-written comedy-drama and easy to understand even if you are not French. The pace of each actor is slower and they take turns to talk. 
Bicycling With Moliere (2013)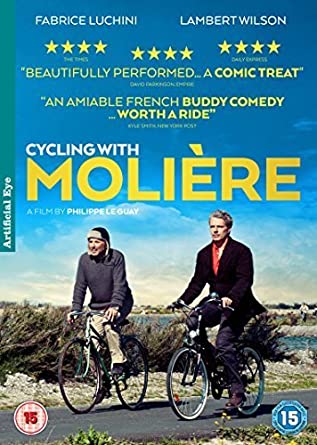 Set in Paris, this film drama revolves around two thespians taking on The Misanthrope and trying not to get into each other's nerve. Bicycling With Moliere is a 2013 film directed by Philippe Le Guay and offers a further statement of this director's flair for producing superbly acted unintellectual dramedies with passion. 
Featuring some scene-stealing performance from Fabrice Luchini, this movie enjoys success both at home and overseas. Le Guay and Luchini wanted to make a final movie together and so Bicycling With Moliere follows the exertions of Gauthier Valence (played by Lambert Wilson), who set out to the rain-swept region of Ile de Re to convince his old friend, the antisocial actor Tanneur (played by Fabrice Luchini), to feature in his film. 
Tanneur had self-exiled himself in an abandoned family mansion after suffering some serious nervous breakdown a few years before. He is a talented but thorny actor as well as misanthropic and his antics resemble those of the play's protagonist, Alceste. 
But as much as Tanneur doesn't want to cut short his self-exile, his love for Moliere and the persuasive powers of Gauthier is just too much to resist. So the two set out on a seven-day long preparation session that goes south every moment one of their egos spills over.
The main selling points of the film is the different read-throughs, which Luchini brings them out in beauty as well as the different ways they can be interpreted, depicting Alceste as a complex and inspiring character.
But despite the earlier frictions between the two performers, they soon find their rhythm, switching roles between Alceste and Philinte, a generous conformist, making it clear that their relationship is actually the one depicted in the theater play itself! 
In the end, the personal and artistic tiffs between Tanneur and Gauthier make is intriguing enough to make this film one of the best French movies on Netflix. 
OSS 117: Cairo, Nest of Spies (2016)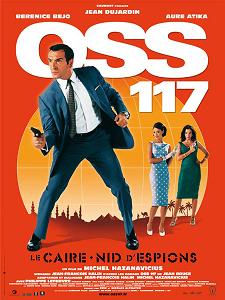 Released in France under the title OSS 117: Le Caire, nid d'espions, this is a spy comedy film co-written and directed by Michel Hazanavicius and feature Jean Dujardin, Aure Atika, and Berenice Bejo. It is set in mid-century and follows the travails of the French spy Hubert Bonisseur de La Bath / OSS 117, who is sent to Cairo to investigate the disappearance of his longtime friend and fellow secret agent Jack Jefferson, but things turn out unexpectedly as he stumbles into a web of global intrigue.
The film is based on a graphic novel by Jean Bruce but includes elements of parody that distinguish it from a kind that is adapted. It depicts the main character as an idiotic, ultra-conservative Frenchman in terms of religion, race, and gender roles. 
Through the course of the film, OSS 117 has two romantic interests – an Egyptian princess called Al Tarouk who is swept off the ground by OSS 117's charms, and the former assistant to his old friend and the person he came to rescue Jack Jefferson, Larmina El Akmar Betouche. 
The real joy of this film is the gracious performance of Jean Dujardin, who in addition to being extremely funny, is also enormously charismatic and the directors made him look uncannily look like a young Sean Connery in Goldfinger. 
Though it is a low-budget movie, it is super entertaining. 
J'ai Perdu Mon Corps
"I lost my body" is an animated film that alternates several cycles of a life. In black and white, Jérémy Clapin describes Naoufel's childhood. In color, his adolescence and his meeting with Gabrielle. Also in color, the course full of pitfalls with a severed hand. This living hand seems endowed with emotions and will draw on its strengths and its reflection to find its body, to find Naoufel. On paper, "I Lost My Body" could be a horror movie or a comedy. In reality, it is a poetic work full of melancholy on the fate of a young man in the making. Selected at the Critics' Week 2019, we sincerely hope that he will be selected by the Académie des César for the best French animated film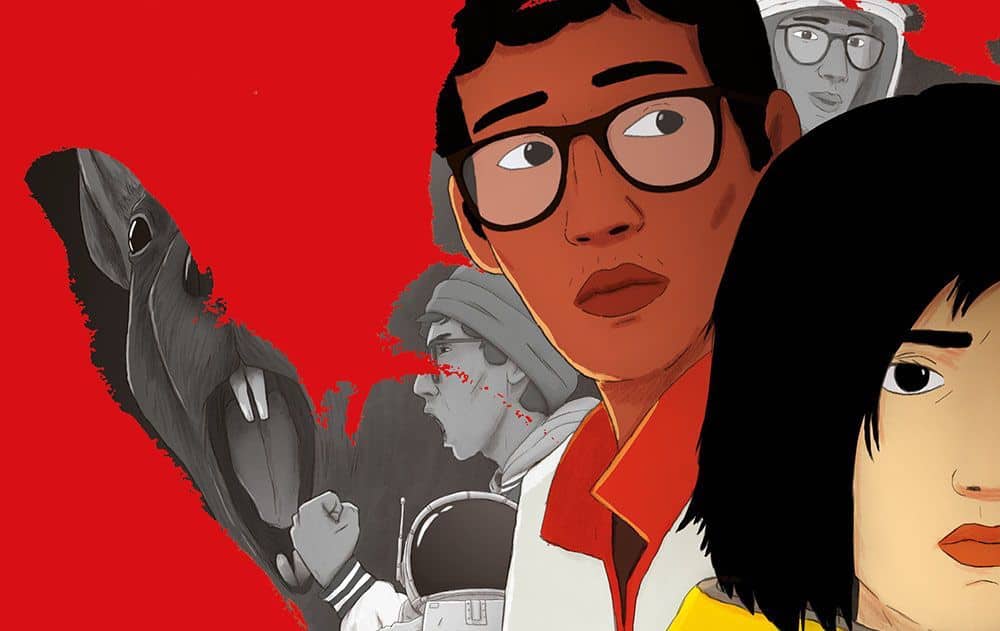 Potiche (2010)
Based on an old French play, Potiche or Trophy Wife is a 2010 film set in 1977 and stars Catherine Deneuve, Gerard Depardieu, Karin Viard, Fabrice Luchini (remember him from Bicycling With Moliere?), Jeremie Renier, and Judith Godreche. 
The film is about a trophy wife who is supposed to run his late father's umbrella factory after its employees grew tired of their despotic manager. Potiche means a decorative verse in French but it can also loosely mean "window dressing" or by extension, "trophy wife". 
Suzanne Pujol, played by Catherine Deneuve inherited the umbrella factory from his father and after his passing, her husband Robert, played by Fabrice Luchini, become the manager. But despite the fact that the factory belonged to Suzanne's father, Robert, her husband behaves as if he is the one who built it with his own hands from the grown, one parapluie at a time. As result, he becomes arrogant and tyrannical, who runs a tight ship, who also cheats on his trophy wife with his secretary. 
On the other hand, Suzanne enjoys her quiet and comfortable life and loves his family, albeit his grownup daughter and son. She is aware that Robert is having an affair and is perhaps contented that the mistress relieves her of some of her responsibilities as a wife.
Soon, France is hit by a countrywide strike, the umbrella factory is not left behind. However, Robert denounces them immediately, causing them to take him in as a hostage. And suddenly all the factory problems become Suzanne's problems. 
In this film, Deneuve has been portrayed as somewhat bubble-brained. She carries around a small pocket notebook where she jots down some little poems. This is to show that Suzanne has not suddenly become serious, but instead that she is still the same person, and only the circumstances have changed. 
But she can't handle all these by herself. She needs assistance, and so she talks to the mayor of the town, Maurice, played by Gerard Depardieu. As was common with French mayors of the mid-century, Maurice is a communist but also a fond man. These two depict a kind of unforced onscreen chemistry, which can be attributed to the fact that they have starred in eight movies together and have been the A-list celebrities of the French cinema for decades.
In the film, Suzanne and Maurice collaborate to find a solution for her husband's stupidity as well as the annoyance of the workers. As the film proceeds, she re-engages in life and we finally get to understand what she needed in order to deal with her excruciating husband, which is to partition him into an insulated chamber in her mind.
This is a fanciful comedy that is based on a popular French play. But while it depicts some elements of faithful adaption, the director uses a number of locations that a play would find impossible. It is a film that can be enjoyed even by little children as there is very little effort in terms of psychological depth while its characters float along nicely on the requirements of comedy. 
Je ne suis pas un homme facile (2018)
The new movie Je ne suis pas un homme facile (I Am Not An Easy Man) is a fresh take on the "man-child" concept.
A shameless chauvinist learns a lesson when he wakes up in a world ruled by women and messes with an influential writer.
Tips to find French movies on Netflix 
This list is by no means exhaustive, rather, its main purpose is to provide you with a platform from which you can get started, though most of the movies shared here are so popular and great and you will find them thrilling. But if you want to expand your pool, try to search over numerous countries. For instance, there are many great movies from Francophone countries such as Belgian, Canada, Switzerland, Luxembourg, and the Ivory Coast among others. 
French films on Netflix – Pin it