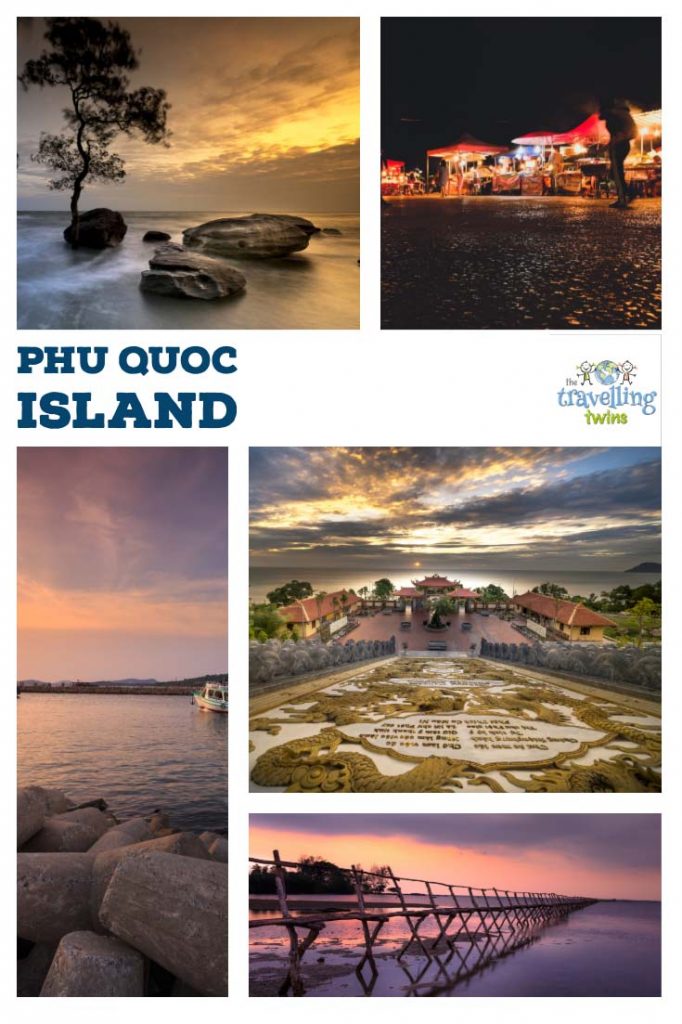 Things to do in Phu Quoc Vietnam
Phu Quoc is the largest Vietnamese island. Located to the south west, and closer to Cambodia than the Vietnamese mainland, the island is an Exclusive Economic Zone. So far as tourists are concerned, this means that you have a 30-day visa exemption.
In the world of commercial trade, Phu Quoc is known for being a significant producer of fish sauce and pepper. Tourists love the island for its sandy beaches and clean sea. We loved the island for all those reasons and more.
Read on to learn about things to do in Phu Quoc with kids or without.
.
Explore Phu Quoc on Two Wheels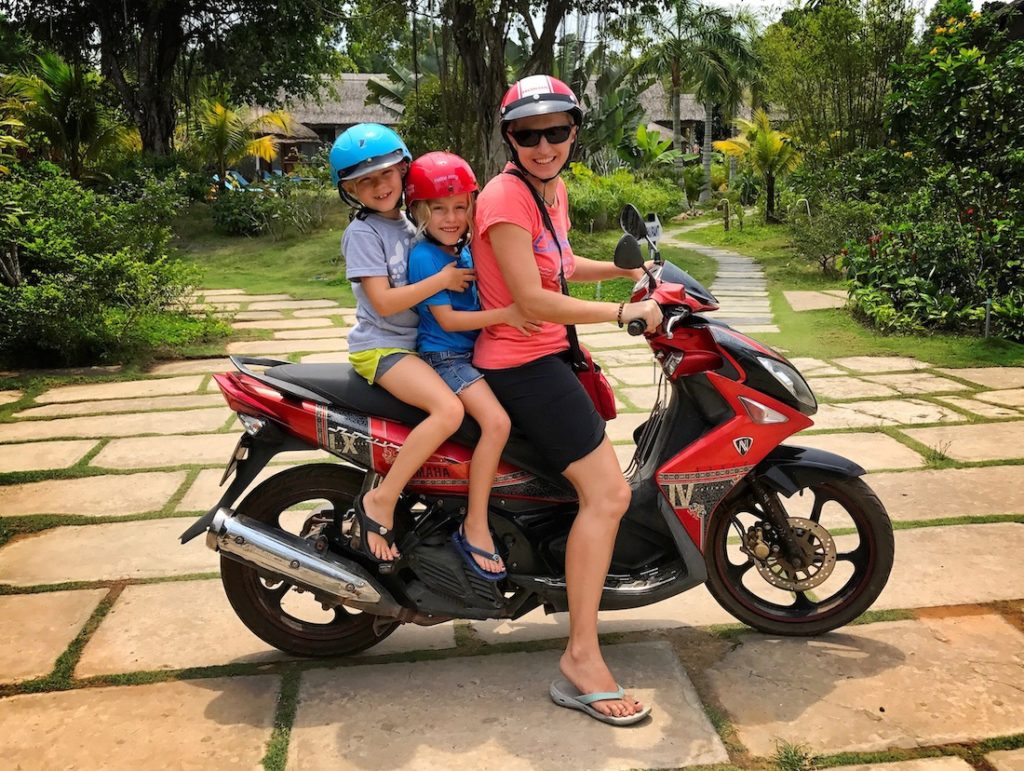 Phu Quoc is a small laid back island, which you can easily explore on a moped or small bike, as we did
If you want to explore the island, then the best way is to hire a moped. It's probably the safest place in Vietnam to ride, as there isn't much traffic. Very often I was the only one on the road. A little motorbike will cost around $8-$10 a day. You don't need a driving license to rent one, but you should carry it with you anyway since if the police stop you, they will ask to see it. The island is small and very easy to get around. As with any bike hire, check your machine by a short trial ride before you leave the rental place, and make sure you have a helmet for yourself and passenger(s).
Explore the Best Beaches in Phu Quoc
One of the best things about islands is their beaches, and Phu Quoc has lots of beautiful beaches located on both coasts. The place is small enough to be able to explore all the beaches on your moped to find your favourite one.
Long Beach Phu Quoc – Bai Truong
It's probably the best beach to visit in the afternoon to enjoy the sunset.  Sunsets on Phu Quoc are the quintessence of tranquility. There is no cloud drama – just a happy orange sky and kids playing in the sand.  You can lie back with a drink in hand, or enjoying a massage. Sunsets are around 6pm but arrive on the beach by 5pm to be in the zone for the whole show.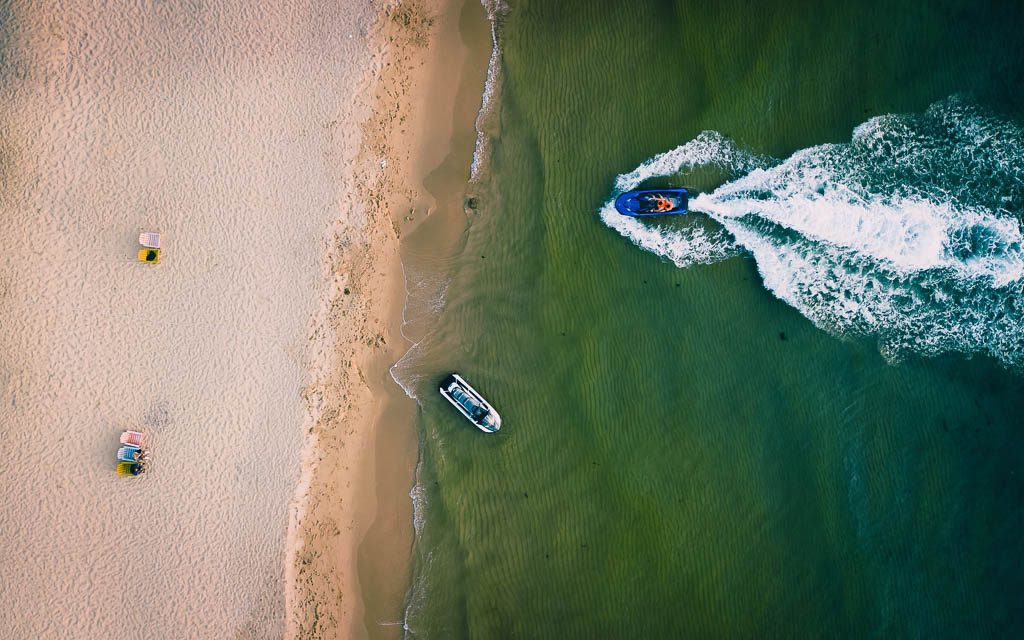 Ong Lang Beach was our beach of choice as it was very empty, without people and without bars. Lack of alcohol infrastructure didn't bother us. Sand, waves and fishing boats were enough to keep us happy.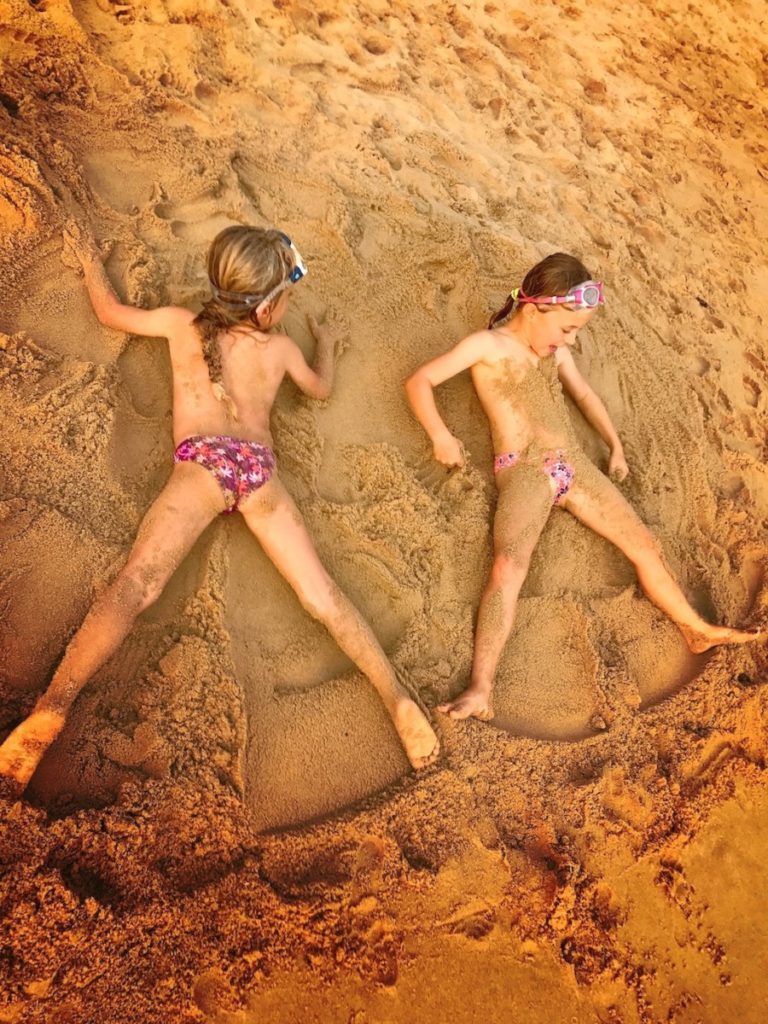 This is probably the most deserted beach in Phu Quoc. Located in the North, and away from big resorts, Vung Bau is accessible by gravel track. If you find yourself missing the company of strangers you can visit the local hotel.  Bamboo Cottages Hotel is the first solar-powered hotel in Vietnam.
Visit Hon Mot Island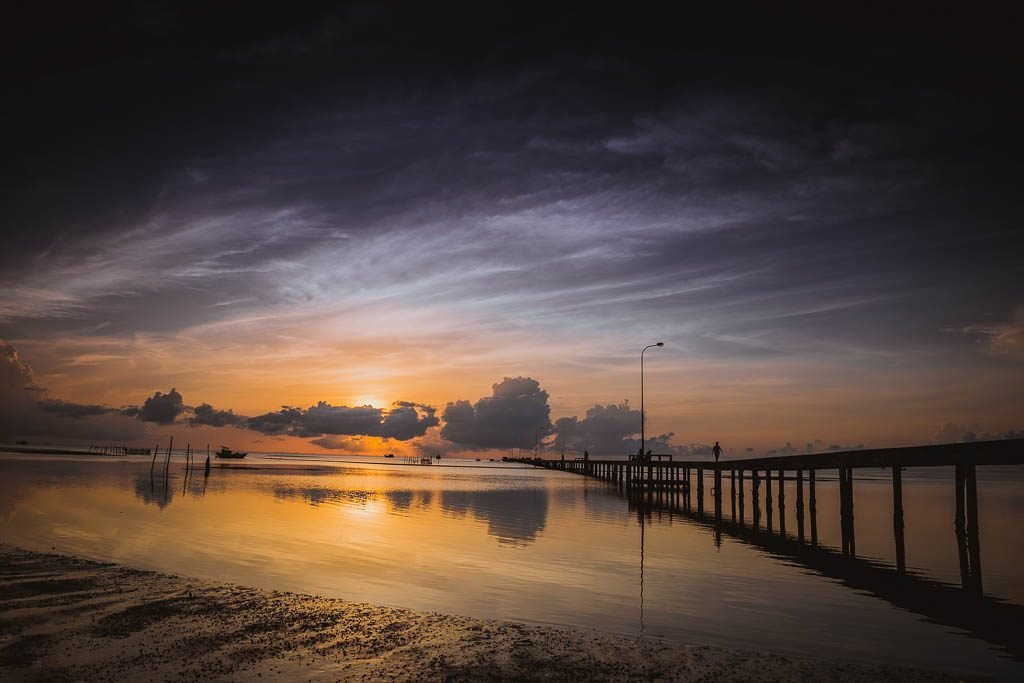 On the north-west of Phu quoc near the village of Bai Thom you will find beautiful Hon Mot Island. Bring your own picnic, cross the wooden stilt bridge to the island, and then go snorkeling in the corals.
Phu Quoc National Park
Almost half of Phu Quoc Island is designated as a nature reserve – Phu Quoc National Park. It is vast – almost 32ha and has many hiking trails which you can explore on your own – just be careful not to get lost. Always take plenty of water with you and a fully-charged phone. We had lots of fun in the National Park running, spotting lizards and enjoying the shade of big trees on a hot day. But this place doesn't look much different from a European forest, so don't expect a lush Asian jungle. 
Vinpearl Land – Amusement Park
This place looked strange – like an old, small and almost abandoned Disneyland. there were so few people there that most of the time we were alone on the rides. It was our first time in a place like this when we have spent more time on rides than standing in queues.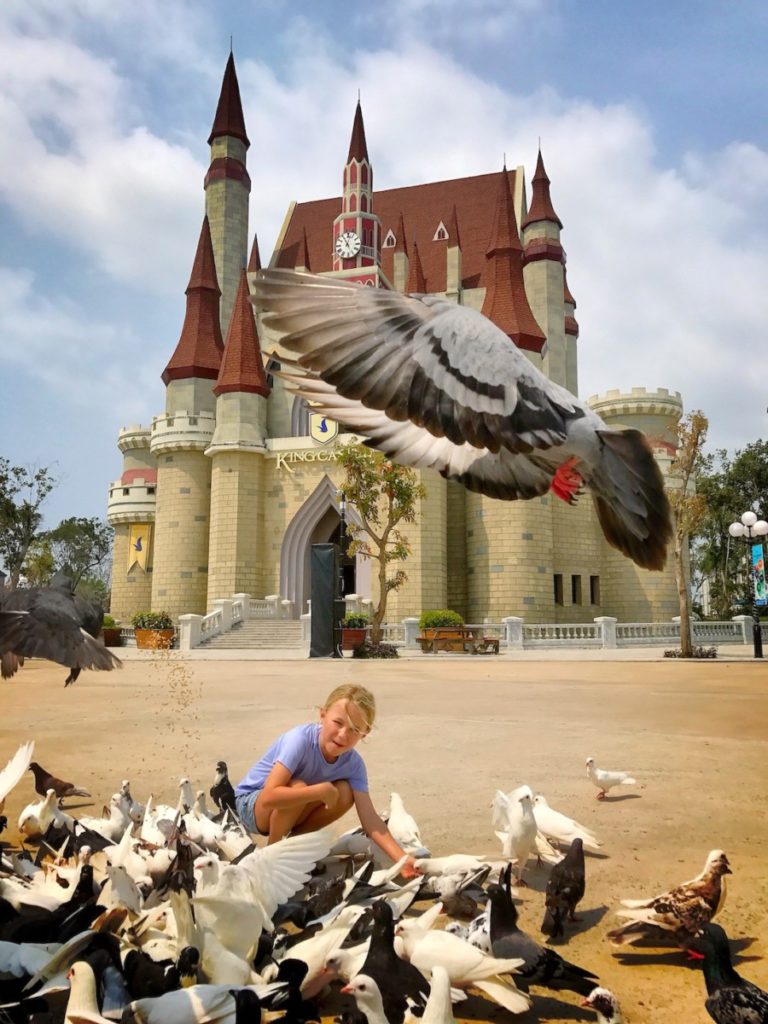 Vinpearl Land also has a small aquarium and a fabulous waterpark. There are two food outlets. You cannot take food into the Park though no one was checking. We had our own water with us. The food on sale is nothing special but you can get a selection of chicken, rice, chips etc. So you won't be hungry.
The rides themselves are simple by modern standards.  We were limited to kids rides only as my girls were below 140cm, but that included our perennial favourite (even after about twenty goes!) – the bumper cars. With everything it had to offer – rides, aquarium and waterpark – Vinpearl Land was more than enough to entertain us for the whole day.  I had to drag the girls out to get home before dark.
Entrance fee – Adults 500.000 VND, Kids (100-140cm) 400.000 VND (Approx $20 and $17 US)
We went by moped, spent the whole day and our verdict was that it was a great day for kids and for me as well. You can book tickets to VinPearl Land in here.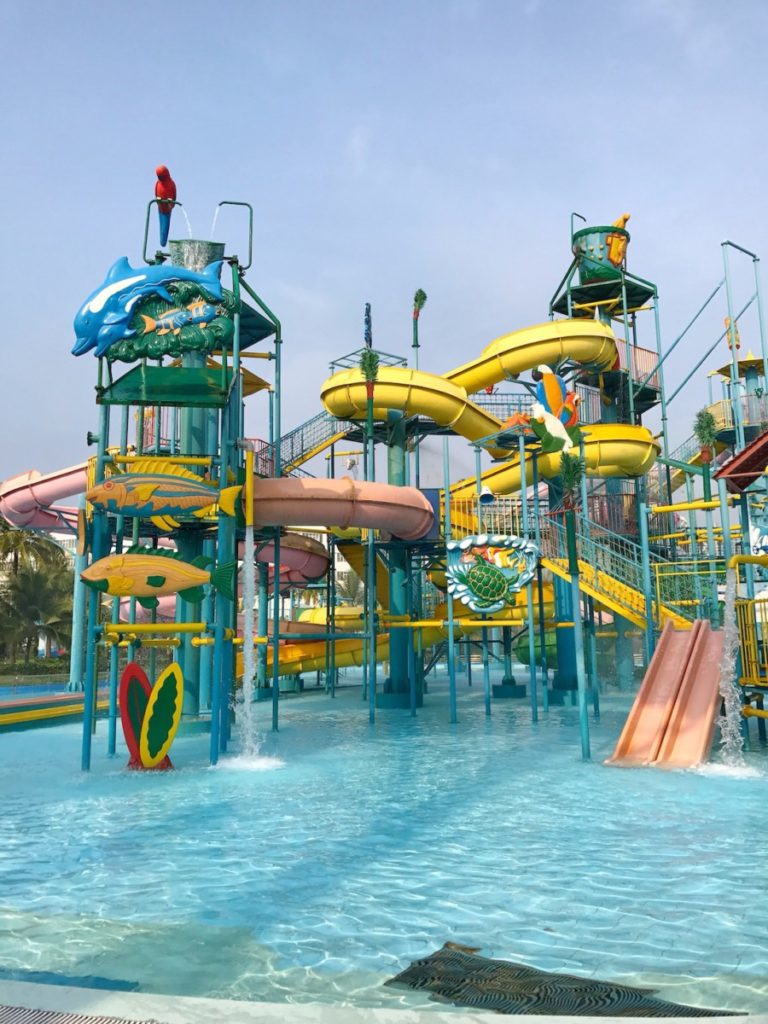 Vinpearl Safari Park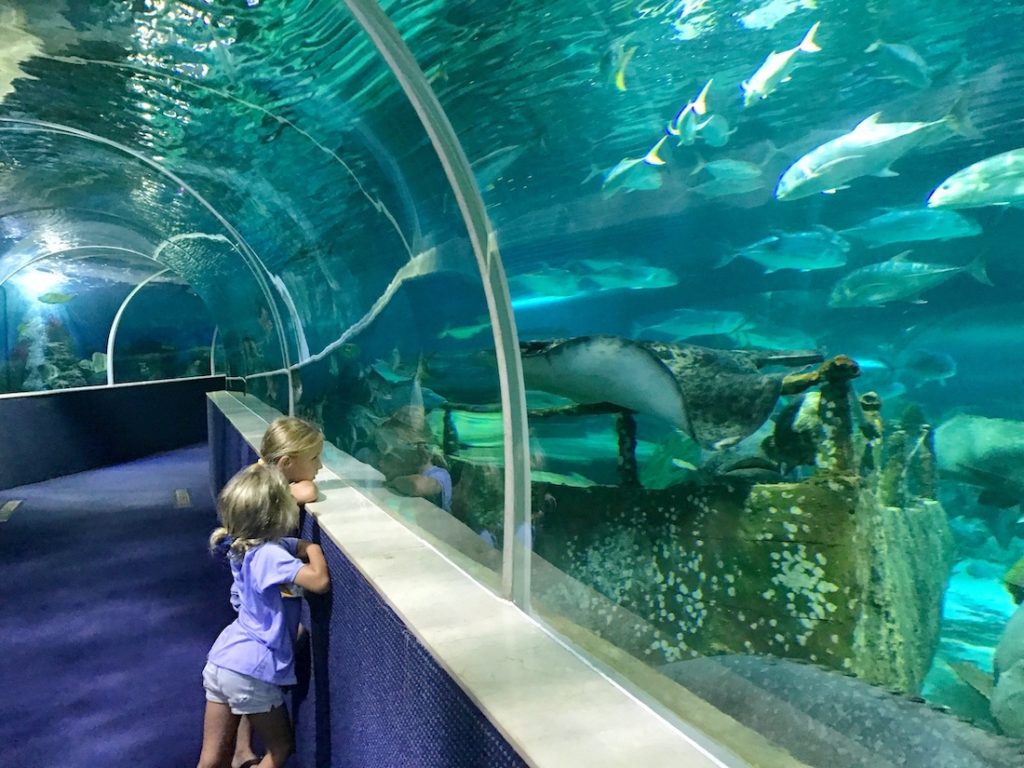 Vinpearl Safari Park, boasting Vietnam's largest wildlife conservation and zoological park is open daily from 9am till 4pm. If you have only one day to visit both, then visit Safari Park in the morning before the animals hide from the heat. then go on to Vinpearl Land. You can buy a discounted ticket for both, which allows you to visit both on one day. If you dont want to travel to Vinapearl on the motorbike you can book organised trip to Vinpearl Safari Park with hotel pick up.
Phu Quoc has its own breed of dog. – the Phu Quoc Ridgeback– These dogs have a ridge of hair their spines which runs in the opposite direction from the rest of the hair.
Bee Farm in Phu Quoc
The Bee Farm was the most interesting place we visited on Phu Quoc. It has a small garden with local and native herbs and fruit. Nestling amongst these you will find the beehives. The garden is their empire.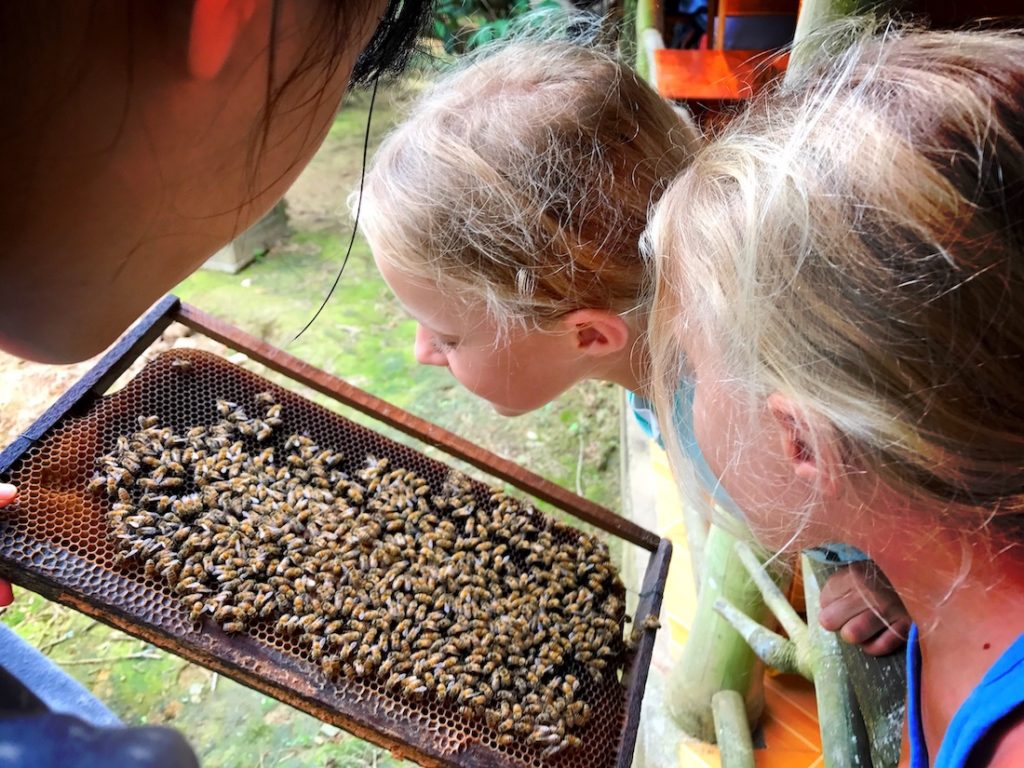 We were given a guided tour around the farm and we learnt about herbs and spices. Did you know that Vietnam is the biggest producer of black pepper in the world? For myself, I was fascinated to learn which herbs to use in preparing fresh Vietnamese spring rolls (Asian Basil, Vietnamese Coriander, and Vietnamese Perilla or Cilantro). I had previously thought that I had been eating stinging nettles!
After the garden visit, we were invited to try ginger tea, lemonade and of course a selection of local honey. While we drank these, our guide told us about bees, their habits, and their ecological importance.
There is a small shop full of local produce including some made from bamboo, honey, herbs and spices. We bought some small jars of honey, and spices, but the best buy were locally made bamboo straws – we still have them and use them at home.
The Bee Farm is Free to Enter.
Pepper Farm
Black pepper is the most widely used spice in every western kitchen. Apart from tourism, Phu Qouc's economy is driven by annual exports of over 400 tones of those little black peppercorns. So while in here you should visit a pepper farm.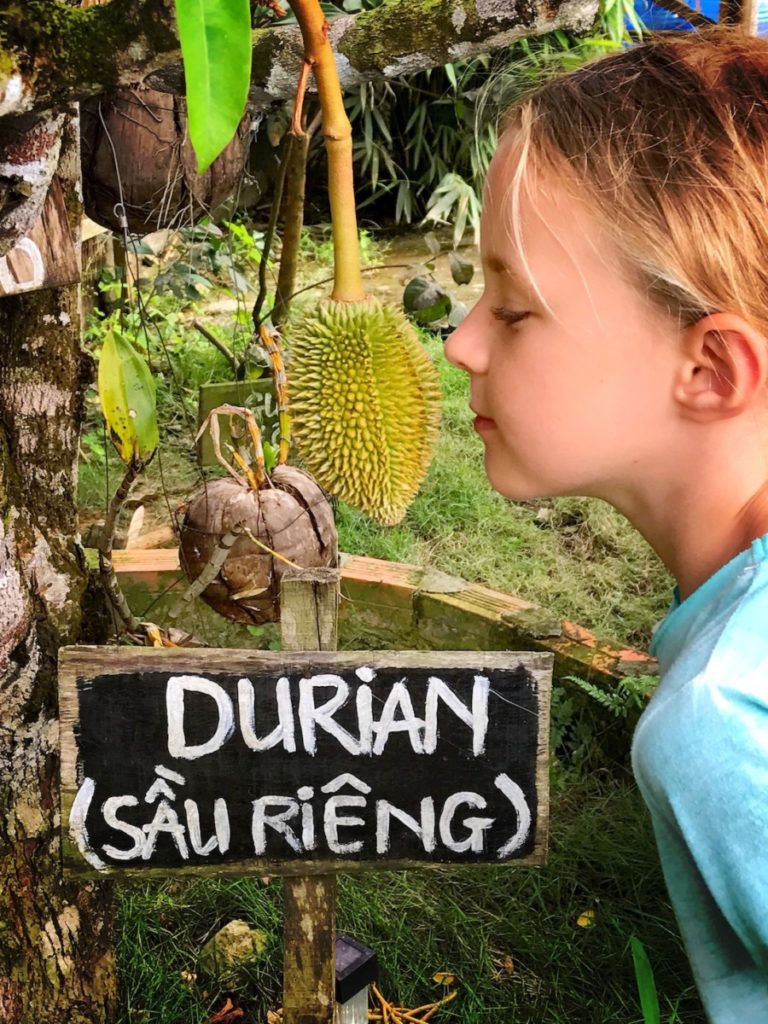 We arrived on the farm by bike, and took a private tour during which we learned how pepper is farmed, and how home-made beer and wine are made.  The farm is self sufficient in all vegetables, and it also has bees. You can try the local beer, wine, and honey. 
It's another perfect place for a family visit – but there is more too:  the Pepper farm offers cooking classes (approx 800k p.p) and you can stay overnight.
Tip. If you visiting the farm take with you either long sleeves or mosquito repellent. When we were there, the mosquitoes were really annoying.
Fish Sauce Factory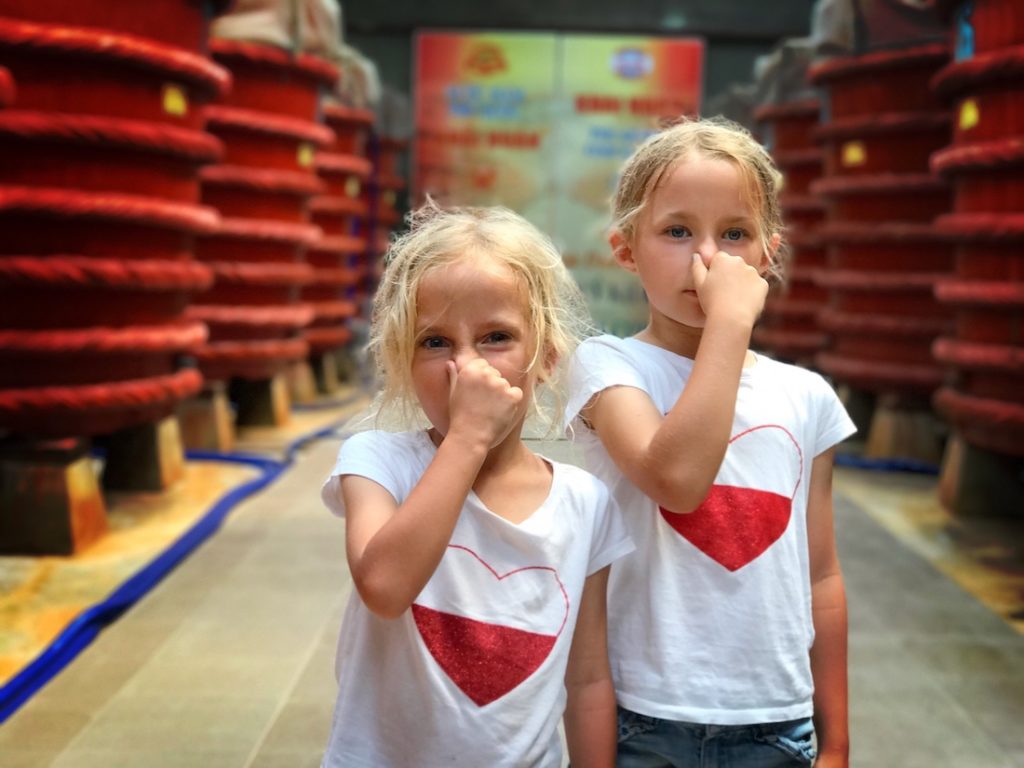 Fish Sauce Factory. If you look at the bottle of Fish Sauce on the table in any Vietnamese restaurant it will probably have been made in Phu Quoc. Another big commercial export  – and the Fish Sauce Factory is open to visitors, so we decided to be brave and visit it.  
Why brave? Because fish sauce production is extremely smelly. We probably stayed in the factory for as long as 5 minutes, which was all we could stand. The local shop turned out to be more interesting. It was full of Vietnamese souvenirs including pearls and more especially for us a variety of dried fish in different shapes and sizes. My girls spent a long and happy time in that shop investigating and discussing every bone in every dried fish.
It's free to enter, but really with that smell, you should be paid for being there.
Phu Quoc Cable Car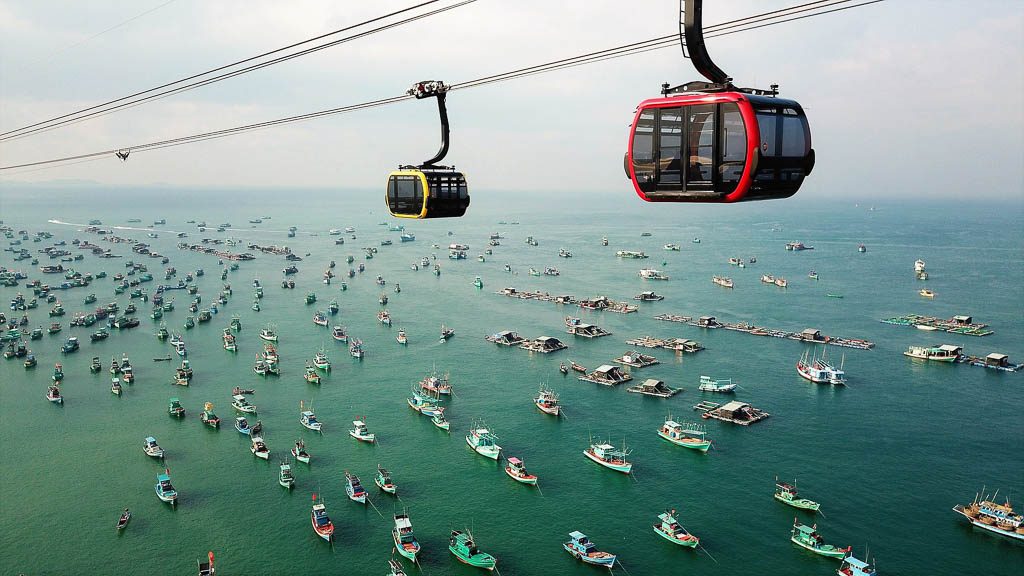 Phu Quoc has the longest cable car ride in the world at almost 8km! The ride takes about 15 minutes each way and connects Phu Quoc with Hom Thom Island – known as Pineapple Island
Phu Quoc cable car is open everyday between 7:30 am to 5:30 pm with a lunch break between 12:00pm – 1:30 pm.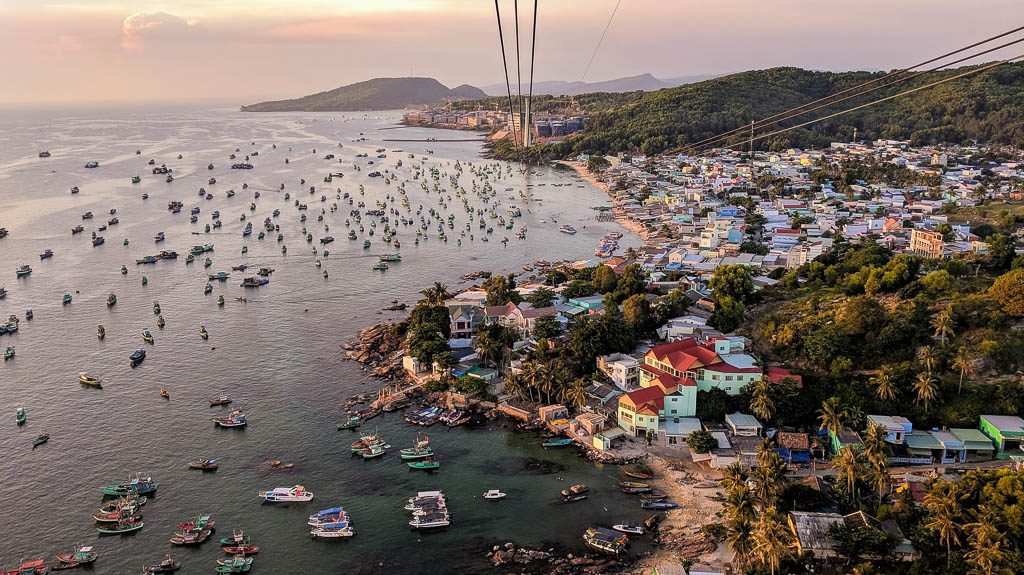 Visit the Ho Quoc pagoda
The Ho Quoc temple is the biggest temple in the Phu Quoc located in the north east. The Pagoda was built in 2012 and since then has been under constant rebuilding and expansion. It looks like a never-ending project.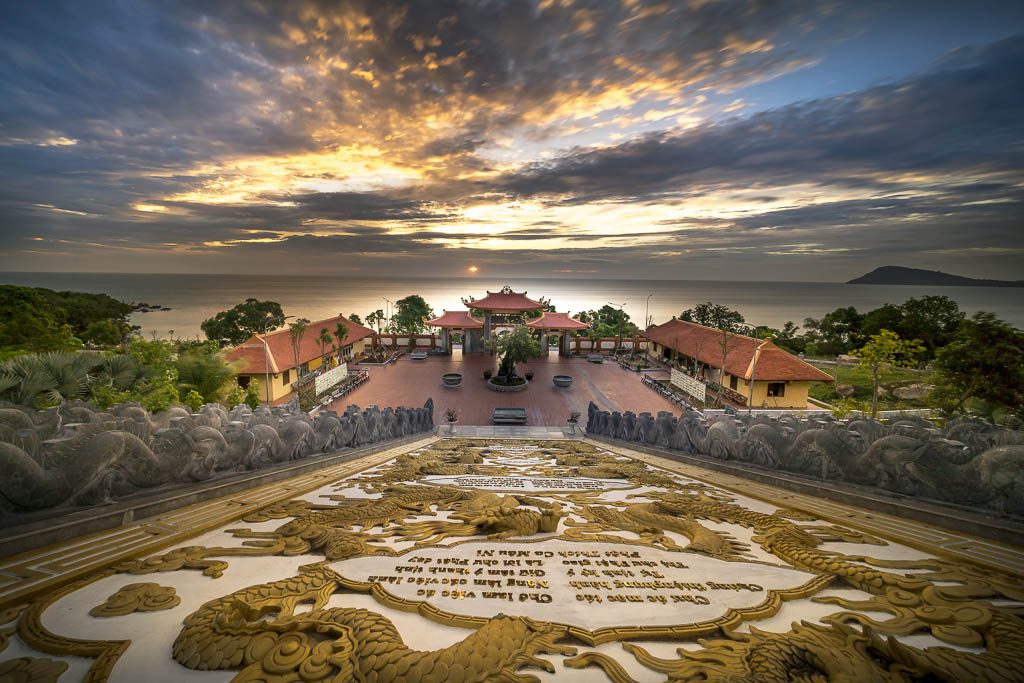 Get up before dawn for this one.  It is the perfect setting to admire the sunrise.
Snorkeling Trip – Island Hopping
There are several small islands around Phu Quoc which you can visit on an island-hopping snorkeling trip. The package includes hotel pick up, stops on three islands, with time for snorkeling, and lunch.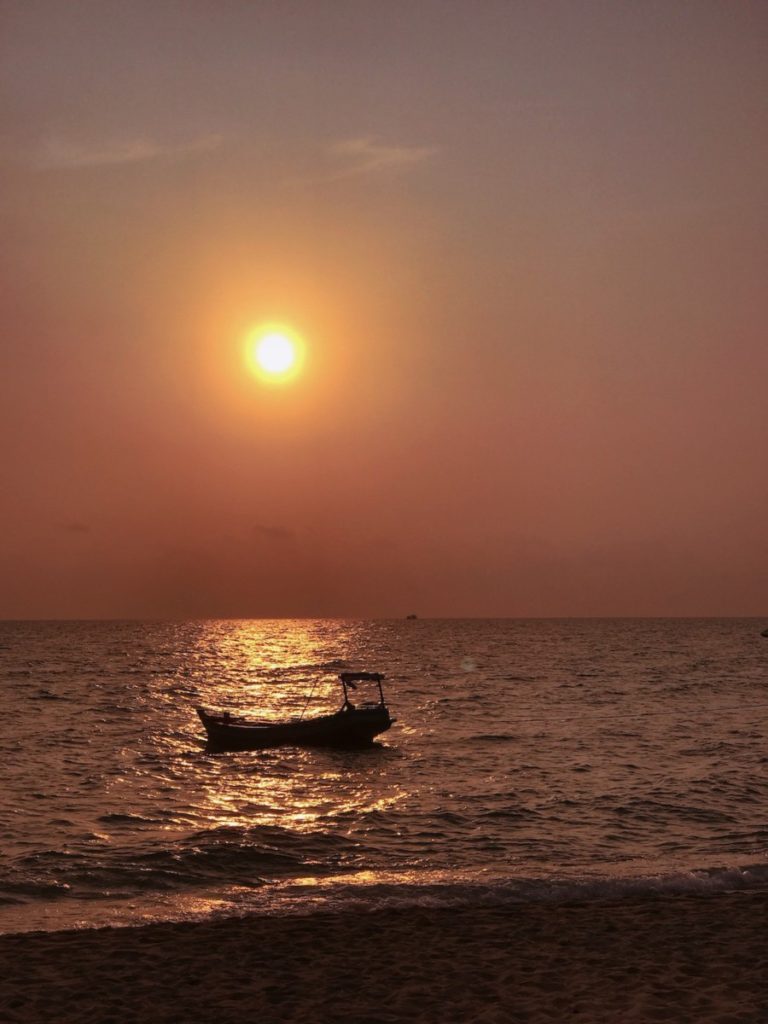 For us it was the perfect day with a rest from the bike.  Snorkeling around Fingernail Island was especially good. Girls loved feeding fish underwater with bread. The trip takes from 9am till 5pm – depending on the distance from your hotel to the marina. 
Tip: don't forget sun cream 
Explore Duong Dong Night Market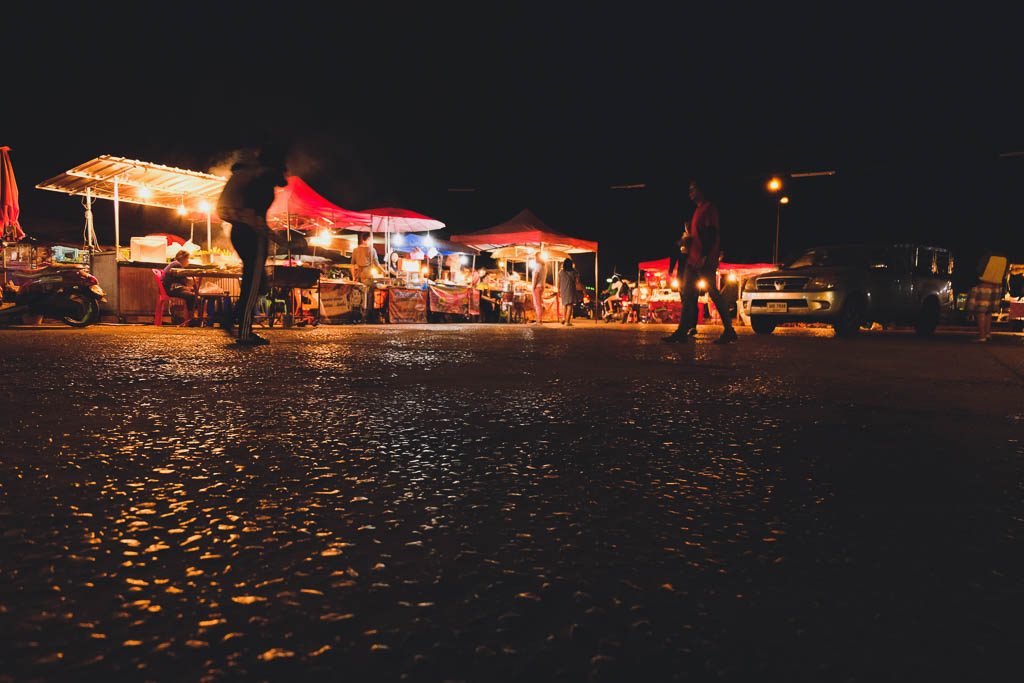 The night market in Duong Dong town like other Oriental night markets is alive and bustling with food stalls, and tacky souvenirs – my girls would be so mesmerized by these that they wouldn't move if not for the promise of prawn for dinner. Yes, delicious inexpensive seafood is the main reason to visit the night market. We visited early before the crowd since I wanted to get back to the hotel on the moped before dark.
Yummy Food
In the evening almost every hotel would have an external display of beautiful seafood and meat. Your job was just to choose what you wanted and they would barbecue it for you. We ate in several places and all were good. Our favourite one was also one of the cheapest Noname BBQ (yes that the name). The girls loved their pork, which was especially juicy. I would have barbecued ladies finger. It was all delicious.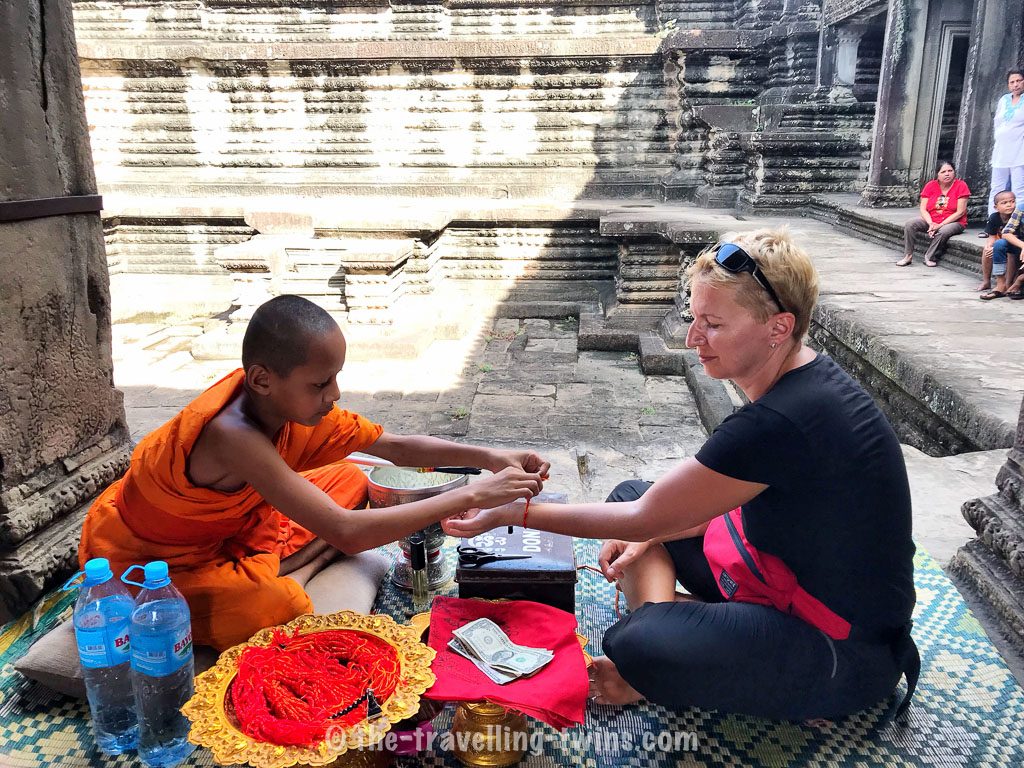 Visit Ham Ninh Village – Phu Quoc fishing village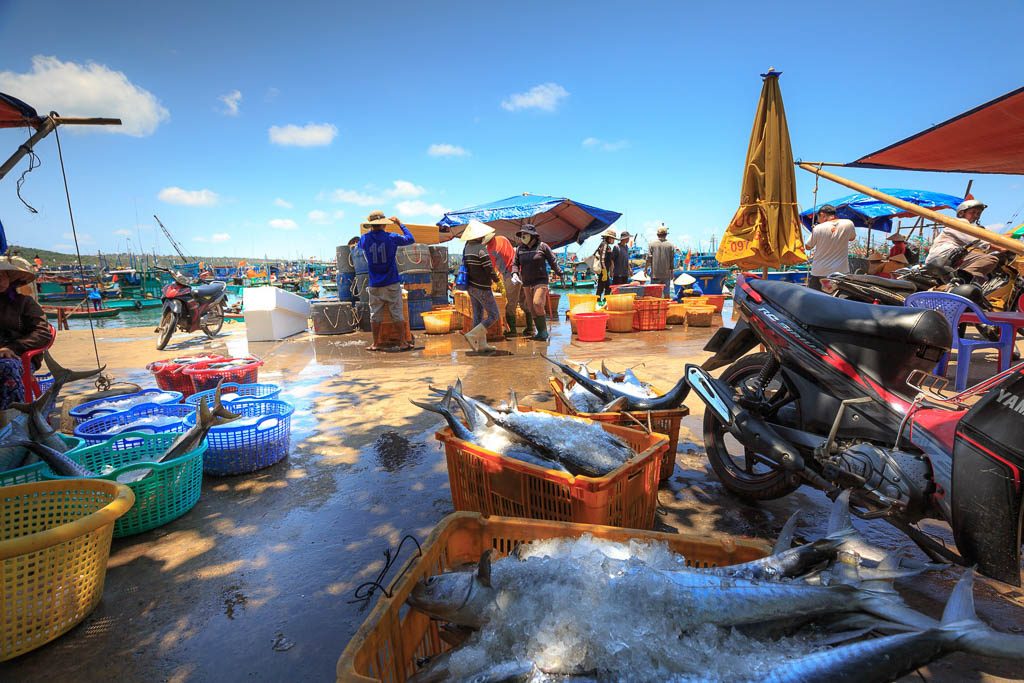 If you want to see a bit of the everyday life of Vietnamese fishermen, you should visit picturesque Ham Ninh Village. Great both for the interest and educational value it also touches the spot with delicious low-price seafood. For the brave hearted try sea cucumber soup.  It tastes great, but when I think how sea cucumbers look – with the girls voices ringing in my ears reminding me that it's an animal not a plant – the pleasure dulls. Fresh crabs and prawns though, were more familiar and even more delicious.
Hire a Boat to go Fishing
If you like fishing you can hire a private boat or join fishing boat trip. All fishing equipment is included in the price and what you catch depends on your fishing skills and luck. Or try a sunset boat tour with evening squid fishing. Our girls had tried catching squid in Ha Long Bay but with no luck. 
Swim in Da Ban Spring
Da Ban Spring is the most popular location on Phu Quoc Island for a trip to Swim and BBQ.  You can go so far on the bike, and then hike through the jungle. On weekends the place is heaving with locals and unfortunately is not very clean. During the weekdays, you can be more lucky with avoiding crowds and it's cleaner. 
Our impression of this place was marred by how dirty it was when we visited. We tried to pick some rubbish, but there was much more than we could handle. Hopefully, now this place looks a bit better now.  
Go see Suoi Tranh Waterfall
Suoi Tranh Waterfall  is one of the most spectacular natural sights on Phu Quoc. Unfortunately, the best time to visit the falls is during the rainy season from May to September, which is the less-comfortable season to see everything else.  LIke us, you may have to settle for the best photos having been taken by others.
Phu Quoc Prison was built in 1949 by the French Colonists to hold Vietnamese Communnist resistance. During the Indochina Wars thousands were held and tortured in this prison. I'm not sure if it's a must to visit but definitely it's a must to know that the cruelty of the colonial times reached this far.
Accessible within a 45-minute drive from Duong Dong, entrance to Phu Quoc Prison is priced at VND 3,000 per person with guided tours available in English, French and Vietnamese
Dinh Cau Rock (Cau Temple)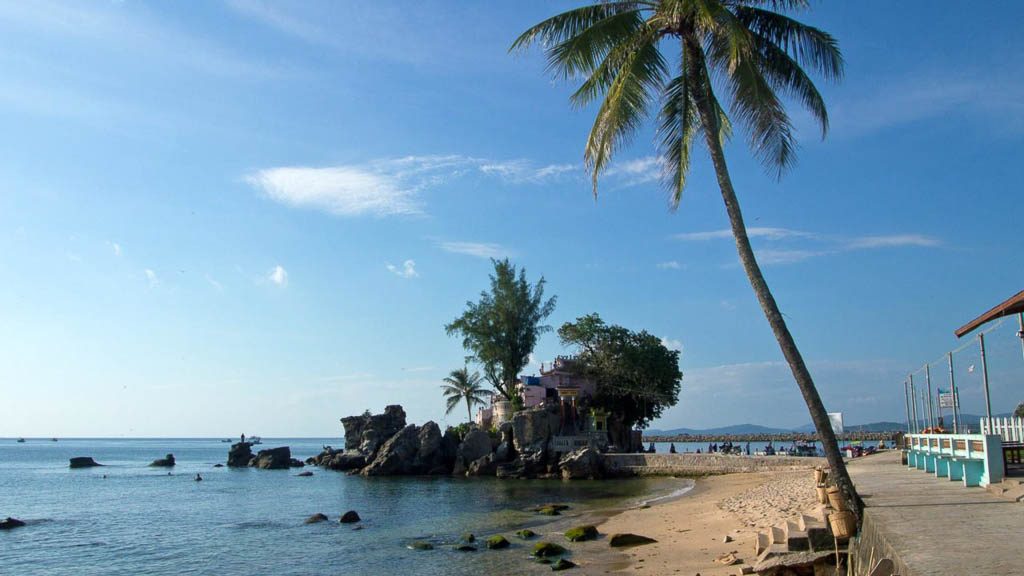 Dinh Cau Rock is a strangely formed rock on which local fishermen built the lighthouse and buddihist shrine in 1937. The Shrine is dedicated to the Goddess of the Sea who protects offshore fishing boats and their crews.
The temple is located close to the night market in Duong Dong You can come here to watch the sunset and then go on to browse the night market.
Visit a Pearl Farm – Pearl Farms in Phu Quoc
Called the only Pearl Farm in Phu Quoc, this is more like a shopping mall with pearls than a farm. Your impression of the place will depend on your guide.  Try to find one who will answer questions about traditional and modern pearl diving and jewelry manufacture.
Phu Quoc Weather – Best Time to Visit Phu Quoc
Phu Quoc has two seasons – wet and dry. From November to March is the dry season with a temperature between 25–28°C. This is the best time to enjoy Phu Quoc. From April to June temperatures and humidity start rising and can get to 35°C. The wet monsoon season starts in July and lasts until October.
How to Get to Phu Quoc
Phu Quoc has an international airport with regular flights to and from Ho Chi Minh City, Hanoi or Kuala Lumpur. Phu Quoc is designated as a tourist island, hence there is no need for a visa for visits of under 30 days (as opposed to the rest of the Vietnam), So arrival to Phu Quoc is very easy. Best way to get from Phu Quoc Airport to your hotel is to order transfer from your resort or get the taxi.
You can get to Phu Quoc from Vietnam. Ferry comes either from Ha Tien or from Rach Gia. There are three types of a ferry.  The slow ferry takes vehicles as well as passengers and the trip is about three and a half hours. There is also a Fast Ferry for passengers and pre-booked bikes and takes about an hour and a half, and the Express for passengers only. Click here to check Phu Quoc Island Ferry Schedules and Fares
How to get around Phu Quoc
Most of the hotels offer free bicycle rental. Bicycle is good for going for quick shopping or getting to the beach, but I wouldn't recommend it to travel through the island as they are the newest and most reliable bikes. 
Several minibus services circulate the island. Day tickets tend to be about 220000 VND for 24 hours, and you can freely hop on off as the day takes you.  http://phuquocbustour.com/en/main.html
We found this to be the best way for us to explore Phu Quoc.  Almost every hotel has, or can organise moped rental. Price on average is …. If you want  cheaper and you are staying longer, then go to a local rental place and agree a price per week.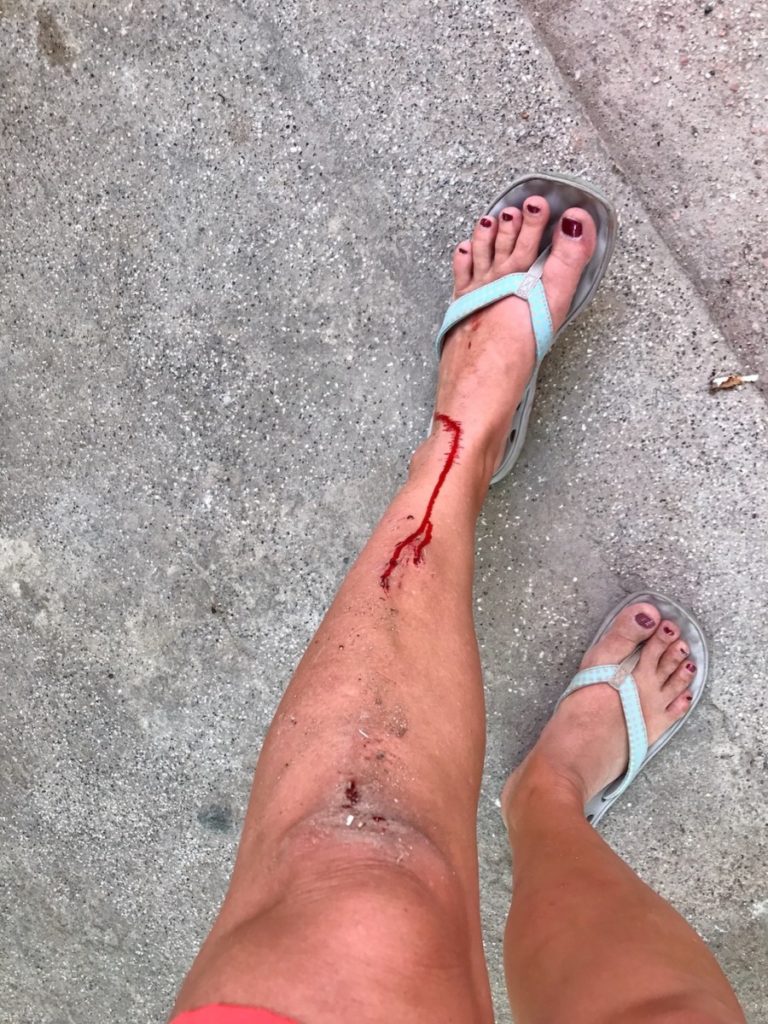 However safely you drive, things can and do happen, as they did to us. In my case, I swerved to avoid a lamp post which suddenly appeared from nowhere and we went down. I cut my leg quite deeply and probably fractured my big toe.  The girls were ok but only because they had helmets on. And my toe hurt for a long time, but that was my punishment for riding in flip-flops.
Be safe, and don't drive in flip – flops ;).
You can hire a car at the airport, but the island is small, so unless you travel with more children than you can balance on your moped you don't need a car. If you don't have a car then airport transfers by taxi are easy to arrange with your hotel.
Phu Quoc Hotels – Where to stay in Phu Quoc with children
Phu Quoc offers a variety of hotels – from simple accommodation to big family resorts. Where to stay in Phu Quoc, it all depends what are you after. They are available for every price. Prices of accommodation for a family of four starts from $12 – for a room in a guest house, $30 for a small cottage far from the sea, or around $50 for a good 3-star hotel with a pool – close to the beach, but not at the beach. You can spend $100-$150 for beach resorts, and of course $200 or more for luxury hotels.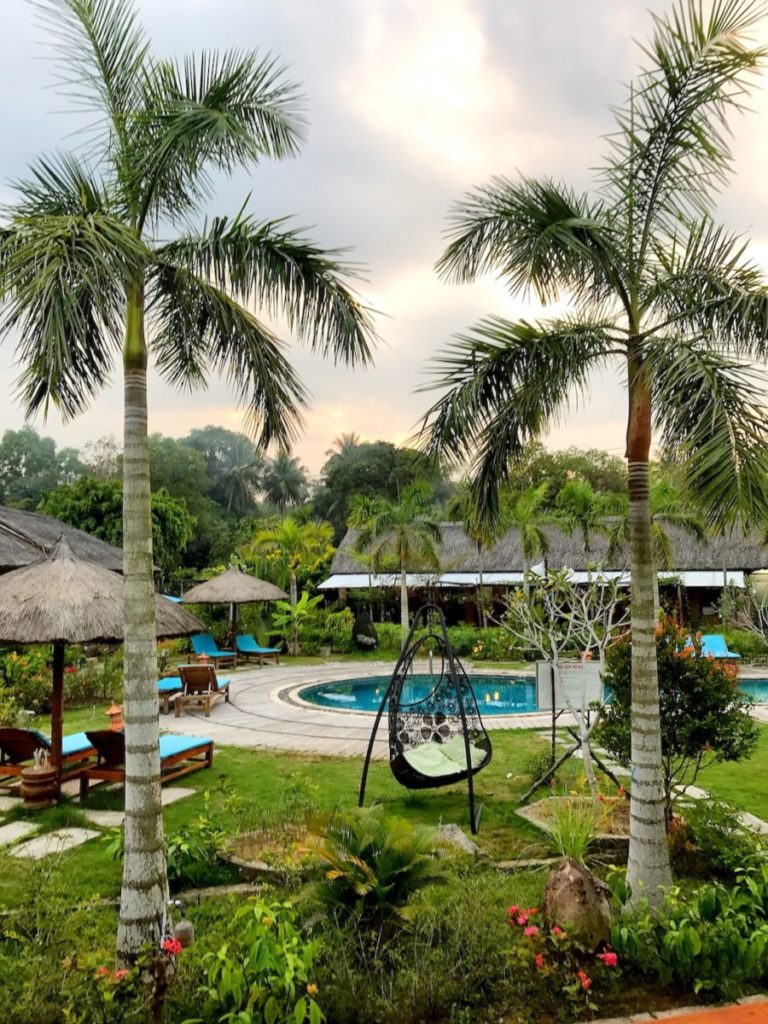 We stayed in the Cottage Village hotel which was a 3 star hotel. It was located around 700 metres away from Ong Beach. I booked this hotel initially for a few nights. Hoping that later I would find some beach hotel, but we liked it so much that we decided to stay there the whole time. We paid around $30 for a room with double bed and sofa. The price included a delicious breakfast. The place had a great swimming pool and amazing service. Additionally, they have free push bike for guests. If you are lazy with walking to the beach you can go there on a bicycle – which we did. I could happily recommend it if you don't mind walking to the beach.
If you want beach resort (the same One Beach) in reasonable price try Coco Palm Beach and Spa Resort or Mango Bay Resort
If you feel like going posh on the south end of the island then JW Marriot. It probably cannot get posher than this (at least on Phu Quoc)
If you prefer an upmarket Resort close to the amusement park then book a room in VinPearl.
The Downside of Phu Quoc
The biggest disappointment of the island is an unmissable landfill site in the north. If you are going by moped I recommend that you put a scarf over your face. The stench of rubbish and smoke coming from fires is unbearable. It is sad to see so clearly the impact of what we discard on this small island.
Phu Quoc Island Conclusion and Read more
We loved Phu Quoc we spent ten relaxing days on the island. We love the fact that we could travel on our own everywhere. Pho Quoc has a great combination of nature and commercial spots  – all affordable and accessible by moped or on foot.  
Street food is delicious, the beaches are clean and the weather is fantastic and you can visit Phu Quoc without a Vietnam visa. We will be back. 
What to do in Phu Quoc? Pin it !!!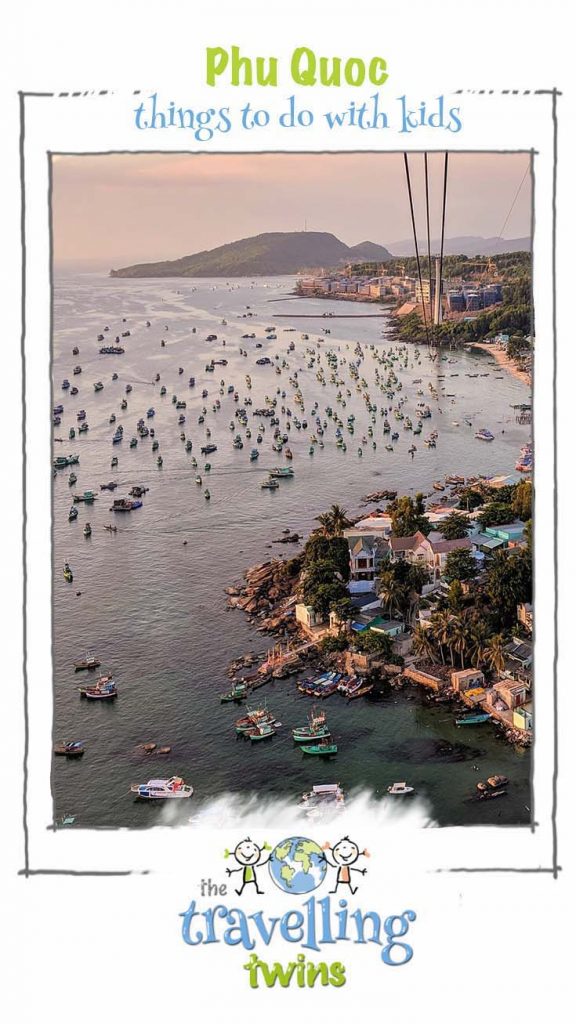 Disclaimer
This website uses affiliate links for income and support. If you like our website please consider using these links. You will be directed to the vendor and we will get a small commission on your purchase price at no increased cost to you.
We do not recommend vendors unless we have used them ourselves while paying full price, and we refuse offers of affiliation if we have any reservations about products or services.
We have researched facts stated here as far as practicable but please check anything critical before committing your time and money. We do not claim any special knowledge or expertise and we are not consultants for our readers.