The Sheikh Zayed Grand Mosque has been named as one of the most Beautiful Mosques in the World. It is a religious and tourist destination for Muslims and non-Muslims alike. Here are some amazing Sheikh Zayed Grand Mosque facts – the most famous Abu Dhabi Landmark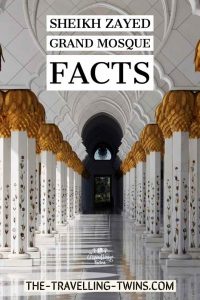 Facts about Sheikh Zayed Grand Mosque
The Idea of building the Mosque came from the First President of the UAE.
The Mosque is named after the UAE's founding father and first president, Sheikh Zayed bin Sultan Al Nahyan. He gave some of the architectural ideas and decided on the location – on the entrance to Abu Dhabi Island.
Since he died during the construction (in 2004), His final resting place is the Mosque's courtyard as per his wish.
Architects of Sheikh Zayed Mosque and Inspiration
The Syrian architect Yousef Abdelky was the main architect who designed the Mosque. He started his first sketches in the mid-1980s. Abdelky was inspired by Mughal and Persian styles as well as other mosques like the Hassan II Mosque, built in the 1990s in Casablanca, Morocco or Badshahi Mosque, in Lahore, Pakistan, 
Construction of the Mosque 
Construction on this Mosque began in 1996 with Sheikh Maktoum bin Rashid Al Maktoum donating AED 60 million to fund it. The original design was meant to be completed within three years, but construction took 11 years to complete 
Mosque was completed on January 27th 2007, and Sheikh Mohammed officially inaugurated the Mosque on November 20th 2008.
It took 3,000 workers and 38 contracting firms from all over the world to build the Mosque. Including engineers from Italy, France, Germany and Spain who were overseeing the project.
Construction cost 
Construction of this Mosque took place between 1996 – 2007 at the cost of $690 million, which is very nominal compared to other architectural marvels around the world! This figure includes every aspect like design costs and materials used during construction both on land and offshore.
Mosque Minarets
There are a total of four minarets that stand at 210 feet tall, with each one being an equal distance from the other two so that they form an equilateral triangle. The top floors of these minarets contain 42 speakers for the adhan call to prayer as well as all five daily calls (the first three times during daytime). Each floor has eight loudspeakers installed, too, meaning every time someone rings their bell, it is heard over 16 miles away!
Mosque domes
There are 82 domes at this Mosque. The largest being 2.8 m (106 ft) in diameter and 85 m (279 ft) high in the center of the main prayer hall. Dome is decorated with Moroccan artwork.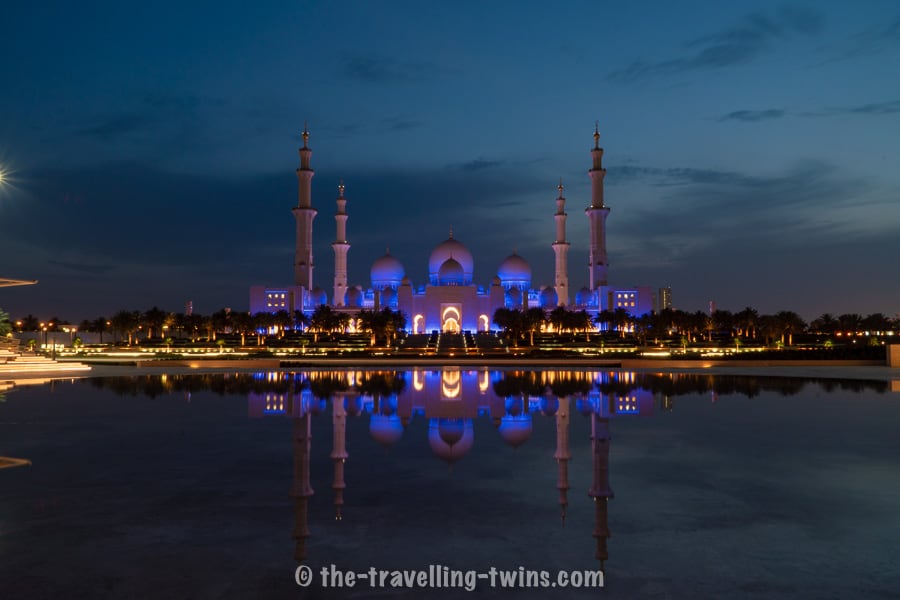 Unique Lighting System
One of the more interesting designs aspects of Sheikh Zayed Grand Mosque is a unique lighting system modeled after moon phases. There are 22 light towers that project bluish light imitating moonlights and following the moon phases.
Carpet in the main prayer hall 
The Sheikh Zayed Grand Mosque is home to a beautiful rug that has been recognized as one of the largest hand-knotted carpets in the world. The carpet took 16 months, and approximately 1200 craftsmen, who were all from Iran, Turkey or Afghanistan, working on it daily for eight hours a day to complete. Everything was overseen by Iranian artist Ali Khaliqi.
The carpet is made up of around one million knots. It weighs an astounding 35 tones and has an area size of 5,700 m2 (60,570 sq ft), and it's the largest in the world carpet. 
* It's important to note that there are no chairs inside this Mosque, so worshippers sit on their rugs while they pray.*
This was done intentionally because sitting together on one big floor symbolizes unity within Islam.
Size of the Mosque – One of the biggest mosques in the world
The world's largest Mosque, with an area of about 227,000 square meters (24 hectares) – equivalent to about 14 soccer fields or more than 13 American football fields – including two minarets standing at 210 meters high (approximately 20 stories). It can seat over 40,000 people inside it plus thousands more outside on its plaza.
Materials from all over the World
Mosque was constructed with marble from Turkey, stained-glass windows from France as well as Italian mosaics that depict various seasons of life on earth, including birth, growth and maturity. 
It was constructed using stone from eight countries. The marble used on the Mosque's walls were imported from Macedonia. 
The color white is one of the most noticeable features of this Mosque, chosen to symbolize purity by Sheikh Zayed.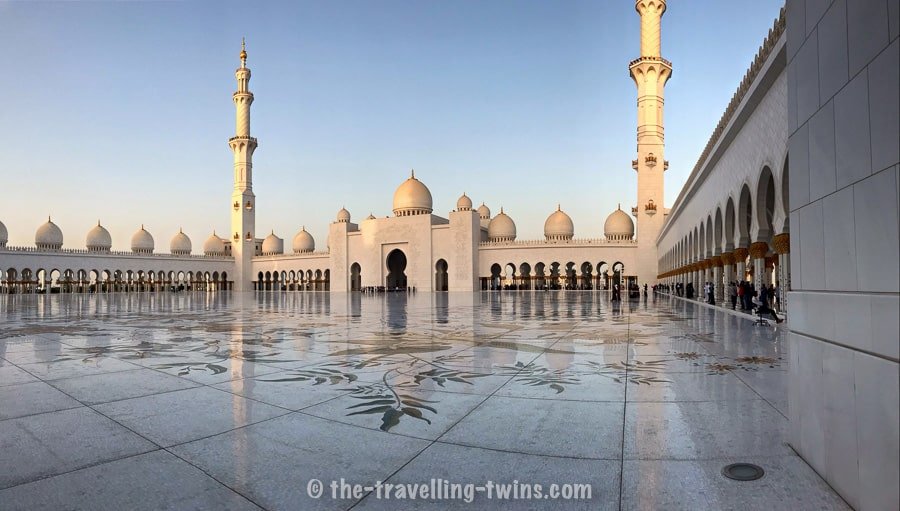 Inscription in the Mosque
The Mosque also features some important inscriptions or calligraphy by 12th-century Islamic scholar Al Imam Al Razi, which are given importance due to their age and significant meaning in Islam today. These include quotes such as "He (Allah) will bring him [human] out of darkness unto light" – Quran 14:12; "And He it is Who makes gardens grow
On the Qibla wall, you can find the inscribed 99 names of Allah. 
Chandeliers in the Mosque 
There are seven chandeliers, a Faustig design that sparkles with Swarovski crystals, mimics an upside-down date palm tree. The green, yellow and red lights protruding from the chandelier represent different stages in the production of dates.
One of the largest chandeliers present in a mosque can be found in the main prayer hall. It weighs 12 tons, and it's the largest hand-blown glass fixture in existence. Its the second largest chandelier in the world, the biggest one is in the neighbourhood Oman in Sultan Qaboos Grand Mosque
All chandeliers in the Mosque are gilded with gold, which is plated to its stainless steel frame. Over 40kg of 24 karats gold was used to make them.
Visit the Mosque. It's open to non-Muslim visitors.
Sheikh Zayed Grand Mosque offers free guided tours in English or Arabic. Because of Covid – Currently, pre-booking is obligatory Please go to this website https://visit.szgmc.gov.ae/ to access an entry pass
The Mosque is open to visitors from Saturday – Thursday between 09:00 – 22:00 and on Friday from 16.30 – 22:00.
Dress Code: For Ladies, Abayas are provided free of charge. And for men, if they don't have long trousers, they can rent one.
Sheikh Zayed Grand Mosque Facts – Pin it


Privacy Policy Disclaimer

This website uses affiliate links for income and support.

If you like our website, please consider using these links. You will be directed to the vendor, and we will get a small commission on your purchase price at no increased cost to you.

We have researched facts stated here as far as practicable but please check anything critical before committing your time and money. We do not claim any special knowledge or expertise, and we are not consultants for our readers.