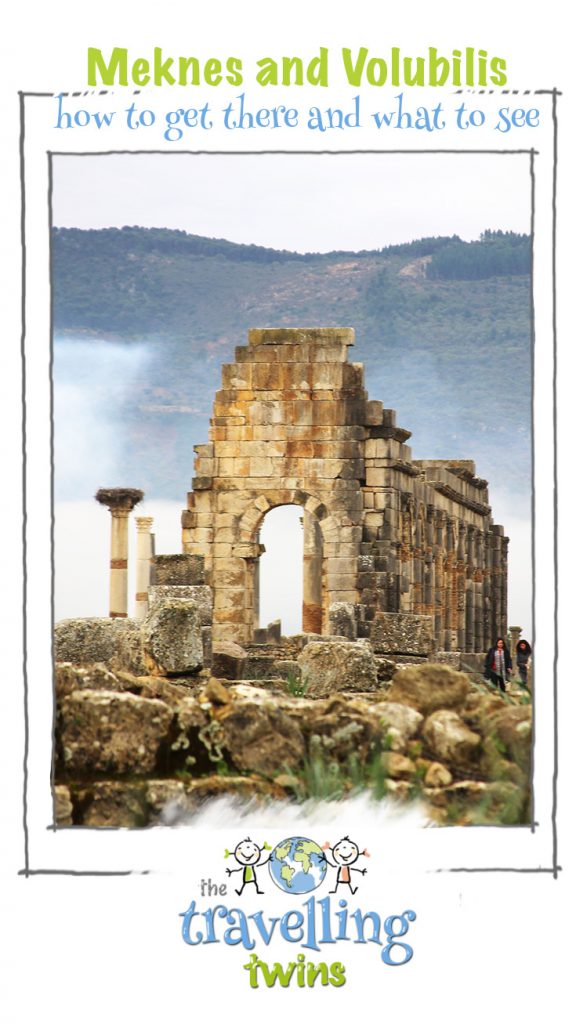 Meknes and Volubilis are two very different but both magnificent ancient places within a stone's throw of each other.
They are in northern Morocco between Fes and Rabat. UNESCO lists both places as World Heritage Sites for their Outstanding Universal Value.  
Volubilis was an important site for a millennium before becoming a major Roman frontier city.  It continued to develop until Islamic times and its desertion in the fourteenth century.
Meknes is still a living city, one of Morocco's four Imperial Cities, and its sixth-largest by population.  It was Morocco's capital and the seat of Sultans during the Seventeenth and Eighteenth Centuries.
We enjoy them because their proximity and contrasts give an excellent opportunity to get the feel of different cultures from a single base.  They gave us a rich and varied illustration of Moroccan history. This trip was a lovely adventure for my young explorers and me.
Read on to learn about the UNESCO Heritage Sites at Meknes and Volubilis.
Meknes and Volubilis
We arrived at Meknes by train and stayed there for two days.  From Meknes, we visited Volubilis and Moulay Idriss as a single day-trip on public transport.  For travel details see below at the end of this article.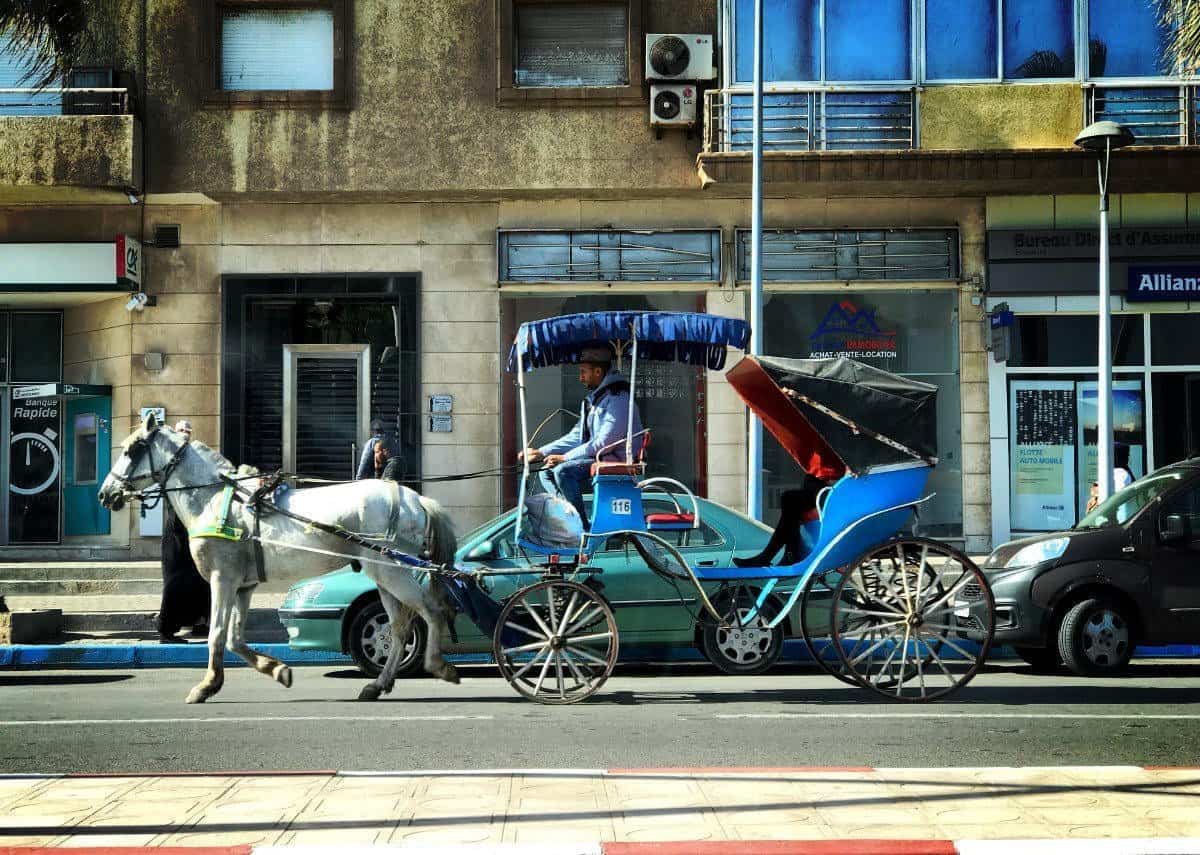 Read our general Morocco Travel Tips
Meknes – history
In 1672 Sultan Moulay Ismail established the former military settlement of Meknes as the capital of the new kingdom.  He planned to build one of the grandest palaces in the world, at least on a par with his contemporary Louis XIV at Versailles.
Using a labour force of 30,000 and more, the Sultan ravaged the Roman ruins at Volubilis for structural materials and pavings and the El Badi Palace in Marrakech for finishes and fittings. Meknes' architecture combines both Islamic and European styles in a reversal of the Islamic influence on Andalusian Spanish design six centuries earlier.
To feed the vast project's ravenous hunger for labour, Barbary pirates raided unguarded coastal villages in the northern Mediterranean.  They kidnapped Christian men for sale as slaves in North African markets. They went farther too – as far away as England and Iceland, kidnapping men from their beds to become slaves in Africa.  As many as 2,500 of these unfortunates found their way to the construction sites of Meknes. My husband's family are from Cornwall in the south east of England, and he had heard stories of men lost in these slaving raids.  It is fascinating to think that some of his ancestors' brothers and cousins may have helped build the Moroccan capital.
The Historic site of Mednes Medina (the old town) and the Kasbah (the old palace) reflect the geology of the site and the growth of the city.  They are different in character, with the Medina densely packed and the kasbah spacious and luxurious. Inscribed together by UNESCO in 1996, the Heritage report of 2009 describes authentic makeup and urban design as well as the modern city's threats to the ancient fabric.  Only the Medina is generally accessible to tourists at present. Most of the Kasbah is either in private hands or under restoration.
Things to see in Meknes
Meknes is not such a tourist trap as many places in Morocco.  This means that it is quite a laid-back place, and the residents seem less geared-up to the exploitation of the visitor.  The downside of this is that there is less in the way of performance to entertain and fewer crafts on sale. Whether this different balance is good or bad for you depends on what you are looking for.
The Bab Mansour Gate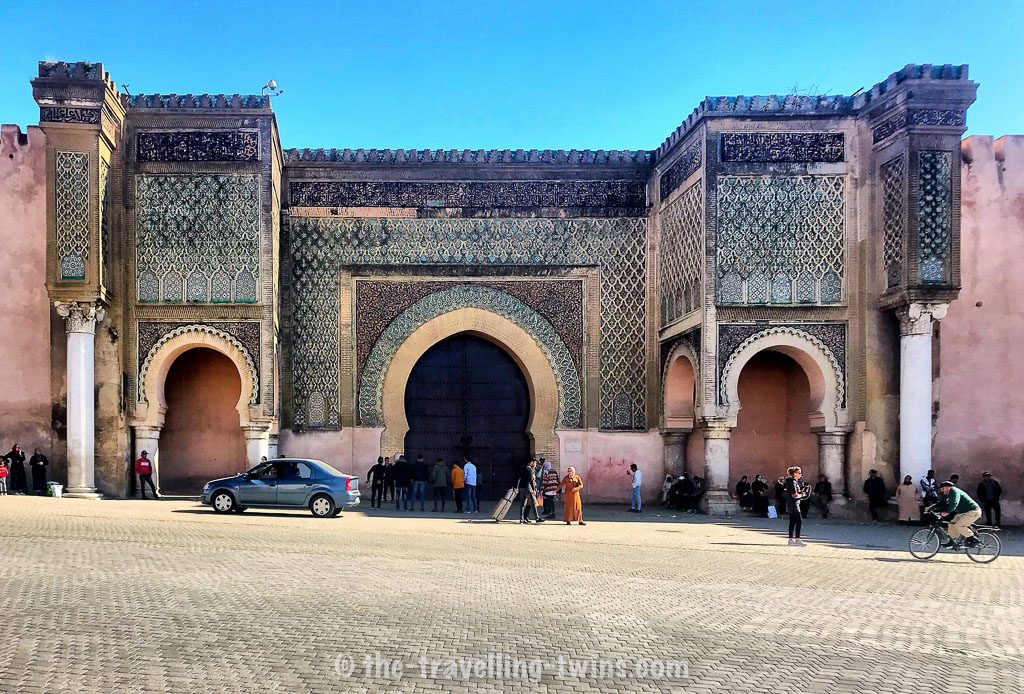 Of many gates in the ramparts of Meknes Medina, the Bab Mansour Laleuj Gate is the most magnificent. Unlike most gates in town walls, it doesn't lead into the Medina.  This one leads from the old town into the Kasbah. It is perhaps a sad reflection that the power-hungry Sultan's last and most significant work is his front gate rather than the palace behind it.  We heard a story that the Sultan proudly asked the architect of his new gate whether he could now design an even grander one. The unfortunate man said he could. The unguarded statement cost him his life since his task had been to create the most magnificent gate imaginable.  
Bab Mansour Gate Tips: Come in the cool evenings, when the gate forms a magnificent backdrop for jugglers and monkey performers.
Although the gate proper is closed to the public, it is possible to get past it through the small stalls at the sides.
Place Hedim – The Main Square
Place Hedim (shown on Google Maps as Lahdim Square) is where the previous Kasbah used to stand until Sultan Moulay Ismail ordered its demolition to create a vista for his new gate. It is said that he used the new Square for public announcements and executions.  Now, during the day it is relatively empty – having only a few monkey-handlers, ostriches and snakes, but it is nonetheless, a good place to take a mint tea and watch the world go by.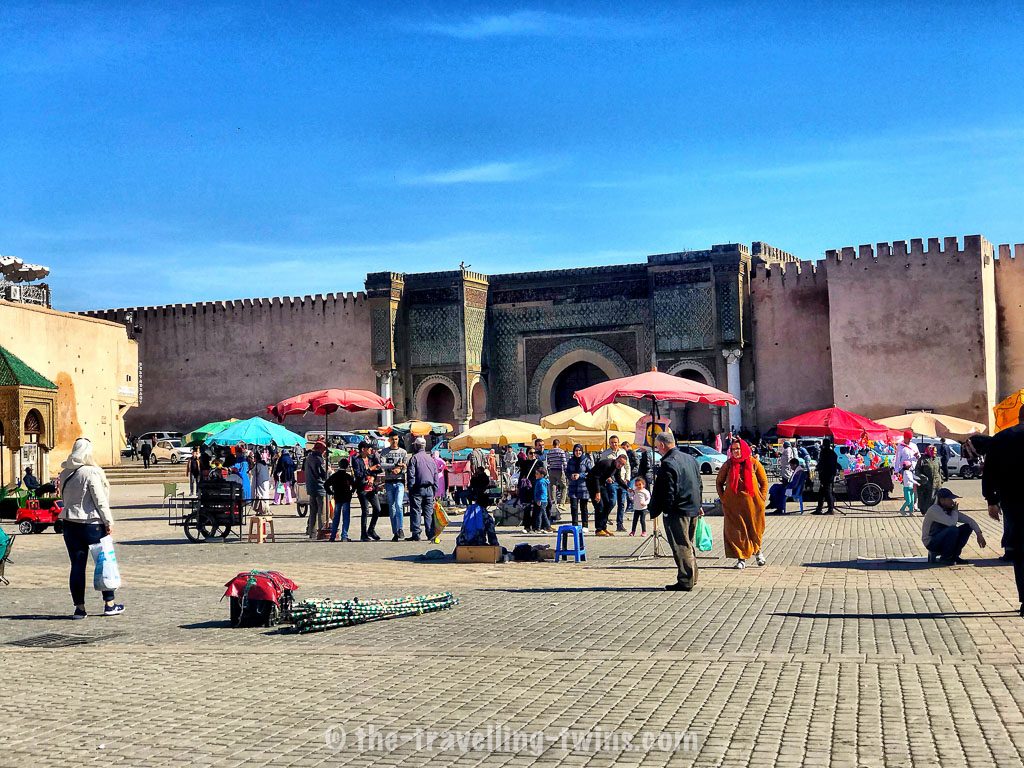 The Place Hedim comes to life in the evenings, filling up with street vendors and various kinds of performers.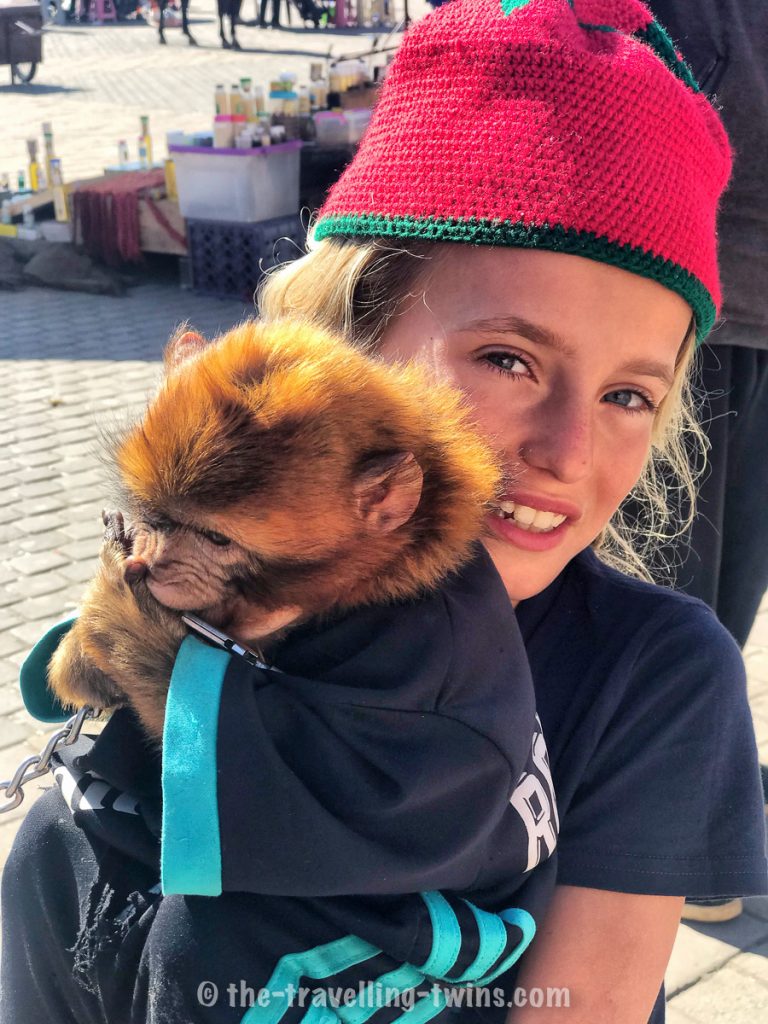 One side of the Square faces the Bab Mansour gate.  The Square also gives access to the souq and the Dar Jamai Museum.
Dar Jamai Museum
Dar Jamai stands at the north end of the Place Hedim opposite the Bab Mansour. The building is an impressive Hispanic/Islamic Palace from the late nineteenth century. Pictures in the guidebooks suggest that it is spectacular.  However, it was closed when we were there, and according to Google reviews, it still is closed. If you are there and the museum is open, please let me know.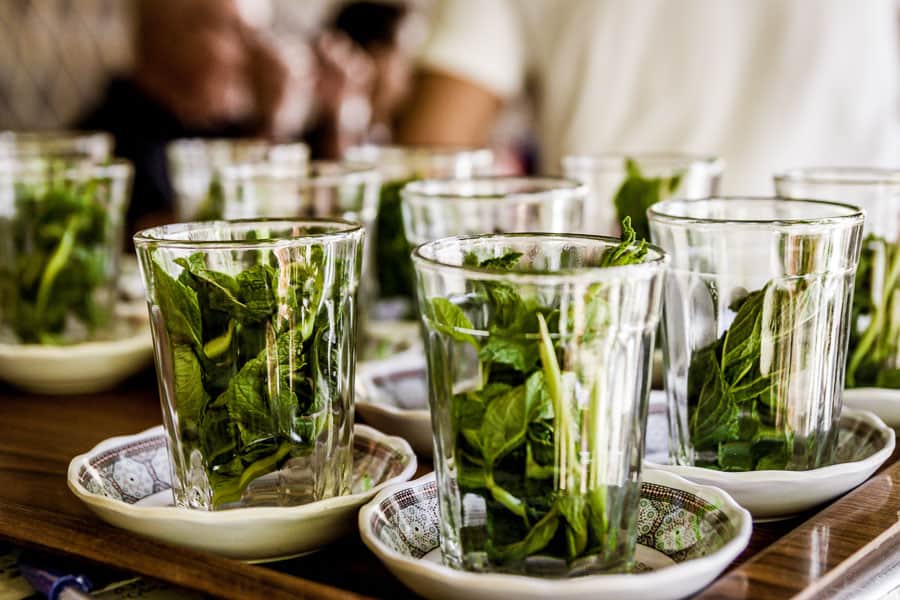 The Bou Inania Madrasa
Bou Inania Madrasa faces the Grand Mosque right in the middle of the tangled streets of the Medina.  The interior of the mosque is not open to non-Muslims, but the Madrasa is. This Islamic learning centre was founded in 1341 and is named after the son of its founder.  The building is a high-point in Morocco's thirteenth to fifteenth century Marinid dynasty.
Visit it to see the delicate tilework and some extraordinarily intricate stucco in the courtyard and interiors.  The building gives a real feeling of timeless Islamic teaching and learning. The views from the upper floors out over the Medina were our favourite thing about the Madrasa.
Bou Inania Madrasa Tips: Come here to take a refreshing break from the heat and dust of the city streets.
Mausoleum of Moulay Ismail
The final resting place of the same Sultan Moulay Ismail who built the gate and ordered the public executions is a magnificent building.  You can see this from the outside and photos of the interior on the internet. Unfortunately, however, it was closed to visitors when we went to Meknes, as it has been for more than a year.  Some sources suggest it will be open later this year. If you are there and find it open, please let me know.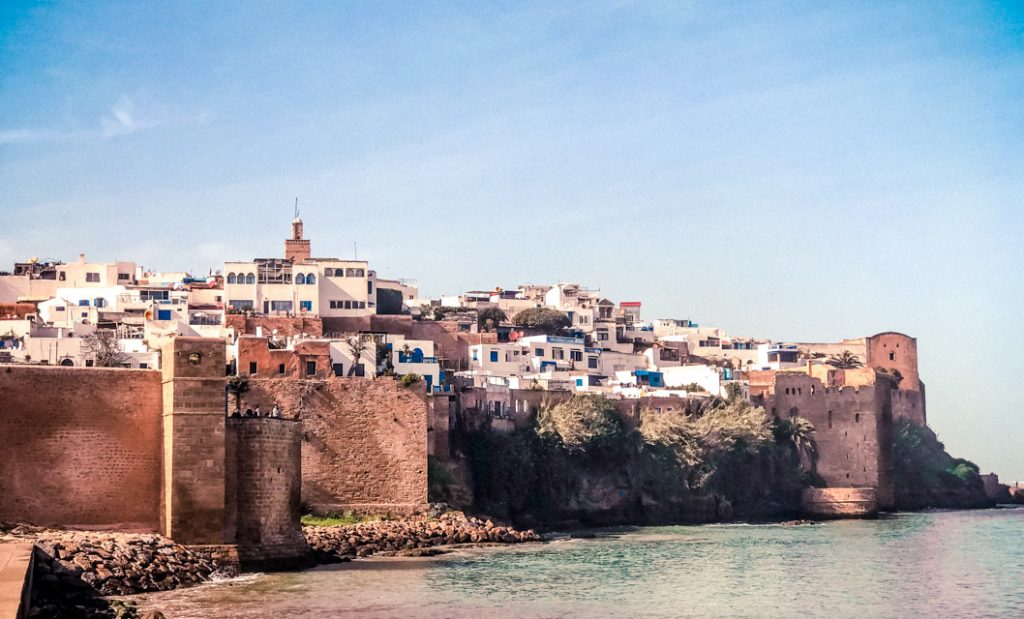 The Royal Stable
Very much in keeping with the size of his ego, Moulay Ismail's love for the racing cars of his day ran to the construction of royal stables fitted out for twelve thousand horses.  Each horse is said to have had a personal groom and slave. The stables were called an engineering marvel for their arrangements for fresh water supply and drainage.
Today the stables are mainly open to the sky following dereliction and collapse in the Lisbon Earthquake of 1755.  
Royal Stable Tips: After the first ten minutes, they are only interesting if you have a good guide to tell you about what you are looking at.  Go when you are feeling like hearing a good story, and select your guide accordingly.
Volubilis and Moulay Idriss
This trip was by far the most enjoyable part of our time in Meknes.  We found the ruins themselves awe-inspiring, and the journey there was an adventure.  We saw new sights, suffered a little inconvenience and misunderstanding. All was sweetened by the receipt of random acts of kindness and good food.
Moulay Idriss
In the early Eighth Century CE, Arabs took the land that is now Morocco from the Berber tribes who had continued to live here after the Roman Empire had dissolved.  However, the region was still divided tribally.
The Arabian leader Idriss I formed alliances with Berber tribes and is now seen as the founder of the nation of Morocco.  This is his town and the place of his Mausoleum, so it is not only the spot where tourists like us get off the bus from Meknes on the way to Volubilis.  For Moroccans, Moulay Idriss is a place of pilgrimage, representing the roots of their faith and culture. Idriss I was no random chieftain. He was a direct descendant of the Prophet Muhammad and so as well as being the founder of the nation he was the father of Shiism in Morocco.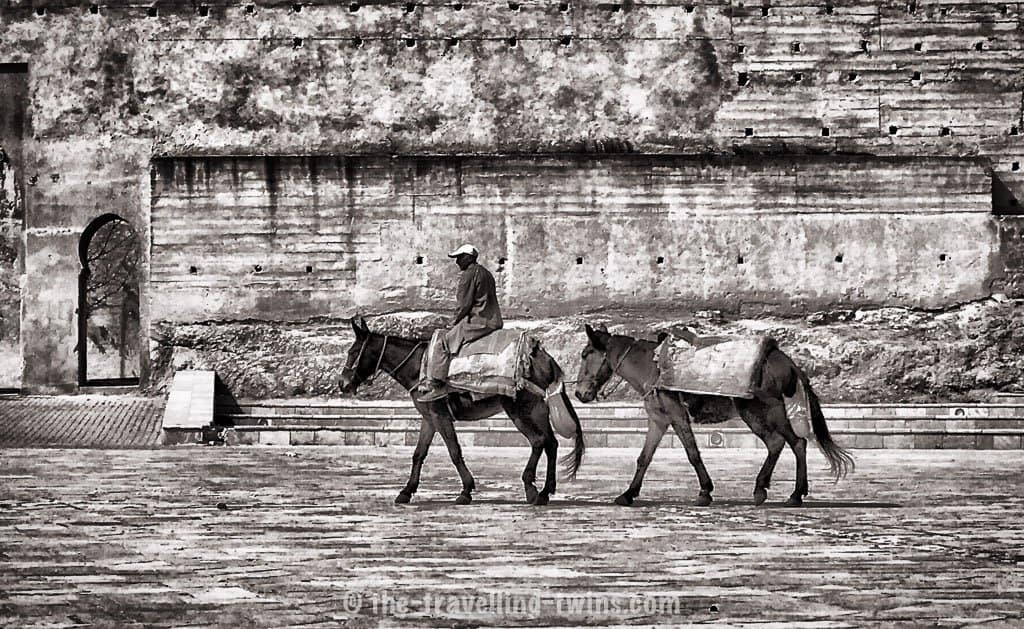 Read more about Morocco's history.
We found it a relaxing and friendly town.  The site itself is impressive with views out from the top of the town centre.  We stopped at the gates on our way back from Volubilis and on our way into the town we stumbled across a small eatery. A smiling man enquired after our state of hunger.  Then he beckoned us to a table which he wiped down with a scrap of paper and offered us a drink of Berber whisky. I was happy to accept for both my girls and me, knowing well enough that this term referred not to alcohol but to black tea with mint.
He left us in his shop while we watched some local donkeys going about their lives.  Time slowed, and our bus departed for Meknes without us. After ten minutes, our host reappeared with a large bag of minced meat.  My heart sank – this was going to take ages. But he grabbed a knife and chopped tomatoes and onions to make meatballs with hands which looked as if they hadn't seen water for a long time. We were captivated by his charm and showmanship, and the food was unbelievably delicious.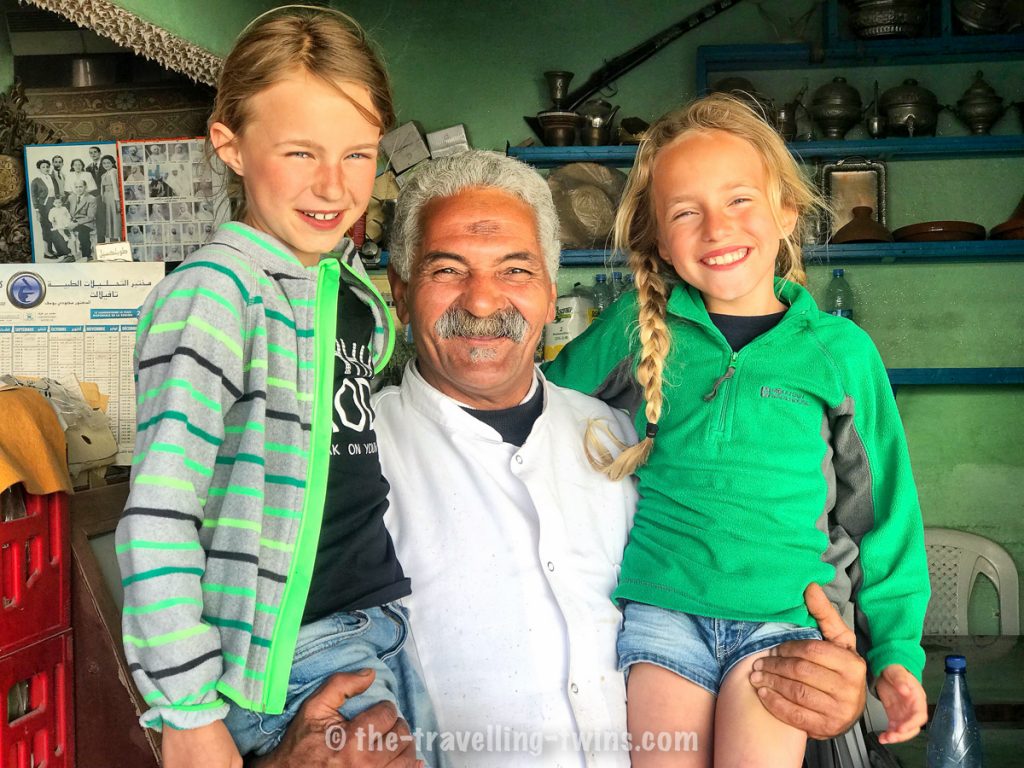 We licked our fingers, paid and thanked our host, and received directions to the bus stop opposite the Pharmacy.  I truly hope that you will follow in my footsteps and enjoy his skills as much as we did. When you in Moulay Idriss you should visit Aziz Cafe
Tips for Moulay Idriss: Non-Muslims are not allowed inside the Mausoleum or Mosques of Moulay Idriss.  But allow an hour of your day to wander the narrow streets as you climb up to the main Square.  Then soak up a little of what this place means to the Moroccans who come here.
Moulay Idriss  – Plan Your Visit
Website
Google Map Location and How to Get There
Opening hours

The Religious sites are not available for non-Muslims
Volubilis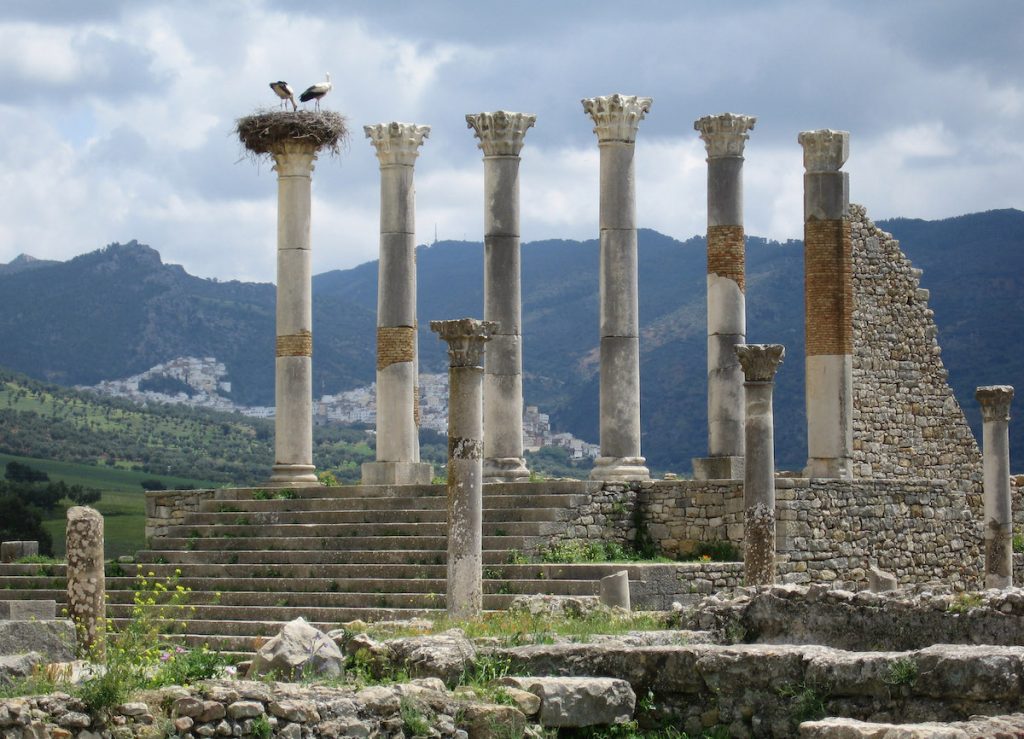 The deserted site knocked our socks off, both for its vast area and its Roman ruins.  But its history is far older even than the Romans. Established in Ancient times, by the third century BC, Volubilis was already a large town and regarded by the Phoenician traders as the capital of Mauritania – the ancient name for North Africa. The Phoenician traders became the Carthaginian settlers, and in turn, they were overtaken by the Romans. Through all this, Volubilis (known as Walili in both Arabic and Berber Languages) continued in strength.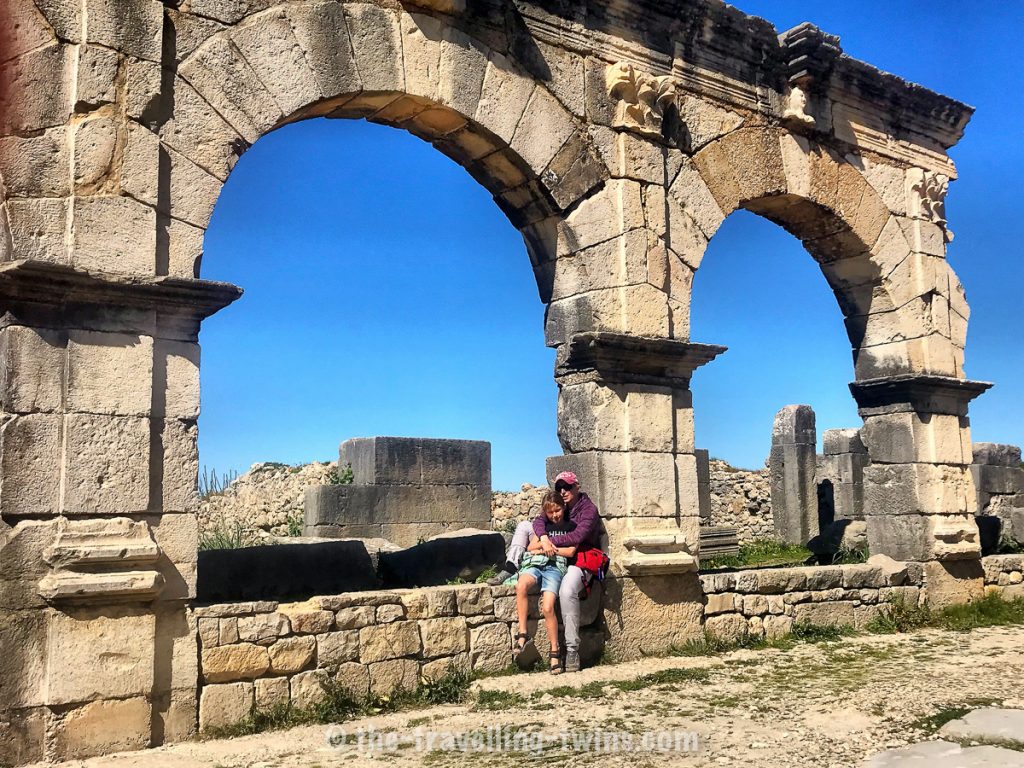 It is the Roman city which gets most of the acclaim in the UNESCO World Heritage Description, and they listed it in 1997 for this and its thousand years of occupation as a major city.  
In Roman times, Volubilis was a major outpost on the western boundary of the Empire.  However, being so far from the centre it fell comparatively early, almost two centuries before the total dispersal of the Empire.  After that, it was home to Latinised Christians until its desertion in Islamic times.
Despite being ransacked by Sultan Moulay Ismail as a quarry for his Meknes project after it was deserted, there is still enough of Volubilis to amaze modern eyes.  The girls loved it as a place to scamper around. I found the Roman ruins to be an inspiring and frankly for me a welcome change from Moroccan Islamic geometry. I love it, but at the time we got to Volubilis I was a bit Morocco-d out.
High points are the reconstructed Triumphal Arch and mosaics in the floors of what were once grand Roman villas.
Volubilis – Plan Your Visit:
Google Map Location and How to Get There

https://goo.gl/maps/htsuk3hFT3UPwmAd7

Opening hours

Daily 08:30am – 5:00pm – in summer months longer

Typical Entry and Other Prices

Adult: 70 MAD – $7
Child (up 12 Years Old): 30MAD – $3
How to get to Meknes
Tip for Train Travel to Meknes
If you do come by rail, Meknes has two stations.  The first one from Rabat is closer to the Medina, so if that is your destination then getting out there will save you some money and hassle of taxi drivers. If you have just a small backpack, it is in walking distance. We had a bigger bag, so we took a taxi. – of course, you need to bargain
Tip for Bus Travel to Meknes
Where to stay in Meknes
Riad Yacout
Riad Yacout is a lovely Raid in a quiet location but still very central. Bonus – small swimming pool on the roof top.
Riad Idrissi
Riad Idrissi is located in the Medina, a taxi can take you only 200 metres away from the Riad and then you have to climb the steep street with your luggage. Luckily our luggage wasn't big. The Riad is very simple – it has lots of different rooms – some with a window overlooking the internal courtyard and some with a terrace. Breakfast is included but it's nothing special. Extra payable dinner was rather small but very tasty. Bonus – rooms have heating – which is needed when you are visiting in winter as we did.
Hotel ibis Meknes
Perfect place to stay if you get tired of Moroccan accommodation and unreliable hot water. when you are here you could be in any other ibis Hotel – which has advantages and disadvantages, but if you want to have a bath, swim in a big pool or get an alcoholic drink, then Hotel Ibis Meknes is the place to stay.
How To Get to Volubilis
You can go by taxi, take a tour or go by bus, all from Meknes.  
Our host at the Riad offered to find us a taxi driver at the off-season discounted rice of 600 MAD  ($ 63). Discounted or not, that seemed a bit steep to me, and it was time for an adventure anyway, so I decided on a ride on public buses.
The one-hour bus ride takes you to Moulay Idriss, and you can walk or take a taxi for the last 3 km. I found out that the bus is a No 15.  We found the bus stop on Google Maps and headed there. Sure enough we found and caught a No 15 bus, sure enough, the driver confirmed he was going to Moulay Idriss. – And then he set out in the opposite direction.   It would be a long ride in any case, so I asked the driver again. Yes, this was the right bus. Of course, we realized at last that we were making a loop around Meknes before leaving the town.
The most excellent skill in life is to learn from mistakes, and the greatest of the most excellent skills is to learn from the mistakes of other people.  So I offer you this: Catch your number 15 bus here. (link) And enjoy a shorter trip than we had.
On parts of the trip to Moulay Idriss, the bus became so crowded that I was carrying other people's children on my lap.  The road was fairly monotonous but with attractive landscapes. I was tracking our trip on Google maps, and as we approached Moulay Idris, I asked the driver to let us out on the crossroads here (link) to save us 1 km of walking.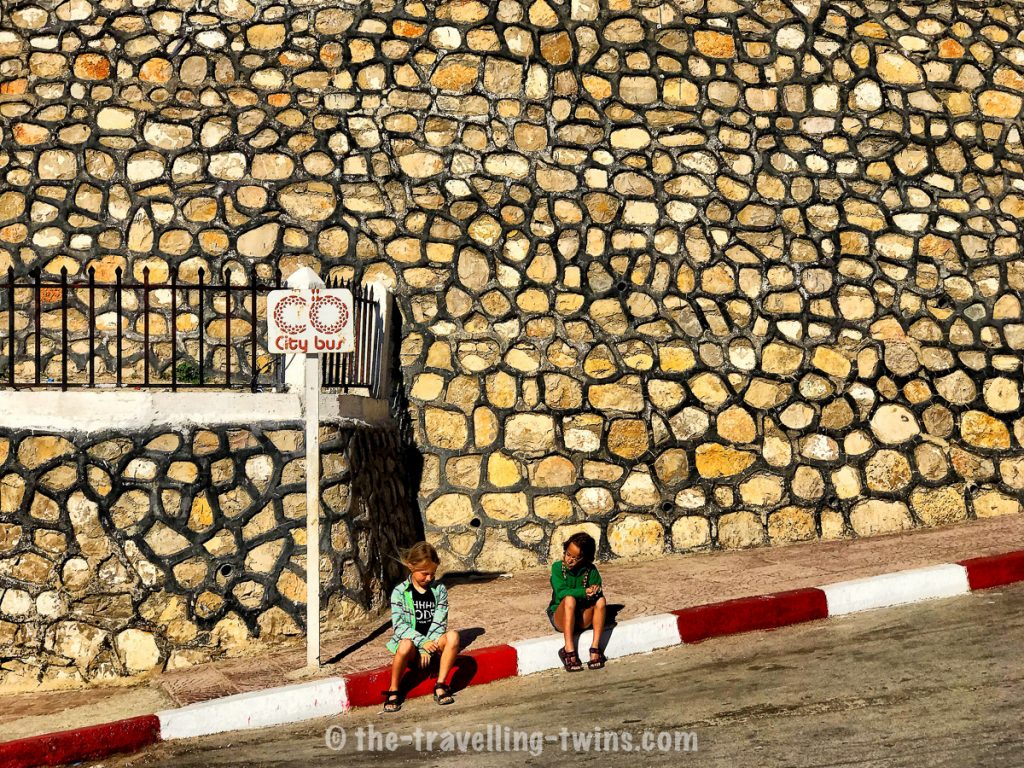 We started walking towards Volubilis, and after a kilometre or so an old Renault stopped and offered us a lift.  In we jumped, and Tania declared she had never sat on such a comfy seat.
On our way back we decided to walk again, and again we were offered a lift.  When we approached Moulay Idriss, we were feeling hungry, and this is when we had the lovely meal I have already described.
If you decide to take the No15 Bus, but don't fancy walking or your chances at being given lifts, then there are taxis available from Moulay Idriss, and after bargaining, you might expect to pay 7 MAD Each way.
The cheapest way to get to Volubilis – take bus no 15 to Moulay Idriss ask the driver to stop at the crossroads and walk 3 km to Voulubilis – cost of the trip (cost of the bus ticket) – 7 MAD per adult

Meknes, Volubilis and Moulay Idriss – Conclusion
We liked Meknes but we loved Volubilis. Volubilis is worth the trip – Roman ruins were a fascinating contrast from everything else we had seen and partly for the adventures we had in getting there. Meknes is a nice place to stay for a night but most of the sightseeing is not worth the entry price.
Meknes, Volubilis – Pin it for later
Privacy Policy Disclaimer

This website uses affiliate links for income and support.

If you like our website, please consider using these links. You will be directed to the vendor, and we will get a small commission on your purchase price at no increased cost to you.

We have researched facts stated here as far as practicable but please check anything critical before committing your time and money. We do not claim any special knowledge or expertise, and we are not consultants for our readers.