A trip to Morocco is usually topped off with the region's delicious treats. Moroccan dishes are typically characterized by a large variety of rare spices and flavouring. This wide range of spices gives the Moroccan food rich, tangy sauces and zesty.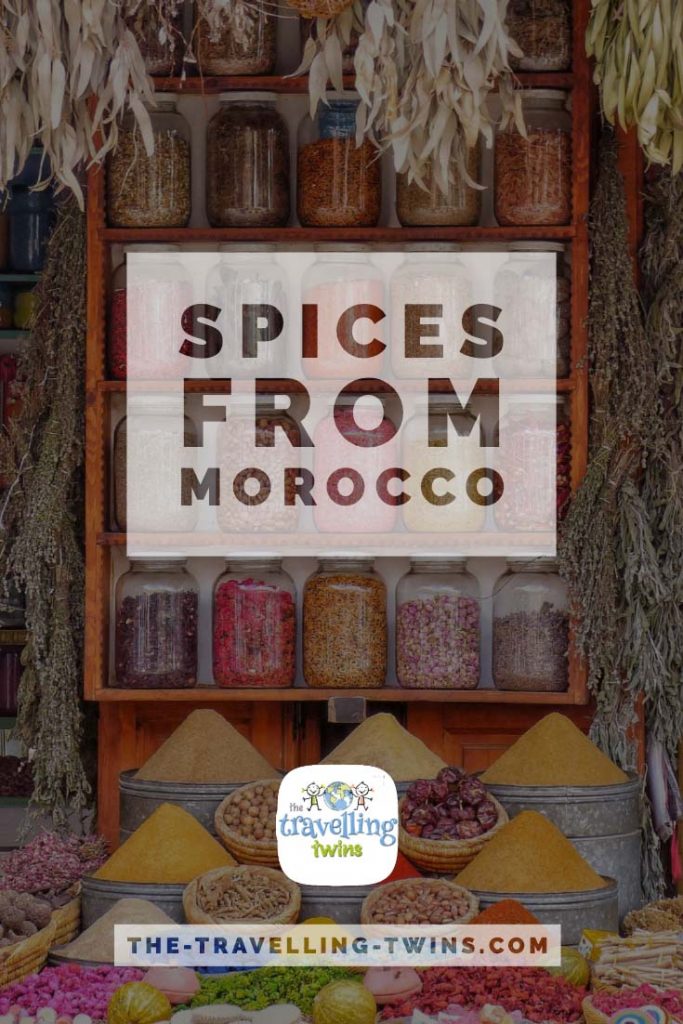 Before taking a close at the famous Moroccan spices, perhaps it will help to take a closer look at the history of Morocco and its spices. 
The history of spices in Morocco
The region was on the spice trade route between the Middle East, Europe, and Asia. Something that ensures the country gets spices from all these countries to add to its already opulent arsenal of local spices. For example, the expensive saffron was initially imported, and it is now grown across the country and used widely in the gastronomy for flavor and colouring. The spice traded was promoted by the great Portuguese explorers, including Ferdinand Magellan, who stayed in Morocco for a while, Spanish captain Christopher Columbus, and Vasco de Gama. 
Spices are the essential element of Moroccan cuisine. You don't have to explore the country deeper to realize this, as you will easily spot freshly coloured mounds of spices in the streets of Moroccan Medinas and souks (markets) across the cities of Morocco.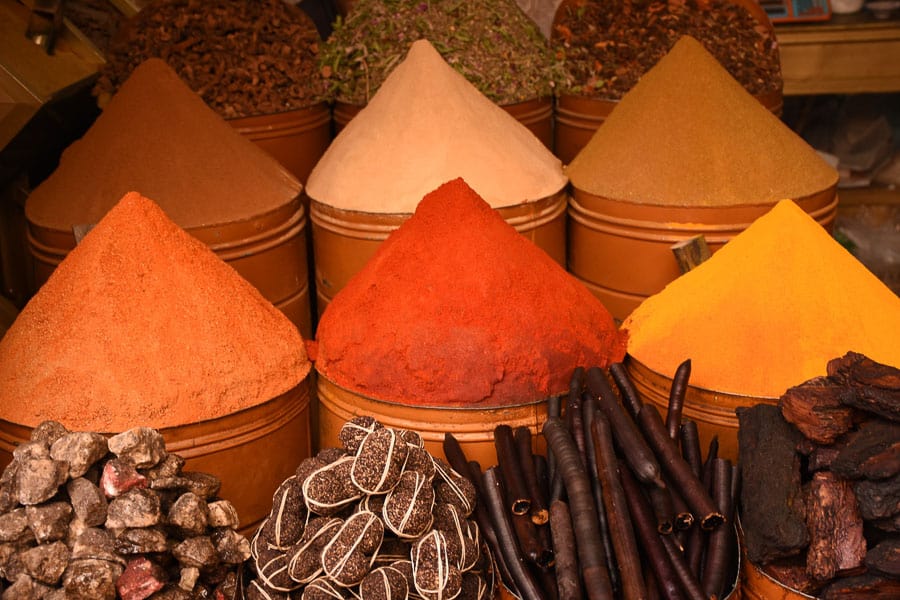 The Moroccan spices have a unique smell and are recommended to be used after they are freshly ground. The spices can be obtained from dried fruits, seeds, bark, roots, or vegetative substance and are used mainly for colouring, flavouring, or food preservation. Sometimes a specific spice can be used in cuisine to conceal other flavours. In some cases, these spices can also be used for medical purposes; for example, garlic can is used often as an antibiotic. 
The concept of drying spices originated from the Middle East, where refrigeration did not exist. 
The Moroccan spices today are used worldwide, and you can find dishes sprinkled with them in cities across Europe, America, and the Middle East. 
The government of Morocco has also played a significant part in popularizing these spices, through publicity as well as encouraging distinguished cookery authors to drum the support of these native spices.
Today, spices are part of Morocco's tourism and international success story. Morocco advertises itself as a diverse and fascinating place to visit for lovers of food as well as those who have a penchant for exotic cuisine. 
Being a family that travels a lot, you can imagine the variety of international cuisines we have tasted, from Thai and Vietnam to Malaysian and Arabian. But there is something that sets Moroccan cuisine apart from all these other cuisines, and we are going to share with you, with great pleasure about the Moroccan spices.
Spices from Morocco 
As you already know, Moroccan spices are influenced by a variety of cultures, including the Middle East, Andalusian, Mediterranean, and Berber. But still, others are 100 percent native Morocco, including the saffron from Taliouine and the mint from Meknes.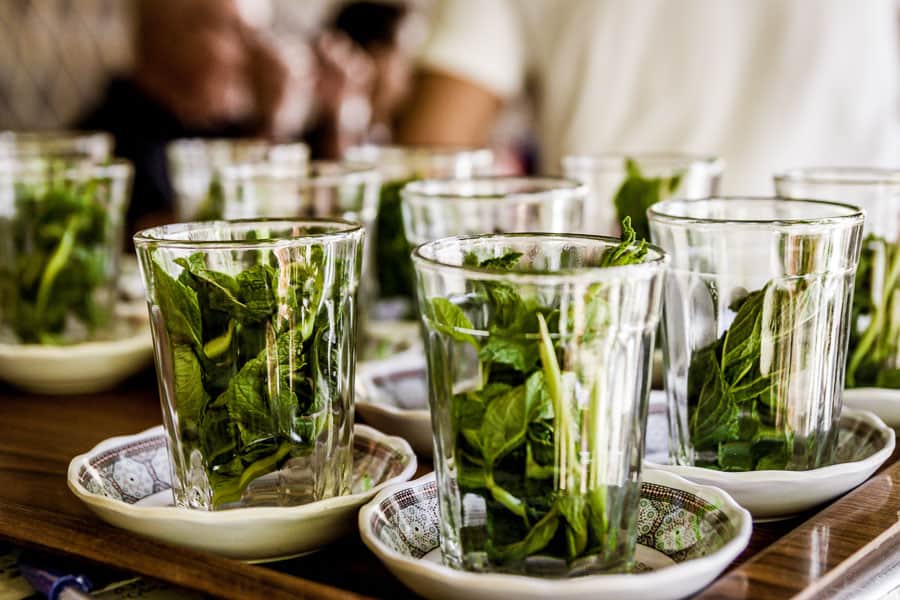 The majority of Moroccan foods contain spices but is not like the ones you are used to. The Moroccans pay a great deal of attention to freshly ground spices. The most native spices you are likely to come across are pepper, ginger, turmeric, as well as coarse salt used for cooking.
Other spices traditionally sourced spices used commonly in Moroccan dishes are cumin, cinnamon, saffron, white pepper, and paprika. 
If you are looking for a mixture of ground spices, we recommend the Ras El Hanout, which is a spice blend of aromatic milled spices that is quite easy to prepare. It is sometimes just rubbed on fish or meat, or stirred into rice or couscous, but not used for everyday cooking. Ras El Hanout is Arabic with a literal means "head of the shop," which is an expression that also means "the best offering of the shop." The recipes for ras el hanout differ but mostly include nutmeg, anise, cardamom, mace, ginger, cinnamon, turmeric, and various peppers. Some combinations can take up to 30 or more ingredients, though. Because of its liberal use in mrouzia – a lamb and honey meal with strong seasoning, ras el hanout is sometimes also referred to as mrouzia spice. 
Ras el hanout (literally translated as "head of shop), is also used to flavor dried fruit tagine, beef tagine, lamb tagine, vegetarian chickpea, beef, pumpkin chickpea, tomato soup, chicken shawarma, carrot tagine, and couscous. It is tough to find the same version of ras el hanout blend in two different restaurants or families. When purchasing this spice in the souk, it is excellent that you sample to make sure that it is what you want or like. 
Taking a closer look at the most common spices used in Moroccan dishes:
There are ten most common spices you will find in Moroccan dishes, and we are going to take a closer look at each one of them. They include cayenne (felfla), ginger (skinjbir), cinnamon (karfa), black pepper (elbezar), turmeric (quekoum), aniseed (nafaa), cumin (kamoon), sesame seeds (jinjelan), saffron (zafrane), and paprika (felfla hlouwa).
When you visit Morocco, the highly recommended Moroccan souvenirs to bring back home are paprika, cumin, saffron, and sea salt. But you should know that the prices in the souks are typically high because they expect you to bargain, which is a common tradition in Morocco. If you are lucky enough, you can knock off a third of the price. The Moroccans are very hospitable. You will be offered mint tea during the haggling of the price, but still, don't loosen your stance because someone has provided you with a traditional Moroccan tea. Of the four recommended condiments, saffron is the most truly rewarding. Saffron is readily available in most of the souks in Morocco, but be careful of counterfeit products as they are in plenty, and saffron is the most affected product. Saffron is also the most expensive spice, not only in Morocco but the entire world, costing up to $4000 for just a pound. It is because it is hard to cultivate it, and it takes about 140 flowers to get a gram of saffron. On the farm, saffron must be picked by hand for easy separation of the stigmas from the violet-blue petals. 
In Morocco, saffron is predominantly grown in the small town of Taliouine, located at the base of the Sirwa Mountains between Ouarzazate and Taroudannt. So if you want authentic saffron, you should travel to this beautiful Berber village of Anti-Atlas. Upon reaching this region, visit one of the local coops to buy some of the most potent saffron probably in the world and also learn a few things about its history. Each saffron stall offers a tour of the community, and you will get to see how saffron is picked as well as lots of photographs that showcase the history of saffron farming in the village. If you want to taste a real Moroccan dish or cook an authentic Moroccan food, then a trip to this village is simply a must. 
Due to its price, many people are unable to afford saffron, but you can buy one gram of the spice for just twelve dollars. It can last you up to a dozen meals. When you buy saffron in the market, choose the one that is long and thin with a dark red colour. Unlike many of the spices in Morocco, saffron should not be bought in powder form. The grounded saffron in Morocco is usually a mixture of turmeric, which is never that bad too. 
Saffron is thought to increase the appetite, calm the nerves, aid in digestion, as well as increasing blood circulation and flow in the heart. It also kills microbes, and in some cases, it can be used as an aphrodisiac. 
Moroccan spices and their uses 
Cayenne 
Cayenne is known in Moroccan as felfla. It is simply red, hot chilli pepper used mainly to flavour dishes as well as for medical reasons. It was named after the city of Cayenne found in French Guiana; the spice is a cultivator of capsicum annum, which is a distant cousin of bell peppers and jalapenos. The fruits are harvested and dried before they are ground or pulped. The ground product is then baked into cakes, which are also milled and filtered to make cayenne pepper – a powdered spice used in cooking spicy hot dishes. It can be used in powdered form or as vinegar-based.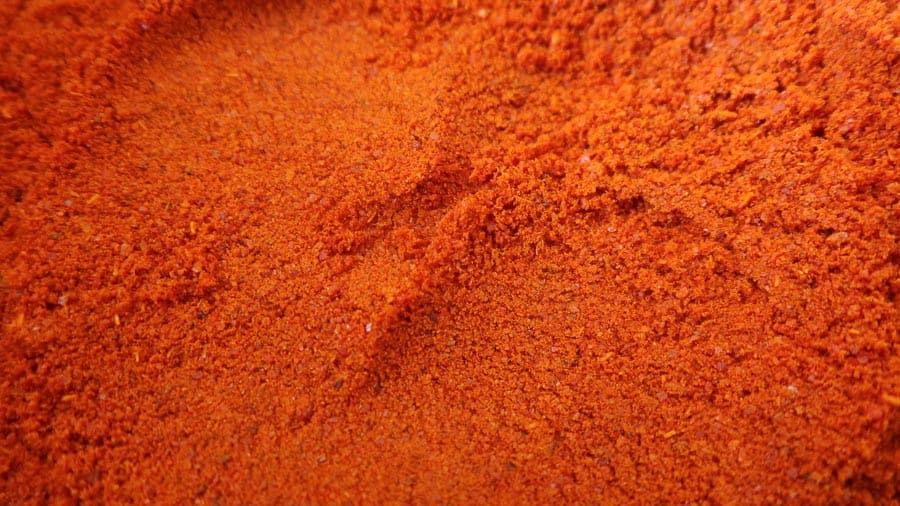 Cinnamon 
Cinnamon is also known as karfa in Morocco. Being a native Moroccan, cinnamon is found widely across the country in many souks. The flowers – typically arranged in panicles, are greenish and have a unique smell. The fruit is usually purple and about a centimetre in diameter. Its flavor is caused by a sweet-smelling essential oil that is the most significant part of the fruit. It is this oil that is extracted by pounding the bark, soaking in seawater, before quickly distilling the mixture. Cinnamon has been in use for thousands of years, but somehow is still one of the priciest spices around today. It was used in ancient times as gifts to monarchs as well as other potentates. In Moroccan cuisine, cinnamon is used to accent meat-based dishes such as leg of lamb as well as in grains such as couscous and raisins dishes.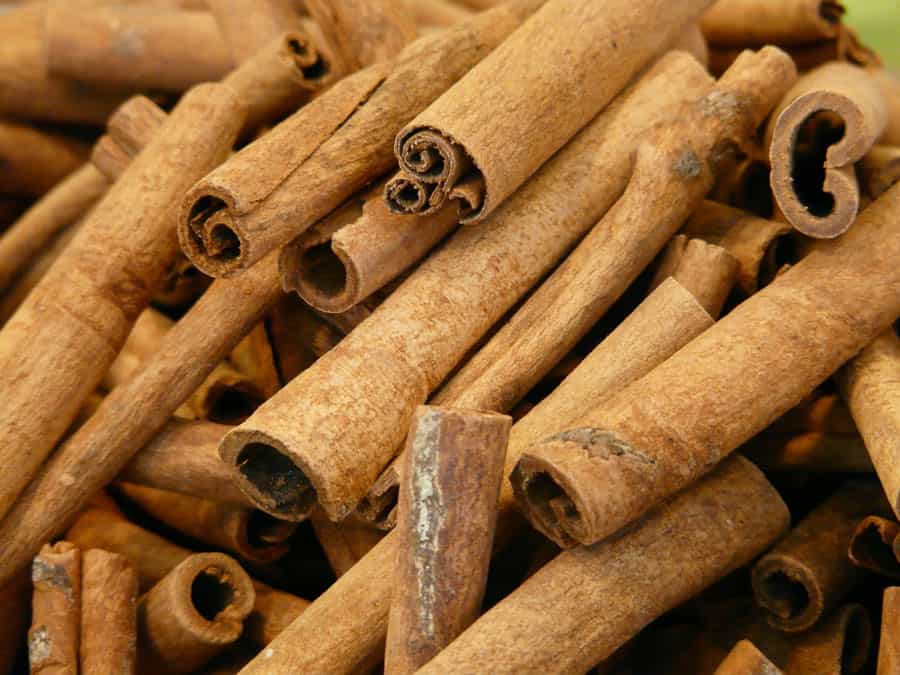 Cumin
Cumin (kamoon) is a flowering plant that belongs to the family Apiaceae, which is a Mediterranean and East Indian native. Cumin seeds are the ones that are used as spices, though, due to their unique aroma. The use of this spice varies among Moroccan families, but it is typically used in all types of tajines, including lamb, chicken, as well as vegetables. It is also used as an appetite booster. The seeds are grounded and then sprinkled on grilled meats and kabobs. It can also be sued in flavouring couscous. 
Turmeric
Turmeric (quekoum) is basically a dried root of the Curcuma longa plant. It is distinctively bright yellow and is closely related to ginger. They are also similar in size, and its flavour resembles a combination of pepper and ginger. Turmeric is used as a food colouring spice in Moroccan cuisine for dishes such as rice and tajines.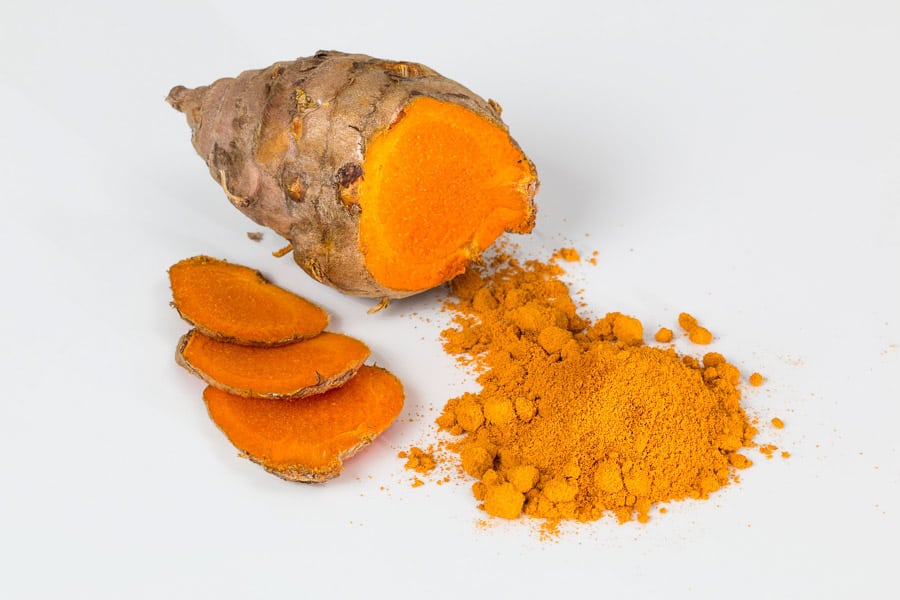 Coriander
Coriander (Coriandrum Sativum) is an annual herb belonging to the family Apiaceae and originated from North Africa and southwestern Asia. The spice is usually obtained by drying of the ripe fruit of the herb. The seeds – which are typically tannish brown in colour, have a sweet-smelling lemony flavour. Coriander is usually used as an appetizer in Moroccan dishes such as lentils, potatoes, onions, beans, and pastries.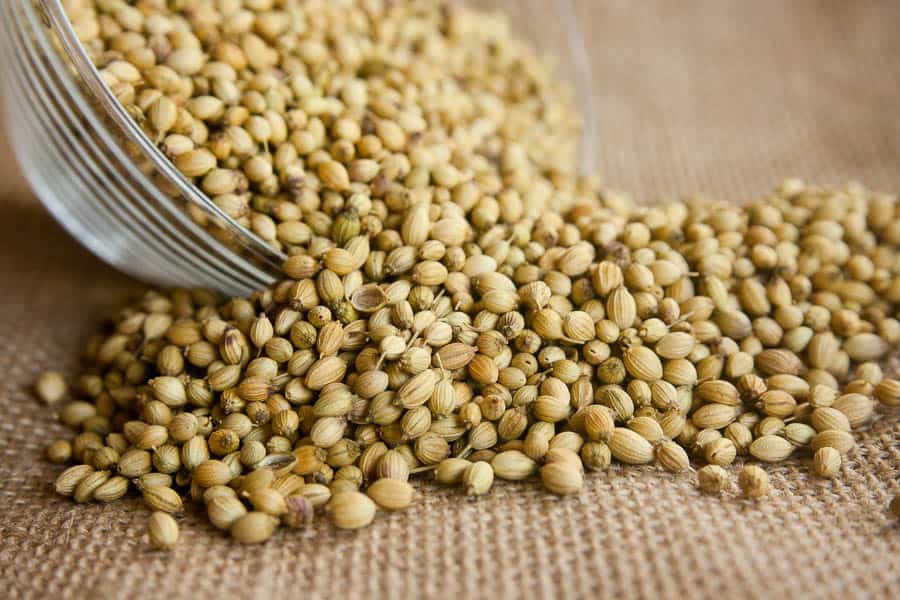 Paprika
Paprika (Felfa Hlouwa) is made from grounded dried sweet green or red bell peppers. That is why in many European countries, paprika is the name used to refer to bell peppers. The spice is used in many dishes to add flavour and colour. In Morocco, paprika is used primarily in tomato dishes as well as in salads. The spice ranges in aroma and taste from sweet, mild, and hot. Red paprika is a southern Mexico, Antilles Islands and Central America native, and was used by Native American s for seasoning dishes as well as healing. 
Black pepper
Black pepper (Elbezar) is a flowering vine belonging to the family Piperaceae. The spice is obtained from the fruits of the plant after they are dried and grounded. Sometimes the spice can be called black pepper, white pepper, pink or red pepper, as well as green pepper. In Moroccan cuisine, black pepper is used in lamb tajines and salads. The uniqueness of black pepper is due to the chemical piperine found in the plant. Dried powdered pepper is commonly used in European dishes. 
Aniseed
Aniseed (naffa) originated from the eastern Mediterranean and southwest Asia. The spice is used commonly in Moroccan dishes such as courgette stew and fennel as well as in baking bread. The sweet and aromatic taste of aniseed is due to the liquorice-like component found in the plants.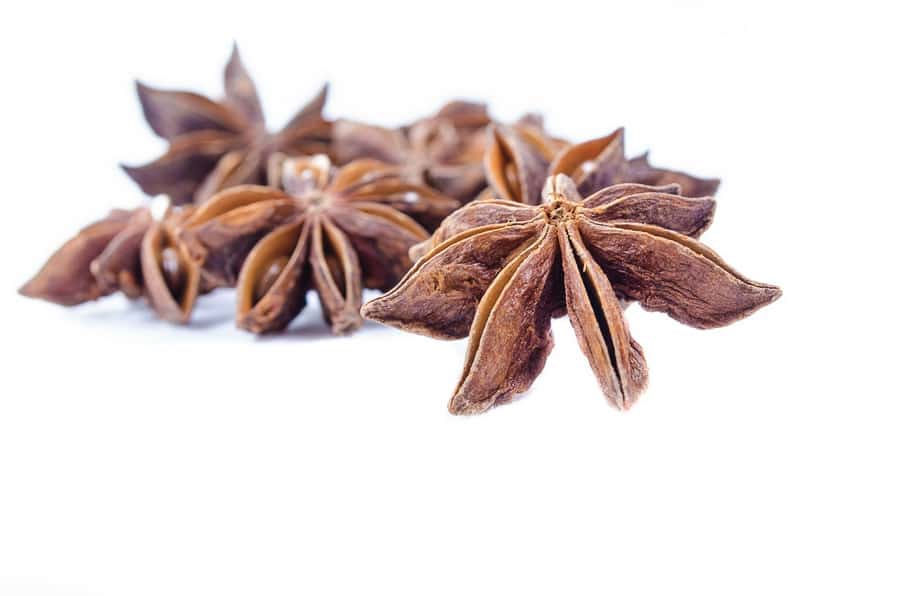 Moroccan spices
If you are planning a trip to Morocco, you must know that your visit will not be complete without gauging your taste buds with Moroccan cuisine sprinkled with spices. You will find here everything from plentiful sauces to zesty salads and side dishes. Morocco offers a distinct variety of culinary experience for the adventure-seeking explorers.
You can immerse yourself in famous Moroccan cuisine by taking cooking classes or booking exhilarating culinary tours. Either way; you will be able to get the real experience of Morocco, and bring some spices home, like we did